Wells Fargo, Habitat Team Up To Help a Mom Build Her Home
Shaquawanda is one of the many reasons Wells Fargo has collaborated with Habitat for Humanity over the last 20 years.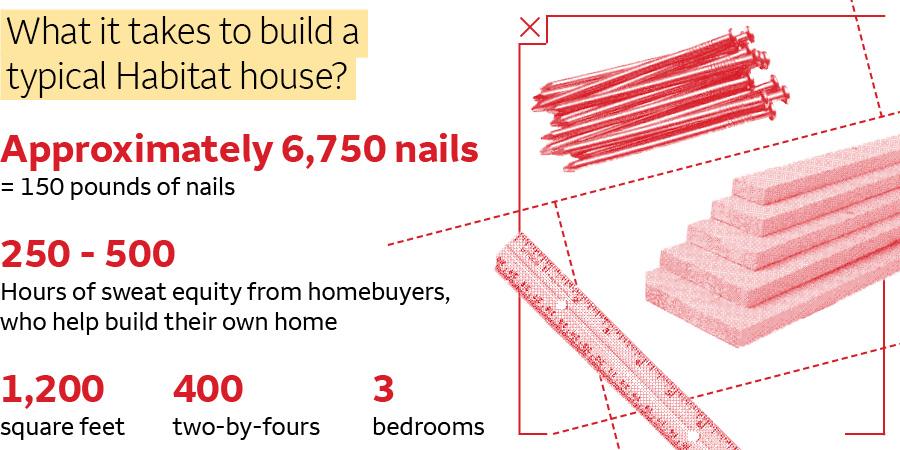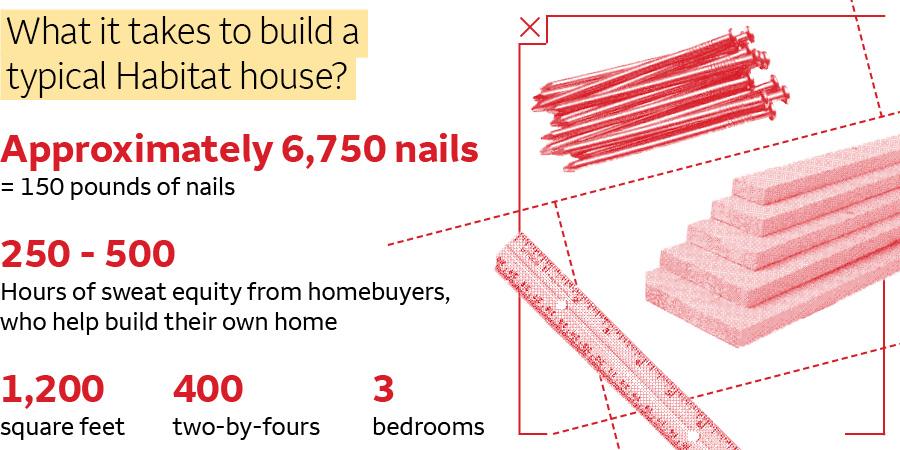 Wells Fargo, Habitat team up to help a mom build her home
The day the side of her house was being raised, homeowner-to-be Shaquawanda was excited and a little anxious. "It's been a long time coming," she said. "I'm ready." Shaquawanda said she had been looking to buy a house for a while, but home prices in Charlotte, North Carolina, have skyrocketed. "I tried to get everything together to go through the process of owning home," she said. "And there were just so many roadblocks." According to the 2021 State of the Nation's Housing report, nearly 18 million U.S. households spend at least half of their income on housing. "And no one is building smaller starter homes," said Eileen Fitzgerald, Wells Fargo's head of Housing Affordability Philanthropy. "Habitat is often the largest builder of homes for people at a certain percent of median income and below in several markets.
"We at Wells Fargo know that affordable housing — the ability for everybody to have a home — is a real issue across the country," said Mary Mack, CEO of Consumer and Small Business Banking for Wells Fargo and a Habitat for Humanity International board member. "It's a product of systemic inequities, and we're committed to being a part of the solution."
Shaquawanda and her family of five are just one of the many reasons why Wells Fargo has partnered with Habitat for Humanity over the last 20 years. This year's $7.75 million investment in the Wells Fargo Builds program aims to assist 350 families in 200 communities get into their first home. In fact, Shaquawanda grew up in a home built by Habitat, and her sister also owns one.
"When I got accepted in the program, my mom pulled out her scrapbook for us to go through," Shaquawanda said. "That's why I'm so happy for my kids — because I remember good memories in the house I grew up in."
For Shaquawanda, it's been a two-year process and hundreds of "sweat equity" hours, including volunteer work at the local Habitat for Humanity ReStore which sells discounted building materials and home goods. After logging 125 hours, she earned the opportunity to select the location of her future home from Habitat's available lots. In addition to making a small down payment and monthly mortgage payments, Habitat homeowners must put in 300 sweat equity hours which may also include volunteering on a build site or taking financial literacy classes.
Having the tools to look ahead
While generational wealth takes years to build, it starts with a vision, an opportunity, and a first step. "A lot of people my age aren't looking to be homeowners," 33-year-old Shaquawanda said. "But I see a bigger future for my kids. All I can think about is how much this means to my kids. When I finally got accepted into the program, they were like 'we finally get our own rooms, we finally get a yard.' That's big for me, just to know I can accomplish something for them."
Habitat works with families to help them repair their credit, attend financial counseling, and pay an affordable mortgage. "We're committed to successful homeownership," said Julie Davis, vice president of Corporate and Cause Marketing Partnerships for Habitat for Humanity International. "We have a continued connection with the families."
I've been in my Habitat home for 22 years," said Wanda McPherson, Shaquawanda's mother, and an escalations representative for Wells Fargo. McPherson's home was built through Greater Matthews Habitat for Humanity a few years before she joined Wells Fargo. "When we moved into that house, [my kids and I] were so excited. They had their own backyard to play in. It was just a blessing. I think we screamed and hollered the whole first night."
"It's still our family house now. I know I can always go home," Shaquawanda said. "And now my kids will know that this is the house they can always come back to."
"Their lives are going to change," McPherson said. "They won't have to worry about going from apartment to apartment. They'll have their own rooms. It's going to be marvelous. It's going to be fabulous."
It will still be a few more months before Shaquawanda can move into her new home. "On that the first night, I'm just going to enjoy it," she said with a smile. "I'll probably sit there for hours thanking God that I'm where I am at today."