Wells Fargo and NeighborWorks America Celebrate 15,000 NeighborhoodLIFT Homeowners Created at AtlanticLIVE's CSR Conference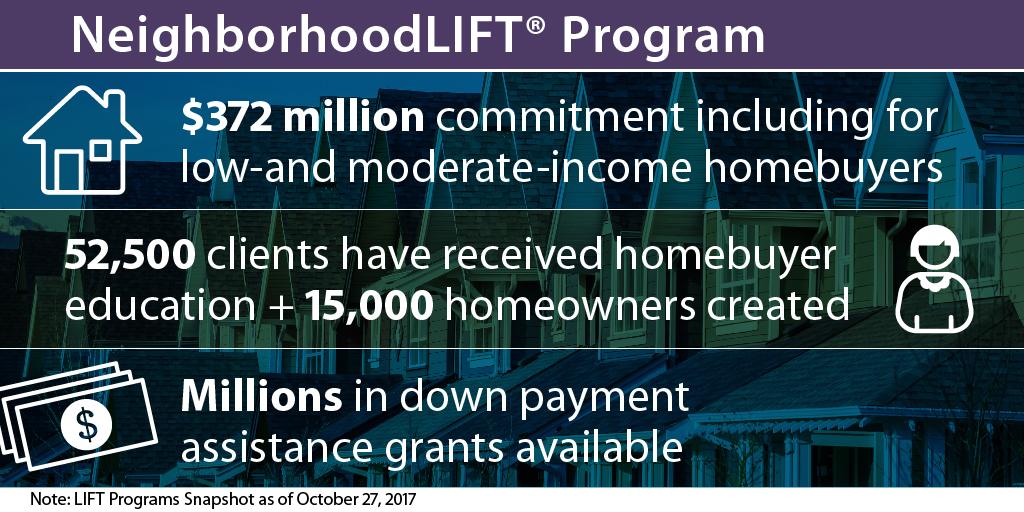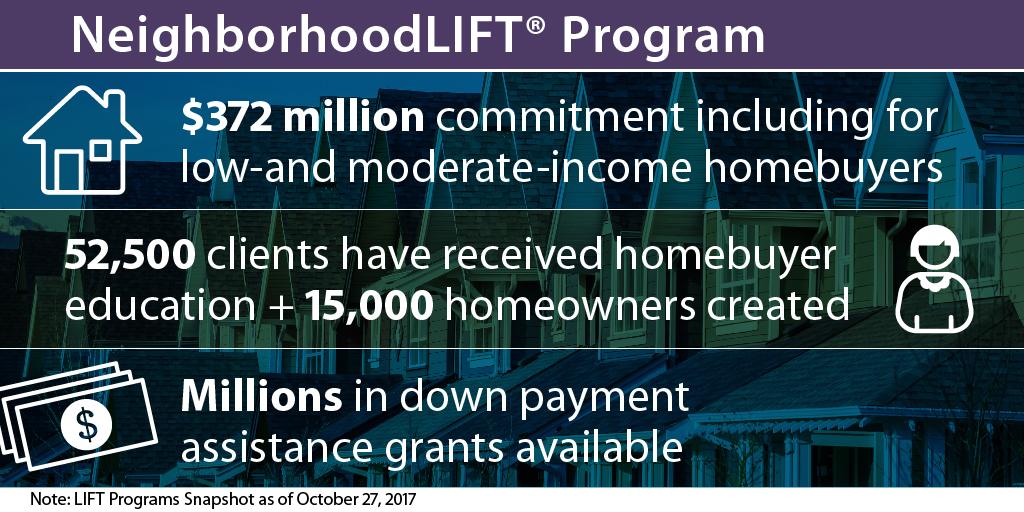 From Public Housing to Homeownership
Every day at work, Natasha Jones teaches adults with mental disabilities daily life skills. But outside of work, she was unsatisfied with her home life. After almost 13 years of living in public housing in Jacksonville, Florida, she was ready to own her own home.
"I didn't want to live in Section 8 housing my whole life," Jones said. "If I did, I would never be able to own any home, and my kids would never be able to say their home was their own."
Then Jones heard about the NeighborhoodLIFT® program, which provides down payment assistance, financial education, and support to homebuyers who have average or below-average incomes. Today, she owns a house with three bedrooms and two bathrooms.
"My three kids and I are in love with the house," Jones said. "I get to do my own décor and any upgrades I want. I'm having fun doing it because I own it, and I don't have to go to a landlord and ask if I can change something."
Jones is one of more than 15,000 people have become homeowners thanks to the NeighborhoodLIFT program, a collaborative effort of Wells Fargo, the nonprofit NeighborWorks® America, and similar LIFT programs, CityLIFT® and HomeLIFT℠. The LIFT programs were created to help communities recover in the wake of the housing crisis.
Wells Fargo has committed $372 million to support the revitalization of communities through LIFT programs in 57 communities across the U.S. That support has provided down payment assistance grants, financial education for more than 52,500 people, and homebuyer events for more than 33,600 people.
Jones learned about the program from the Jacksonville Housing Authority. She then began working on her credit by reducing her expenses and saving money. Jones also took a financial education class about credit and homeownership. On March 28, 2017, she became a homeowner.
"I'm happy I went through LIFT," Jones said. "I recommend getting information on purchasing a home before you start looking. LIFT made the process very easy."
A lifelong dream
The NeighborhoodLIFT program has been helping people realize the American dream since January 2012. It helped Sidney Sharif, a retired Chicago police officer, fulfill his goal of homeownership. In 2012, he and his wife, Nancy, attended Las Vegas' first NeighborhoodLIFT event, where they learned they qualified for down payment assistance. After finding the right home for them, they financed it through a home mortgage with Wells Fargo.
"Honestly, it felt unbelievable," he said in April 2017. "It later turned out to be true, but it was unbelievable. We finally realized our ship had come in."
A stable place for a family
Amanda Nash also received support from the NeighborhoodLIFT program. She had been a renter for more than a decade and needed more space for her family. She bought a two-bedroom home in Phoenix in 2015, thanks to a down payment assistance grant and a homebuyer education course through the NeighborhoodLIFT program.
"I grew up living in a house with my mom, so we really had the stability that I think comes with owning a home," Nash said in 2016. "Now with my family, I just wanted to have that same stability in our lives and build a better future for us all."
Jones agrees. "It's like a new life for us," she said. "We have more responsibility, but we know we own it. It's ours."