WEBINAR | Schneider Electric to Host Deep-Dive Discussion About Science-Based Targets with WWF and HP
WEBINAR | Schneider Electric to Host Deep-Dive Discussion About Science-Based Targets with WWF and HP
Save the date: Tuesday, January 23, 2018 11am EST/4pm GMT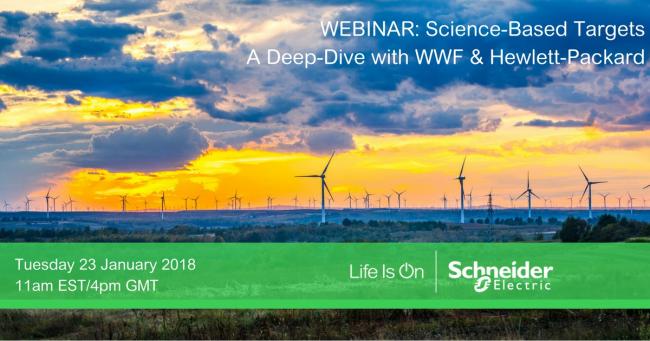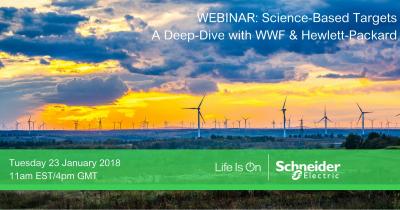 Wednesday, January 3, 2018 - 8:45am
What are Science-Based targets?
Science-based targets provide companies with a clearly defined pathway to future-proof growth by specifying how much and how quickly they need to reduce their greenhouse gas emissions.
Today more than 300 companies have committed to setting targets in line with climate science under the Science-Based Targets Initiative.
According to CDP, nearly 1,200 companies aim to have set SBTs in line with the goals of the Paris Agreement by 2019.
Join Alexander Liedke with WWF as he discusses the SBTs Initiative, and HP as they provide an overview of their SBTs journey, including how they secured internal buy-in, overcame challenges, and their plan to meet targets through strategies like renewable energy.
Click here to join our SBTs Webinar.
Click here to read our sustainability strategy and highlights in 2016-2017.