Webinar Overview: From Resilience to Opportunity: 2021 Barometer Report Shows Supply Chain Sustainability Pays Off Through the Crisis and Beyond
Webinar Overview: From Resilience to Opportunity: 2021 Barometer Report Shows Supply Chain Sustainability Pays Off Through the Crisis and Beyond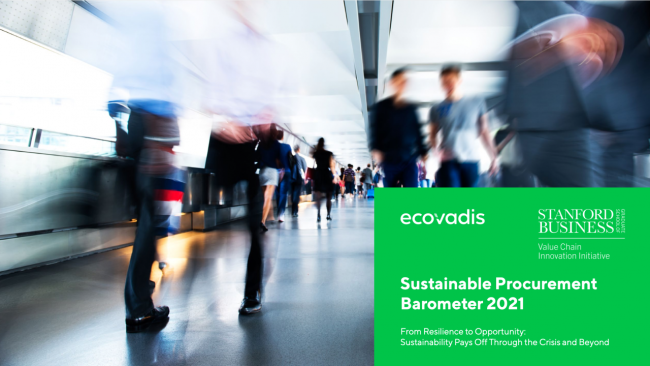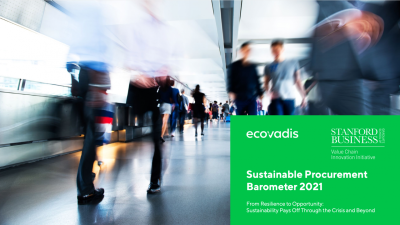 Friday, September 3, 2021 - 9:00am
Procurement and sustainability teams alike are groping for guidance on how they can rebuild more resilient supply chains in the wake of a calamitous year. This presents an opportune time to review, compare, and improve strategies and practices.
The 2021 Sustainable Procurement Barometer, developed in partnership with the Stanford Value Chain Innovation initiative, surveyed procurement and sustainable supply leaders (and which was augmented by a concurrent supplier survey) to bring insights on the state of sustainable procurement practices. Join this webinar as we review the key findings of the report, including:
Have corporate sustainability goals been derailed through the crisis?
Sustainable procurement "leaders'' reported that sustainability made them more resilient. What are they doing differently?
Procurement is now paying attention to diversity, nondiscrimination, and equity.
Mid-sized companies are embracing sustainable procurement.
The disconnect in how suppliers perceive buyers' commitments.
The top reason (more than 40%) that suppliers engage in sustainability may surprise you...
Speakers: Barchi (Becky) Gillai, Associate Director of the Value Chain Innovation Initiative at Stanford Graduate School of Business, will speak, along with introduction from David McClintock, Marketing Director at EcoVadis
Sep 9, 2021 12:00 PM in Eastern Time
Register here.