Webinar: 3BL Media, Entergy to Discuss Decarbonization, Climate Action on Dec. 12
Webinar: 3BL Media, Entergy to Discuss Decarbonization, Climate Action on Dec. 12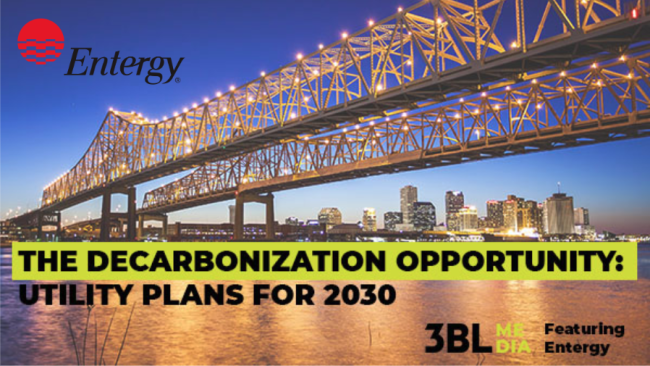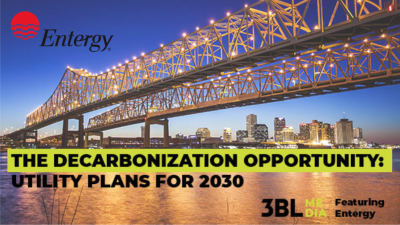 Tuesday, December 3, 2019 - 3:25pm
NEW YORK, December 3, 2019 /3BL Media/ - Join 3BL Media and Entergy, a leading energy utility that provides electricity to millions across the southern U.S., for a live webinar on climate action in the coming decade.
 Join the discussion on Thursday, Dec. 12, from 1-2 p.m. EST.
Participants will hear from Entergy's Rick Johnson, director of corporate sustainability, and Ann Becker, senior manager of corporate sustainability, as they discuss climate change risk and opportunities for customers.
Robbie Lock, executive director of 3BL Association, will lead the discussion, which will include these topics:
Understanding utility climate risks and opportunities

Planning for climate change

Opportunities for decarbonization
"3BL Media is excited to host an open discussion on Entergy's climate change strategy," Lock said. "Utilities will play a critical role in decarbonizing our electricity supply over the next decade, while also helping customers prepare for and be resilient to climate risk—we are encouraged by Entergy's in-depth approach to climate planning."
 
Register here!
About 3BL Media
3BL Media is the world's leading communications partner for purpose-driven organizations. Our distribution, leadership, and editorial platforms inspire and support global sustainable business. Learn more at 3blmedia.com.