Webcast - The Decarbonization Opportunity: Utility Plans for 2030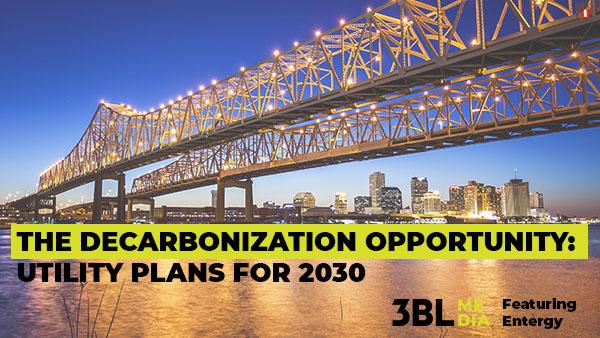 NEW YORK, November 19, 2019 /3BL Media/ – 3BL Media's live professional development webcasts continue with a look ahead to a decade of climate action. 
Join us on Thursday, December 12, 1:00-2:00 p.m. ET.
Entergy is a leading utility that provides electricity to 2.9 million customers across Arkansas, Louisiana, Mississippi and Texas. Rick Johnson, Director, Sustainability and Ann Becker, Senior Manager, Sustainability will discuss climate change risk and opportunities to Entergy customers and its business.   
CLICK HERE TO REGISTER!
  "The broad consensus of current scientific data on climate change indicates that, as an industry, we must do more to reduce our footprint and that of our customers and communities. Entergy sees this not as a choice but as a responsibility and an opportunity." said Entergy CEO, Leo P. Denault.    3BL Media Executive Director, Robbie Lock, will lead the discussion which will include these topics:
Understanding utility climate risks and opportunities
Planning for climate change
Decarbonization opportunities
"3BL Media is excited to host a discussion on Entergy's climate change strategy," says Robbie Lock, Executive Director at 3BL Media. "Utilities will play a critical role in decarbonizing our electricity supply over the next decade, while also helping customers prepare for and be resilient to climate risk - we are encouraged by Entergy's in-depth approach to climate planning."  
CLICK HERE TO REGISTER!
  In October, 2018, the IPCC Special Report on Global Warming of 1.5 °C found that limiting global warming to 1.5 °C would require "rapid and far-reaching transitions in land, energy, industry, buildings, transport, and cities." Specifically, carbon dioxide emissions would need to fall by about 45 percent from 2010 levels by 2030. The private sector plays a key role in meeting this goal.   
About 3BL Media
3BL Media is the world's leading communications partner for purpose-driven organizations. Our distribution, leadership, and editorial platforms inspire and support global sustainable business.  Learn more at 3blmedia.com.   Contact Robbie Lock Executive Director, 3BL Media
rlock@3blmedia.com
+1 866.508.0993