We Should All Choose to Challenge on International Women's Day
We Should All Choose to Challenge on International Women's Day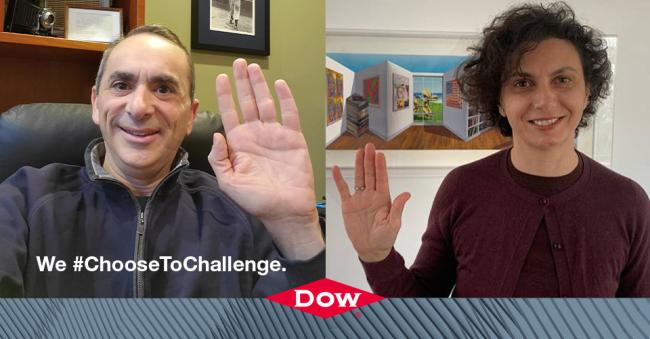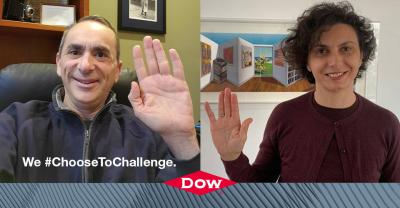 Summary
March is Women's History Month; an annual declared month to celebrate the countless accomplishments of women in history and today.
Today is 2021 International Women's Day carrying the theme: 'Choose to Challenge'. Let's hear from Margherita Fontana (Global Strategic Planning & Governance Procurement Director and Chair of Dow's Global Women's Inclusion Network) and Howard Ungerleider (Dow President and Chief Financial Officer and executive sponsor Dow's Women's Inclusion Network), how we can call out gender bias and promote equality, in a global effort to help advance an inclusive world through the empowerment of women.
Wednesday, March 10, 2021 - 11:30am
It is International Women's Day today. Margherita, can you explain why it is important that we raise awareness for this day?
I believe that raising awareness about global challenges such as gender inequality, lack of equal opportunities or gender pay gap is the first important step to solve these societal challenges. The missed global business opportunity of gender discrimination in the workplace and civil society amounts to the trillions of dollars, which is too relevant to be overseen… Celebrating International Women's Day helps tremendously to shed light and attract attention to these unsolved issues!
Howard, Women's History Month celebrates the contributions of women to events in history and contemporary society. What does this this month mean to you and what does it mean to Dow?
Each of us can certainly think of a woman who has had a meaningful impact in our lives – a family member, a coach, a teacher, a leader, a colleague, or friend… And at Dow, whether in our labs and manufacturing plants, in the field or in an office, across the globe Dow women are doing incredible work to advance our ambition to be the most innovative, customer centric, inclusive and sustainable materials science company in the world. We recognize and celebrate these contributions every day – but Women's History Month gives us the opportunity to shine a light on the women who make Team Dow so successful.
Margherita, the theme of this year's International Women's Day is 'Choose to Challenge'. What is your perspective on what should be challenged in the corporate world?
We should challenge the pace at which the changes in terms of Inclusion and Diversity are being implemented across corporations and countries. In a world moving at a very high speed, whereby we all experience daily changes in the way we produce, consume and live, we cannot be satisfied to wait another 100+ years to achieve equality in the workplace and in society… I know this may sounds surreal, but without bold commitments and stepping forward, our grand-, grand children would still need to address the equality gap!
Howard, from your experience, how can all contribute to challenging the status quo to fight gender bias and inequality, even if you don't identify as she/her/hers?
The data shows that gender equality makes good business sense, but beyond it's also just the right thing to do! Gender equality makes our families and communities stronger. Gender equality is not a just a women's issue -- all play a critical role in creating an inclusive workplace and in eliminating gender bias. I recognize that – and that's one of the reasons why I'm honored to be the executive sponsor for Dow's Women's Inclusion Network (WIN).
One of the pillars of our WIN strategy is to engage allies. We work with several organizations – including EY and its Power Up program. In Power Up, all - regardless of identification, sit together and talk about the experiences that women have in the workplace. These conversations help give allies a different perspective and can help them recognize how their behavior can either contribute to a more inclusive workplace – or could be a potential roadblock. Resources like those offered from Catalyst's Men Advocating Real Change (MARC) program can help all at Dow fundamentally improve their impact as advocates for change.
I'm personally committed to doing all I can in my community and in Dow to help ensure that every member of Team Dow has equal opportunity to pursue their goals and ambitions.
Margherita, why do you choose to challenge and what do you aspire these challenges to result in?
I aspire to help close the gender gap and drive equality both in the workplace as well as in the community I live. I am a strong believer that we need to encourage more girls and women to step into STEM fields of studies and work. To solve the world biggest challenges such as climate change, reducing waste, eliminating poverty, we need a diversity of minds at the design and implementation table. I have studied STEM disciplines, which has been a key enabler in my career because of the many avenues I could choose to explore. Therefore, I am investing my time and resources to challenge our biases, provide mentorship and sponsorship to young girls and women to encourage them to dream big and to fulfill their ambitions.
What about you, Howard?
I choose to challenge because ensuring the talents and unique perspectives of women are included at every level of our company is key to our success. I am proud that we've made great strides in gender equity, but there is more to do… As part of our effort to align with Dow's ambition and become a leader in equitable and inclusive offerings, we recently announced that beginning in the second half of 2021, we will be establishing global minimum standards for paid time off for new parents and family caregivers. These changes will include increases in paid time off in many countries around the globe and will be aligned with local regulations. In addition, we believe all colleagues should be able to afford their healthcare coverage and related costs they may incur when they need care. Beginning in 2022, Dow will offer discounted healthcare premiums for U.S. employees who qualify, based on their annual pay. These are important steps to allow our Dow Team to thrive.