Volunteer Spotlight: John Ketner, State Street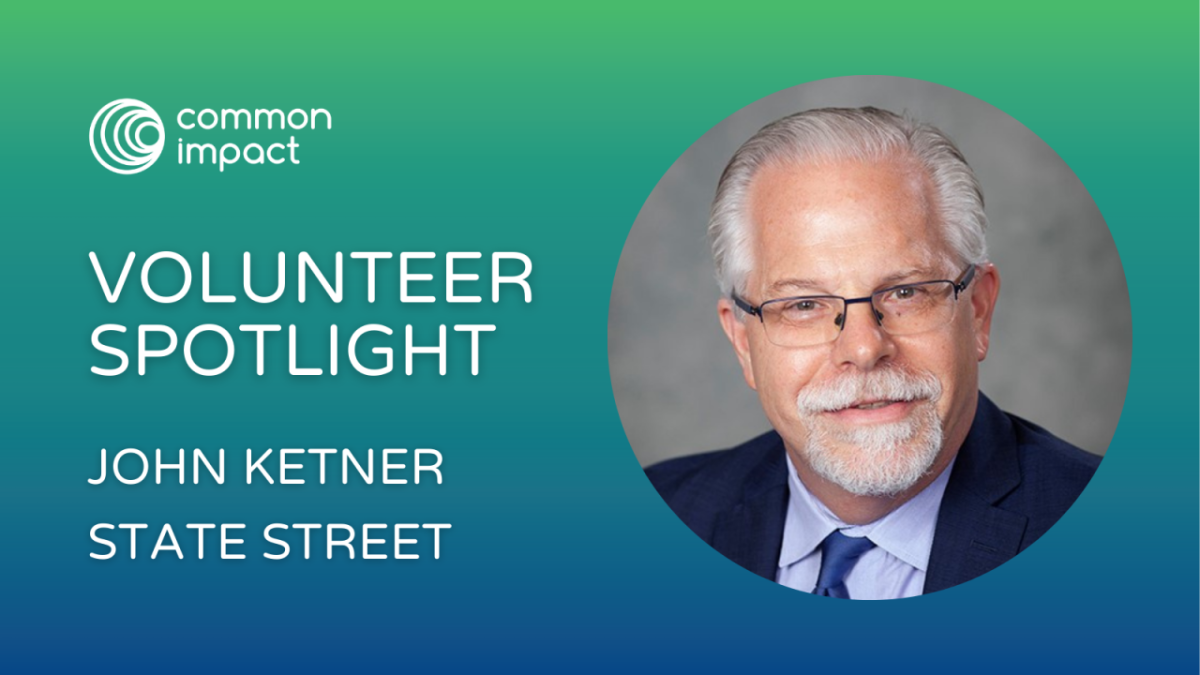 Skills-based volunteer John Ketner of State Street
Common Impact Volunteer Spotlight: John Ketner, State Street
Skills-based volunteers apply their business experience and specialized expertise to propel nonprofits – and their own companies – to reimagine their possibilities and achieve their goals. In celebration of National Volunteer Month, Common Impact spoke with longtime volunteer John Ketner, Vice President, Talent Marketplace at State Street.
We've had the pleasure of working together on several skills-based volunteering projects, including one at Skills for Cities Fall 2021 where you were part of a cross-company volunteer team. Could you share about one of your favorite projects and how you used your expertise to collaborate with your nonprofit partner on solutions to their challenge?
Choosing one is difficult because each project and each event has been special. But two projects do stand out. The first was with the Rian Immigrant Center (formerly known as the International Irish Immigrant Center). My teammates and I accepted the challenge of building a Salesforce database that could support all their different services. At the time, the data was managed separately in different spreadsheets and Access databases. The organization had no means of knowing if a client was using more than one service.
But that wasn't the only challenge. We had to learn the Center's services – JH1 visas, wellness, and legal advisory – and – believe it or not – we had to learn Salesforce. Thank goodness Common Impact supported us in our learning curve. But we did it. We transformed the way the Center worked by delivering a solution tailored to their needs. We listened, learned, and translated the workflows into Salesforce using one customer master file. We even created a new object called the Virtual Rolodex so staff could see if a participant was already in the system. The Rian Immigrant Center was so impressed with the results that they made a template of the database and it was adopted by other organizations in Chicago and San Francisco.
The other project was a branding and marketing strategy for City Mission Boston, the oldest nonprofit in Boston, which was preparing to celebrate its 200th anniversary. City Mission needed more focused and effective message for their future participants, donors, grantmakers, and the community at large. June Cooper, the executive director, described City Mission as the best-kept secret in Boston. We wanted to change that.
As part of our assessment process, we interviewed the single mothers in City Mission's A Lift Up program, which assists participants facing homelessness. They shared their stories and their gratitude for City Mission with us and we knew the program's over 90% success rate in preventing homelessness was a story that needed to be shared. But I was also impressed and humbled by the mothers' self-confidence and determination to build a safe and secure future for their families. Their personal stories needed to be heard too. We included in our findings the need to place greater emphasis on marketing City Mission's Public Voice program and we made several recommendations to the Board of Directors. I am pleased to say the branding you see at the City Mission Boston website is one result of our recommendations: a fresh look and a focused message as they look ahead to their next chapter.
"Skills-based volunteering is the human capital investment to make transformative change happen."
How does skills-based volunteering compare to more traditional volunteering experiences you've participated in?
Traditional volunteering is an important means of support for every nonprofit. Volunteers help get the work done. I have volunteered at many Jimmy Fund events to support their fundraising efforts. It's fun to scoop ice cream at the Scooper Bowl or assist with the activities at the Fenway Park Fantasy Day. Traditional volunteering truly makes a difference.
Skills-based volunteering, on the other hand, offers the opportunity to transform the work of a nonprofit. Most lack the capital to hire staff with the expertise needed to change their infrastructure and expand services. This is where we can fill the gap by volunteering our professional skills. Skills-based volunteering is the human capital investment to make transformative change happen. It's hard work, but very rewarding and much needed.
How has volunteering enhanced your day-to-day work or your career at large?
I have benefited greatly from skills-based volunteering. First, my critical thinking skills have improved as I listen more attentively to my internal customers. For most of us, the nonprofit world is foreign. The metrics for success and the revenue model are very different. To deliver a successful project, you have to listen and learn and interpret in a way that fits the vernacular of the organization. The business analysis I perform at State Street has benefited from that increased awareness.
Second, my leadership skills have improved. Managing a team for a Skills for Cities event or a longer-term project requires the ability to quickly bring together a group of individuals you probably have never worked with before and focus on a common goal. You have to learn the strengths of each person and what motivated them to participate. You not only want to be successful in delivering a solution, but in helping each volunteer fulfill their personal goal. I apply the same principles when leading a team at State Street. I strive to create a shared understanding of the deliverables and the metrics of success among the team members while at the same time making the effort to understand each person's career growth goals so I can create opportunities for their professional development success.
"Making the choice to use your skills as a volunteer can be the first step on your journey for more inclusion and belonging at work and in the community."
What would you say to someone who is considering bringing skills-based volunteering to their company or participating in a project for the first time?
Look at the opportunity not only in terms of what you can do for the organization, but what they can do for you as well. I truly believe that I have personally benefited more from my volunteering than the benefit I provided. That may sound strange and contradictory, but it's true. Yes, the organizations have benefited by being able to expand their services and grow, but I have grown in many ways too. As I mentioned previously, I have improved my leadership and critical thinking skills as well as grown my network of my peers at State Street and other companies.
I have also grown in my understanding and appreciation of the importance of nonprofits. As a result of my skills-based volunteering, I was invited to serve on the Board of Directors of City Mission Boston and served as President during part of my tenure. With that, I have grown my network among the nonprofit community, which provides a new source of ideas and a different perspective.
Most importantly, I have grown in my understanding of my privilege. As Bryan Stevenson of the Equal Justice Initiative says, "Stay close to the people you are trying to help." Skills-based volunteering has given me the opportunity to get close and be engaged. My journey of awareness has led me to be a working group member of State Street's 10 Actions Against Racism and Inequality. Making the choice to use your skills as a volunteer can be the first step on your journey for more inclusion and belonging at work and in the community.