Volunteer Spotlight: Alexa Tang, Arity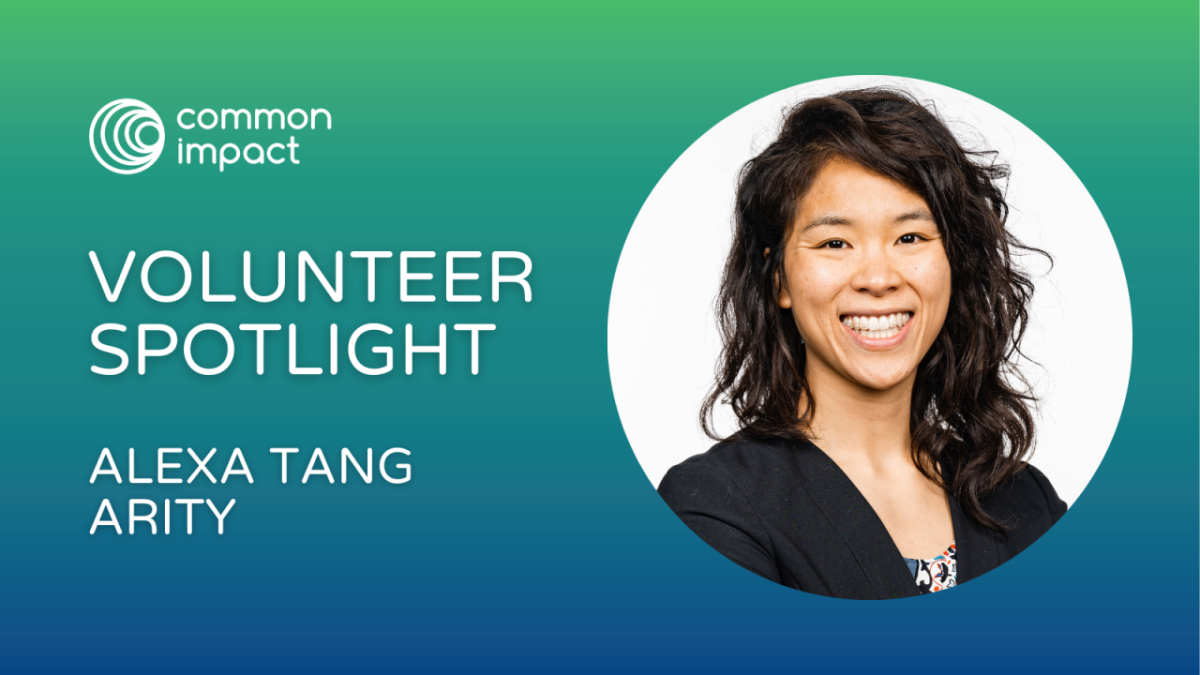 The incredible experience of our corporate volunteers showcase the lasting impact of skills-based volunteering. After participating in one skills-based volunteering event, Alexa Tang was encouraged to continue giving back meaningfully. As a Senior Product Manager at Arity, she utilized her specialized expertise and talent to optimize the operations of mission-driven organizations. By channeling her passion and curiosity into her volunteer work, she became a catalyst for change.
I felt so energized after my first skills-based volunteering event that I signed up for every opportunity after that! It feels great to dedicate a day to working with a nonprofit.
Common Impact was fortunate to have your perspective on a recent skills-based project with the Asian Pacific Institute on Gender-Based Violence, a nonprofit on a mission to disrupt gender-based violence within AAPI communities throughout the U.S. and its territories. What was the challenge you collaborated on, and how did you use your professional skills to solve it? 
My most recent experience volunteering with Common Impact was through Allstate Foundation's Day of Service. My group was assigned to work with the Asian Pacific Institute on Gender-Based Violence (API-GBV) to improve its internal communications strategy to strengthen ties with other GBV organizations and the AAPI community.
My experiences in both my professional and personal life helped me collaborate on this challenge with my team. Professionally, I've developed human-centered design thinking skills at Arity to lead with empathy when facilitating meetings. This helped me listen beyond the words of what our organization described as challenges and probe them deeper for what they wanted to accomplish. It also enabled our team to work together in a virtual environment, using online collaboration tools to chart what we heard and discuss possible solutions. In the past, I've also been a member of a performing arts group that's also a 501c3 nonprofit. My personal experiences with that group helped me understand API-GBV's challenges in setting up a strategy. I wasn't expecting to draw from these skills, but they were helpful throughout the day.
From your experience, what sets skills-based volunteering apart from more traditional volunteer experiences? 
What's unique about skills-based volunteering is that it requires you to bring all of you to the experience. Traditional volunteering primarily requires you to invest time, and it's usually some task that needs extra hands. What's cool about volunteering with Common Impact is that it's helping organizations that need extra hands, minds, and hearts.
What would you say to corporate leaders considering bringing skills-based volunteering to their company or participating in a project for the first time? 
I'd tell someone new to skills-based volunteering that you never know how much you have to offer until you do it. Initially, I felt self-conscious about the skills I'd be able to offer, but I've found that every experience you've had can translate into a skill. The diversity of experiences we had as a team helped the organizations we were paired with.
How did you become interested in skills-based volunteering, and what motivated you? 
I wasn't convinced about skills-based volunteering until I heard about it through the Allstate Foundation's Day of Service. It seemed like a cool way to work with other people across the Allstate Corporation (not just my company), and it would let me contribute to a good cause. I felt energized after my first one and signed up for every opportunity after that. It feels great to dedicate a day to working with a nonprofit, meeting and working with people I don't usually get to, and seeing how I have more to offer than I thought. The day goes so quickly, and it's a lot of fun – it feels selfish even to call it volunteering!
###
About Common Impact 
Common Impact is a national nonprofit that works to build a society in which individuals and businesses invest their unique talents towards a shared purpose: strengthening the local communities in which we live and work. Founded in 2000, Common Impact has partnered with Fortune 500 companies and hundreds of the country's leading nonprofit organizations to create transformational change through skills-based volunteering. Learn more about Common Impact's services, impact, and clients.