Visa Launches Online Tool to Help Connect Families to Essential Supplies in Wake of Disasters
Hurricane Area Store Locator Helps Impacted Residents Find Gas, Groceries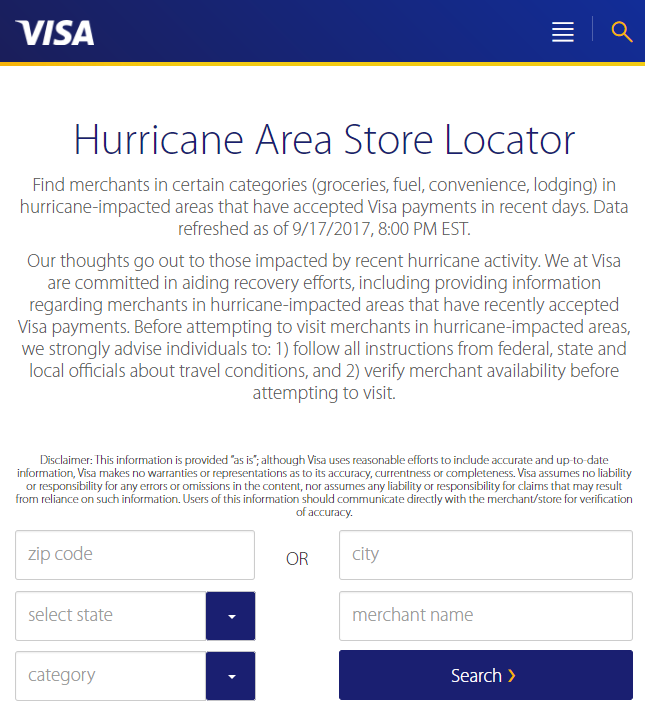 Visa's Hurricane Area Store Locator
At Visa, we are committed to doing our part to get those affected by disasters back on their feet as quickly as possible. That's why we have created the Hurricane Area Store Locator to help those impacted identify open businesses in affected areas providing necessities such as groceries, gas, hardware or lodging.
By visiting https://usa.visa.com/support/hurricane-store-locator.html individuals can enter their city or zip code to identify the nearest merchants that have accepted a Visa transaction within recent days, helping indicate a business that is open and has goods and services available to sell.  While the platform is initially focused solely on Florida in the wake of Hurricane Irma, Visa will look to expand the service to other communities based on need.
Before attempting to visit merchants, Visa strongly advises individuals to follow all instructions from federal, state and local officials about travel conditions and to verify merchant availability.
Visa is dedicated to supporting immediate relief and recovery efforts in several ways. To learn more about Visa's recent efforts, click here.