Viacom's #SeeHer PSAs Portray Positive Female Role Models In Media
Viacom's #SeeHer PSAs Portray Positive Female Role Models In Media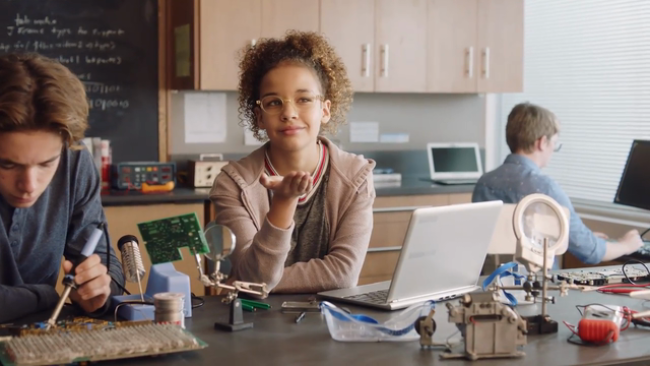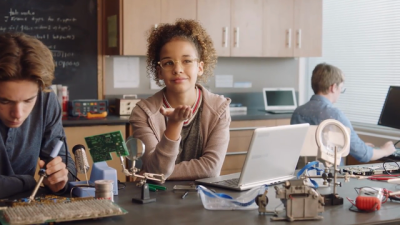 Wednesday, March 7, 2018 - 9:15am
On Feb. 1, Viacom launched the first in a year-long series of PSAs across MTV, VH1, Comedy Central, Paramount Network, CMT, TV Land and Nickelodeon. These vignettes feature inspiring, diverse women role models, both real and fictional.
Take a look at the first vignette, a feature film trailer highlighting a female engineer using her technological dexterity to prevent a world crisis. The vignette ends with that young girl sitting in science class, daydreaming about these future heroics.
"Portraying a strong female character isn't rocket science," announces the narrator.
This spot is part of the Association of National Advertisers' ongoing #SeeHer initiative, of which Viacom is a leading partner. The goal is to accurately portray women and girls in media and advertising by 2020 (100 years after women's suffrage passed in the United States).
Using the tagline "If you see her, you can be her," the #SeeHer movement employs two of the world's most pervasive industries – advertising and media – to illustrate the extraordinary things that women are doing every day.
Viacom was the ANA's first programming partner when it launched #SeeHer in 2016. Last March, MTV ran a multiplatform #SeeHer campaign called A Woman Did That in tandem with Women's History Month. The content on MTV and its social channels highlighted luminary female pioneers, including Olympic Gold Medalist and New York Times best-selling author Laurie Hernandez, University of Michigan student and STEM entrepreneur Keiana Cave and Rihanna, among others.
Successful women come in many forms. Viacom's broad reach across demographics uniquely positions the company to influence conversation through entertainment.
Perhaps nowhere is this reach more vital than with Viacom's child-centric networks: Nickelodeon and Nick Jr. This is because gender roles are adapted by ages 5 to 7, according to the ANA. To help children develop their understandings within the most positive possible context, the network aired a kid-focused #SeeHer spot using characters from its intellectual property: shows like Nella the Princess Knight and The Thundermans that Nickelodeon's young audience would relate to. "See her create," narrates the clip. "See her dominate."
But Viacom's role at the vanguard of the #SeeHer campaign aligns neatly with the company's tradition of championing women in general; female-centric stories are told across each network.
This is something I've reflected upon as a Viacom employee, but it was in my subconscious before I began working here. Some of my earliest memories of female characters on TV stemmed from Nick shows, like Clarissa Explains It All, and The Amanda Show. Nick's kid-oriented sketch comedy gave girls as many funny lines and gags as their male counterparts.  And as I grew up, I watched MTV and VH1, intrigued by the fact that women like Vanessa Minillio were veejays on TRL.
I remember being relieved to see that The Jersey Shore let its cast members act equally raunchy, regardless of gender. While I wouldn't necessarily want my future daughter watching the first season of the notorious show and emulating Snooki's behavior, I like that MTV gave women like Snooki (Nicole Polizzi) the chance to be themselves, to unravel and show a side of themselves that was unfiltered, un-airbrushed.
Comedy Central's #SeeHer spot will feature Broad City co-creators Abbi Jacobsen and Ilana Glaser. Not only do I love Glaser and Jacobsen as actors, their characters resonate with women across multiple demographics. For a show centered on two millennial women living in New York City, the themes—strong, female friendship; struggling to make a living working minimum-wage jobs; the awkwardness of being human—are widely relatable.
By expanding the campaign's reach across its brands, Viacom delivers #SeeHer to inspire women around the world with this message: Be happy with yourself, the way you are.
About Viacom
Viacom is home to premier global media brands that create compelling television programs, motion pictures, short-form content, apps, games, consumer products, social media experiences, and other entertainment content for audiences in more than 180 countries. Viacom's media networks, including Nickelodeon, Comedy Central, MTV, VH1, Spike, BET, CMT, TV Land, Nick at Nite, Nick Jr., Logo, Nicktoons, TeenNick, Channel 5 (UK), Telefe (Argentina) and Paramount Channel, reach over 3.9 billion cumulative television subscribers worldwide. Paramount Pictures is a major global producer and distributor of filmed entertainment.
For more information about Viacom and its businesses, visit www.viacom.com. Keep up with Viacom news by following Viacom's blog at blog.viacom.com and Twitter feed at www.twitter.com/viacom.