ViacomCBS' Top Milestones of 2020
ViacomCBS' Top Milestones of 2020
A look back at some of ViacomCBS' major achievements in the first year since the merger.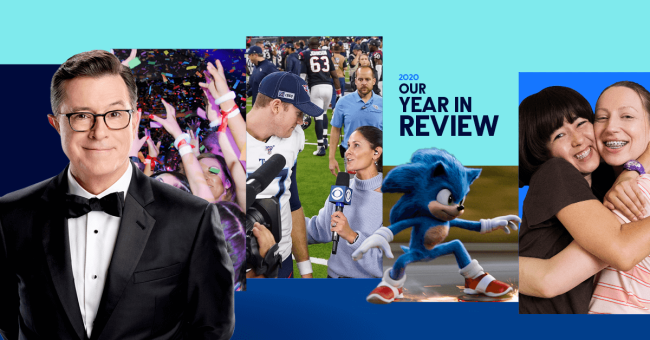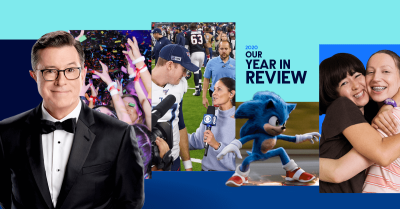 Thursday, December 17, 2020 - 11:30am
In an exceptional year, ViacomCBS accomplished a lot. We leveraged the power and value of our combined portfolio, while entertaining audiences worldwide during unparalleled times.
From across our company, here's a roundup of the top 10 moments from 2020.
1. Year One: Unlocking the Power of Our Merger
ViacomCBS has a lot to celebrate in our first full year as a combined powerhouse with indisputable momentum. We expanded our cross-company distribution deals, continued to build strength in advertising that leverages the power of our combined portfolio, and accelerated our streaming business. We're creating value on multiple fronts and have moved quickly to realize the power of ViacomCBS.
2. Establishing a Best-in-Class Leadership Team
This year, we appointed leaders in key areas of our business, including George Cheeks as President and Chief Executive Officer, CBS Entertainment Group; Naveen Chopra as Executive Vice President and Chief Financial Officer; and most recently, Tom Ryan as President and CEO, ViacomCBS Streaming (seen here from left to right). More than ever, we're poised to drive our business forward.
3. Next-Level Streaming
Free streaming soared in 2020, with Pluto TV reaching 28.4M domestic users and more than doubling ad revenue in Q3, with additional gains internationally as its expansion continues. Meanwhile, SHOWTIME OTT prevailed with hits like The Chi, Billions, and the final season of Homeland. In September, we announced that CBS All Access and its rapidly-expanding library of content (which now includes UEFA Champions League, 40+ ViacomCBS franchises and 100+ Paramount films) will be rebranded as Paramount+ in early 2021, complete with a unique slate of live sports, breaking news, and a mountain of entertainment — more than 30,000 episodes and movies.
4. Securing Key Partnerships
We grew our connections in distribution, including major cross-company contract renewals with Comcast and Verizon and agreements with Meredith, Nexstar, Sinclair, and Cox. In May, we held our first-ever virtual Upfront @Home to safely reach advertising partners in a new way. That same month, we debuted an expanded, multi-year deal with YouTube TV, adding 14 cable channels to its service, including BET, MTV, Comedy Central, and Paramount Network. In August, we announced the launch of our EyeQ platform, providing advertising partners with a single transactional point of entry for our digital video content.
5. Captivating Content
ViacomCBS maintained its position as #1 in share of viewing, with more top 30 cable networks than any other media family. CBS remained the most-watched network across primetime, daytime, and late night during the 2019-2020 broadcast year, with the top 3 dramas, 8 of the top 10 comedies, and 5 of the top 6 returning new series. SHOWTIME was the home of the top 2 premium scripted series. ViacomCBS International continued its growth in linear viewership and ViacomCBS International Studios has ramped up content production in Latin America and is expanding its presence in Southern Europe.
6. Stronger Together
ViacomCBS quickly shifted into action following the effects of COVID-19 on the communities we support, pledging $100M to support impacted personnel and leveraging our platforms for the #AloneTogether PSA campaign. Our brands also created timely entertainment, with CBS' One World: Together at Home special, BET's Saving Our Selves, Comedy Central's The Daily Social Distancing Show With Trevor Noah, and others. We also hosted our first-ever Virtual Community Day, mobilizing employees worldwide to volunteer safely with communities and organizations of their choice.
7. Strengthening Our Culture of Inclusion
After the murder of George Floyd and many other events of racial injustice, we used our platforms to condemn systemic racism and drive change, from the powerful 8:46 PSA across our MTV Entertainment Group to the Justice Now: A BET Town Hall special, to the Kids, Race, and Unity: A Nick News Special and more. Our third-annual Inclusion Week went virtual with more than 80 sessions offered to employees globally. We also launched multiple diversity initiatives worldwide, including ViacomCBS U.K.'s "No Diversity, No Commission" policy and new diversity targets for CBS' writers' rooms and unscripted casts.
8. Amplifying Civic Engagement
ViacomCBS brands put early voter registration and getting out the vote in the spotlight this fall, with inventive campaigns like Vote Early Day, Vote For Your Life, and #ReclaimYourVote, BET's partnership with the National Urban League to recognize National Black Voter Day on September 18. Nickelodeon elevated young voices with its Kids Pick the President special and throughout Election Day, CBS News covered the returns from their new state-of-the-art studio, headquartered at 1515 Broadway in Times Square.
9. Supporting Sustainability
This year, we initiated our first-ever report on our Environmental, Social, and Governance (ESG) to provide transparency and determine our areas of greatest impact through our content, corporate culture, and more. Our ESG Materiality Assessment was our first step to strengthening our approach to ESG topics to serve our partners, audiences, employees, and shareholders — and to enhance our success as a business.
10. Forging Our Path
For the first time ever, ViacomCBS created and shared a common mission, values, voice, and design system with employees. We'll continue to build on this work within our organization through workshops, toolkits, and a speaker series as well as unveiling it to the industry in 2021.