Viacom Women On Tech Leadership at Any Level
Viacom Women On Tech Leadership at Any Level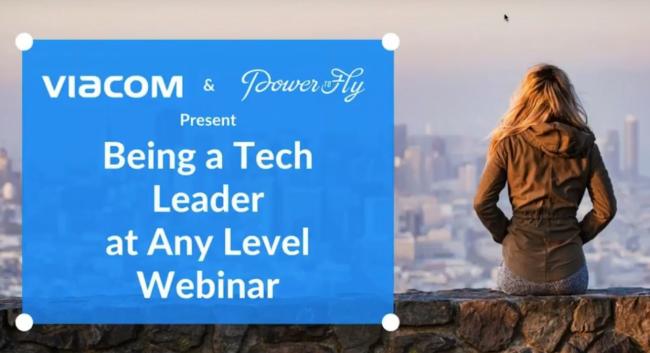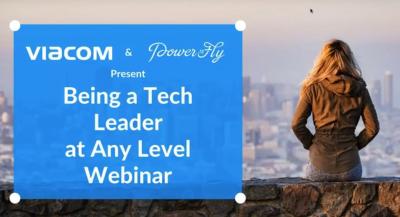 Tuesday, February 27, 2018 - 3:30pm
With hackathons, futuristic workspaces and mentorship programs, Viacom is a veritable technology trailblazer in the media industry. One of the reasons why the company is excelling? Female leadership.
This was evident at Being a Tech Leader at Any Level, a joint webinar hosted by Viacom and PowerToFly, a gender diversity-and-inclusion-focused recruiting agency that connects Fortune 500 companies and startups with women looking to work as engineers.
Watching the webinar, I saw a diverse group of women engineers and developers, some at entry-level positions and others in management, discuss how they work to overcome adversity and close the gender gap in a male-dominated industry.
PowerToFly's senior recruiter, Amy Trappey, moderated the panel discussion, which included the following women from Viacom:
Anita Anderson – Senior Director of Engineering at Nickelodeon

Lily Chang – Enterprise Architect, Enterprise Architecture

Emily Goetz – Software Engineer at Nickelodeon

Preeti Vaidya – Data Science Engineer, Advertising Science & Data Strategy
Network of opportunity
Vaidya and Trappey proved the value of working with organizations that act as a pipeline for female talent, such as PowerToFly or Girls Who Code (which has partnered with Viacom for its summer immersion program since 2015).
In May 2017, Trappey recruited Vaidya for a data engineering position at Viacom, after meeting her through PowerToFly.
Vaidya graduated from Columbia University with a master's degree in computer science. She has been fascinated with data, graphing, parallel and distributed systems and image processing for most of her life. Her skillset and degree positioned her to work nearly anywhere, but she chose Viacom.
"I was extremely excited about [Viacom] because of all the brands and the content we create that already integrates with our culture and also personally with me," said Vaidya. Once she began her current role in advertising science and data strategy, she realized her job could lead to unexpected, innovative duties.
"We are currently working on Viacom 360," she said, "Which brings together data about our partner's brand-level information across all Viacom networks and across linear, digital and social campaigns." Accumulating this vast data bank is, according to Vaidya, a new company endeavor and represents "a lot of opportunity to try new things."
Incubating talent and growth in tech
Emily Goetz discussed how she leverages her skills in different areas of media, from tech to social engagement. Goetz studied computer science at Binghamton University and joined Viacom in 2015 after completing our media immersion summer associate program for recent college grads, which called for candidates "born to tweet and driven to develop." Goetz embodied this description. In college, she worked as a social media marketing intern at the digital marketing agency DragonSearch.
"A mixed background between media and software engineering was perfect for the role," said Goetz. Since working as a summer associate, Goetz was hired as a software engineer and moved around Viacom's mobile and emerging platform development teams. She worked for Nickelodeon, researching new technology and testing prototypes for the Nickelodeon Android app. Now she works with the Noggin Android team.
Anita Anderson is another example of how Viacom encourages growth among women. As director of engineering for Nickelodeon, she leads by encouraging her team to take ownership of their work. She learned from her 10-year tenure at Viacom that simply delegating tasks does not elicit the best results. "I wanted to give everybody an opportunity to lead initiatives that they are passionate about," said Anderson. During her career at Viacom, she led teams of mostly male employees, and consistently found her subordinates to embrace inclusion and teamwork. Now, a female intern has joined the ranks. "She fit right in," said Anderson. Her managerial goal has always been to curate a team of brilliant engineers, who are equally welcoming and accepting of each other's differences. And with her current team, Anderson says this is "absolutely the case."
Female leadership in the field
With a changing landscape in computer science, Viacom has sought out talent to lead and grow its tech teams, but not without the contribution of its female staff. Allowing women to contribute ideas and skills to computer science, says Lily Chang, is vital to closing the gender gap in tech.
Over 12 years at Viacom, Chang has worked in a variety of tech-related departments and learned a robust set of skills. Last year, she was promoted to her current role as enterprise architect, which requires an innate desire to learn about new and evolving technologies.
Chang thrives in this position, where she can "learn and discuss our business strategy at a higher and broader level." She credits her success to institutional knowledge gained from working at Viacom for over a decade, on teams where she was given the opportunity to learn from her superiors.
"Women need a support network that allow their voices to be heard," said Chang, "Either through mentorship, sponsorship or some high-level management commitment." Simply being present in important meetings and having an equal voice, says Chang, "Gives women technologists opportunities to grow."
You can watch the webinar here. To find out more about Viacom's tech-inclusion programs, click here.