Viacom Again Lands on Indeed.com's List of Best Fortune 500 Companies to Work For
Viacom Again Lands on Indeed.com's List of Best Fortune 500 Companies to Work For
by Stuart Winchester, Viacom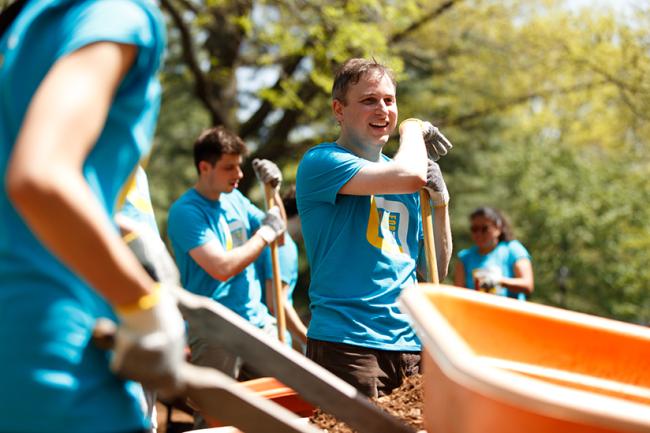 Tuesday, August 15, 2017 - 8:45am
Over the past several years, Viacom's towering Times Square headquarters has undergone a series of significant renovations. In the lobby, enormous screens now hang alongside the elevator banks, a cavernous event space and a new cafe host an endless procession of parties and meetings, and a sequence of bold installations has invigorated the entrance areas with the energy of a high-end art gallery. Up on the seventh floor, the Wellness Studio offers heavily discounted memberships on a regimen of fitness classes, while employees can get their pictures album-ready for free at a printing studio. The 31st floor has been transformed into a massive convention center, while several other floors have been renovated in a style that elegantly meshes function and design.
As the company headquarters slowly sheds its old skin for the wide-open interiors of the 21st century media workplace, Viacom has been investing furiously in new, renovated and expanded buildings all over its footprint: earlier this year, the company united eight of its brands in a soaring space in the heart of Hollywood and vastly expanded its Burbank studio.
This invigorating workspace overhaul is just one of many perks to having a job at Viacom, and it likely contributes to the company landing on the upper half of Indeed.com's list of Best Fortune 500 Companies to work for for the second consecutive year.
What makes Indeed's list unique is that their rankings are based entirely on data extracted from employee-submitted reviews. And the reviews are strong.
"I have worked at Viacom in Hollywood for over a year and love it," went one typical comment. "Super fun and collaborative culture, cool brands and a nice work/life balance."
Commenters praised the company's perks (like free soda and coffee machines in many locations), employee events (like a conversation with LL Cool J), paid time off, benefits, and career development and advancement opportunities.
"Smart companies know that if they make their workers feel comfortable and happy, they will work harder and longer," another commenter wrote. "Happiness pays for itself with higher productivity."
The company has spent decades building a deep talent pool – signed plaques commemorating 10-or-more-year anniversaries are ubiquitous on desks around the office – and this shows in the deep respect that many commenters had for their peers. "My co-workers were some of the smartest professionals I've ever worked with," wrote one person, who identified themselves as a former vice president in Ad Sales. Another expressed a similar sentiment: "At Viacom I learned how to be a better engineer, you are around GREAT and strong engineers and as our lead architect would say, 'Stay with us, we will make you better.'"
And while all of these things are, in my experience, true, and having cool workspaces infuses day-to-day tasks with a certain energy, there is something far more important that Indeed identified as a common thread running through all of the top 50 companies. "A recurring theme across the employee reviews for these firms is the importance of a strong company culture and clear values," a post on the site announcing the list explained.
Indeed, a strong community conscience has always been vital to Viacom's self-image, and many employees praised the many volunteer opportunities, an inclusive culture that values diversity, and the unexpected benefits that transcend the typical menu of health insurance policies, such as adoption assistance.
While a constellation of factors influence how people feel about their jobs every day, there is a pervasive pride, throughout the comments on Indeed, of working for a company that is so vital to the modern media and entertainment landscape, and one that is adapting so well to it, with advanced data capabilities and audience measurement tools. As one commenter wrote, "The industry is going through a major restructure and this company is ahead."
This recognition from Indeed is the latest in a long line of acknowledgements that the company has received for creating a supportive and attractive work environment. Last year, Fast Company named Viacom a top destination for work-life balance, Fatherly named us to its Great Workplaces for New Dads list, and Working Mother put the company on its 100 Best Companies list for the sixth consecutive year.