VH1 Save The Music Foundation Launches New Partnership to Strengthen Music Programs in Public Schools at 20th Anniversary Gala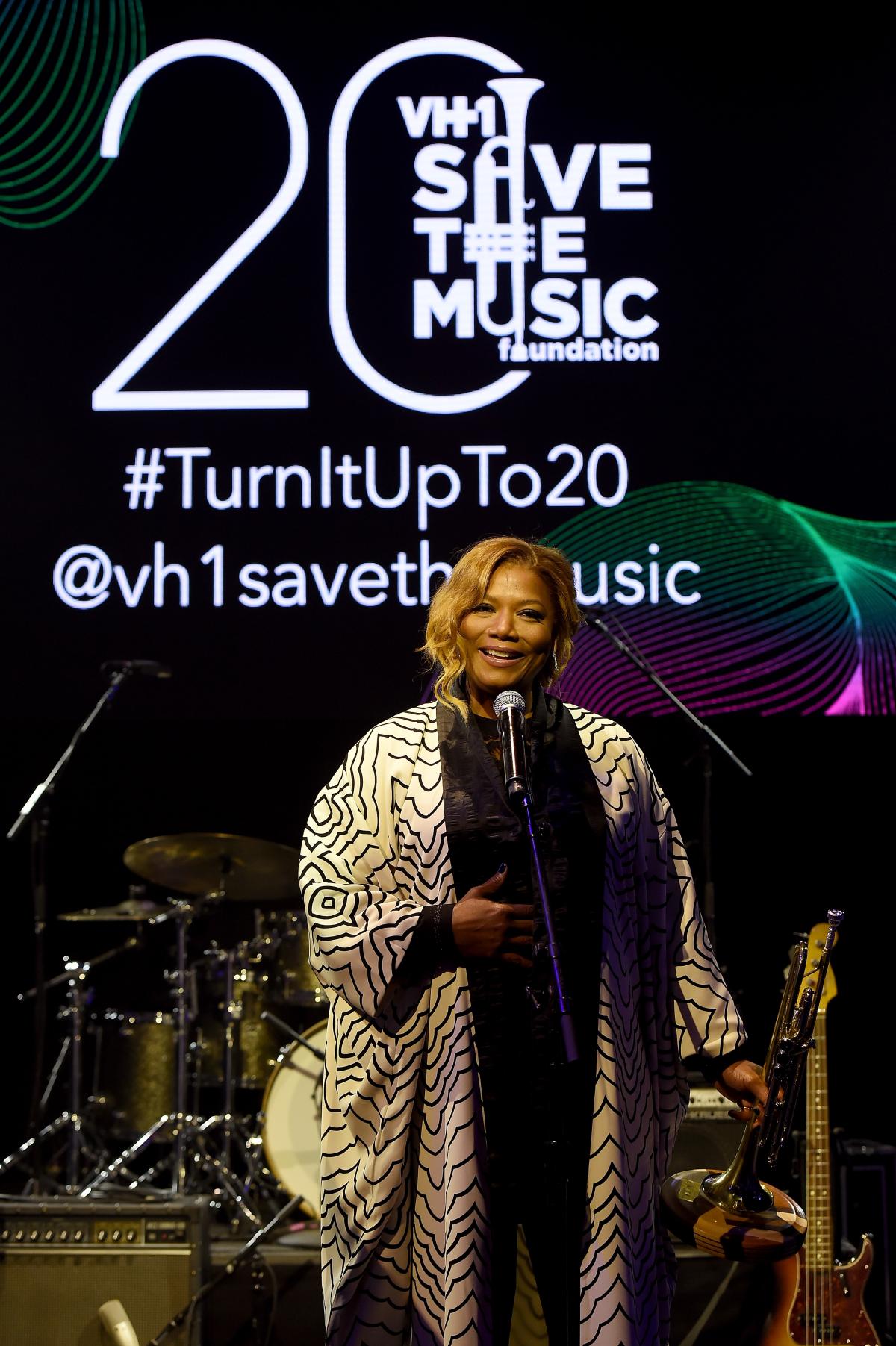 NEW YORK, October 17, 2017 /3BL Media/ - VH1 Save The Music Foundation honored entertainment icon Queen Latifah as part of the Foundation's 20th Anniversary Gala for her contributions to the world of music and commitment to providing low-income students with opportunities to pursue an education. A Newark native, Queen Latifah and the Foundation had recently announced a 5-year, $5 million project to rebuild music in 38 schools in the city. At the Gala, the Foundation also presented Steve Aoki with the Music Innovator Award for his impact on the music industry, his leadership as a philanthropist through the Steve Aoki Charitable Fund, and role as an outspoken advocate for music education. Toyota, which served as an event sponsor, presented DJ Khaled with the #ToyotaGiving Award for his role as a champion for music programs in schools and involvement as national spokesperson for VH1 Save The Music sister organization GET SCHOOLED.
"I am deeply humbled by the opportunity to be a part of the amazing work that VH1 Save The Music does," said Queen Latifah. "This is bigger than just teaching kids how to play instruments – it's about using music to bring communities together and giving all children a shot at a brighter future. This work can't stop until every child can access music programs as part of their education."
"I'm honored to be here to celebrate VH1 Save The Music's 20th anniversary. Thank you for this award. Tremendous work has been done bringing back music programs to students across the country," Steve Aoki said in his acceptance speech. "I'm proud to be included with a group of incredible musicians who give back to their communities. I don't know where I would be without music. These incredible programs will help build the future of music and I can't wait to see what the next 20 years of music technology will bring to kids!"
VH1 Save The Music also unveiled a new grant program that will broaden the range of opportunities for students across the country and advance the Foundation's mission to make music available in every public school in America. Introduced by Steve Aoki, the Music Tech Grant is planned as an investment in American public high schools to fund: the hardware, software, and musical instruments needed for audio engineering, recording, and production. Khaled also announced that he and GET SCHOOLED would launch the Win More Music Campaign for the 2017-18 school year, in partnership with the Foundation. The campaign builds on the 2016-17 award winning "Khaled Keys campaign" and is expected to reach more than one million young people and will expose them to key components of the music industry, including composition, collaboration, production, copyrighting basics marketing, and social media. The high schools with the most engaged students will earn DJ Khaled - We The Best DJ Studio Labs in their school.
"Not all children in America are afforded the same chances to succeed, but we believe in the power of music to help students fulfill their potential. That's why we are more committed than ever to bringing music education to students who need it most," said Henry Donahue, executive director of the VH1 Save The Music Foundation. "Not only is music education proven to help students be more successful, but we believe it's every child's right to access music and art within their school and community. With the continued support of our partners in communities across the U.S., we can help make music an essential piece of every child's education in the next 20 years." 
"For three years it's been a privilege for Toyota to partner with this incredible institution dedicated to providing music education to children, and to honor musicians who give back to their communities," said Steven Curtis, VP of Media and Engagement Marketing, Toyota Motor North America. "VH1 Save The Music's focus on both local action and national advocacy makes music education a real possibility for many students who otherwise would never have access to it and Toyota is proud to support in this mission."
VH1 Save The Music's 20th Anniversary Gala was sponsored by The All-New Toyota Camry, Toys R US, IOMAXIS, Notable Wines, Lyft, Tito's Handmade Vodka, ALEX AND ANI, Raymond Weil, Heineken, Moxy Times Square and JetBlue.
Click here for photos of the red carpet. Photos from the event are available here.
For 20 years, VH1 Save The Music has used a comprehensive model to affect change in America's public schools. VH1 Save The Music's approach combines investments of instruments and resources to jumpstart music programs, support to music teachers' development and day-to-day work, and advocacy for music as a necessary component of every student's education. Founded in 1997, VH1 Save The Music was the first organization in existence dedicated to restoring music programs. Over the last 20 years, the Foundation has donated $53 million worth of new musical instruments to over 2,000 public schools in 257 school districts around the country-- impacting the lives of millions of public school students. This Fall, the Foundation delivered grants to 80 schools. Get involved at www.vh1savethemusic.org and join the conversation on Facebook, Twitter, Instagram and Snapchat @vh1savethemusic using the hashtag #SaveTheMusic.
About Toyota
Toyota (NYSE:TM) has been a part of the cultural fabric in the U.S. and North America for 60 years, and is committed to advancing sustainable, next-generation mobility through our Toyota and Lexus brands. During that time, Toyota has created a tremendous value chain as our teams have contributed to world-class design, engineering, and assembly of more than 33 million cars and trucks in North America, where we operate 14 manufacturing plants (10 in the U.S.) and directly employ more than 46,000 people (more than 36,000 in the U.S.).  Our 1,800 North American dealerships (nearly 1,500 in the U.S.) sold almost 2.7 million cars and trucks (2.45 million in the U.S.) in 2016 – and about 85 percent of all Toyota vehicles sold over the past 15 years are still on the road today.  
Toyota partners with community, civic, academic, and governmental organizations to address our society's most pressing mobility challenges. We share company resources and extensive know-how to support non-profits to help expand their ability to assist more people move more places. For more information about Toyota, visit www.toyotanewsroom.com.
About Viacom
Viacom is home to premier global media brands that create compelling television programs, motion pictures, short-form content, apps, games, consumer products, social media experiences, and other entertainment content for audiences in more than 180 countries. Viacom's media networks, including Nickelodeon, Comedy Central, MTV, VH1, Spike, BET, CMT, TV Land, Nick at Nite, Nick Jr., Logo, Nicktoons, TeenNick, Channel 5 (UK), Telefe (Argentina) and Paramount Channel, reach over 3.9 billion cumulative television subscribers worldwide. Paramount Pictures is a major global producer and distributor of filmed entertainment.
For more information about Viacom and its businesses, visit www.viacom.com. Keep up with Viacom news by following Viacom's blog at blog.viacom.com and Twitter feed at www.twitter.com/viacom.