Veteran Leads Platoon of Volunteers in Hurricane Irma Prep and Recovery Work
The Mission Continues Miami Service Platoon reported for duty, supporting residents impacted by the storm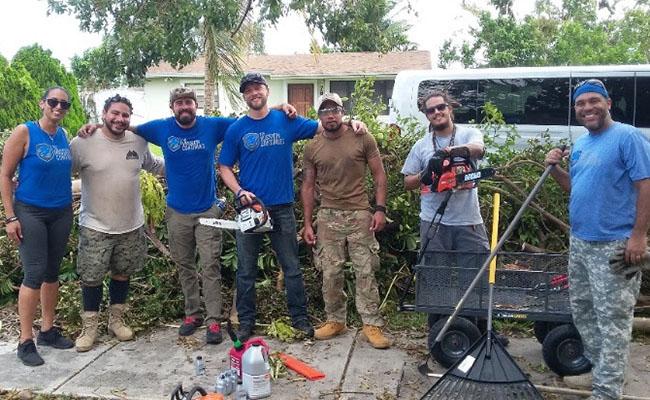 Derek Auguste (far right) and members of the Miami Service Platoon he leads through The Mission Continues helped clear debris from area homes after Hurricane Irma.
Veteran Leads Platoon of Volunteers in Hurricane Irma Prep and Recovery Work
As Texas, Florida and Puerto Rico face the aftermath of Hurricanes Harvey, Irma and Maria, Points of Light is honoring everyday citizens who stepped up to serve their communities during the immediate response and to embark on the long road to recovery. 
After leaving the U.S. Army in 2015, Derek struggled to find purpose outside of the military – but he found his place when he heard about The Mission Continues, a nonprofit that empowers veterans by engaging them in service to the community. Through the organization's fellowship program, Derek volunteered for six months at Up2Us Sports, where Derek recruited and mentored veteran coaches to give underprivileged youth the opportunity to develop positive relationships with adults. At the conclusion of his fellowship, he was hired full-time by Up2Us.
Derek has continued to deepen his commitment to service through The Mission Continues, becoming a volunteer platoon leader for the Miami 1st Service Platoon. As Hurricane Irma moved towards Miami, Derek didn't hesitate to mobilize his platoon to help residents prepare. The homes of elderly and disabled residents were prioritized, including WWII and Vietnam veterans. As the storm passed, Derek recruited volunteers to begin clearing debris. Under Derek's leadership, the Miami Service Platoon has made an incredible impact on the community:
30 homes were prepared with hurricane shutters and plywood.
200 pounds of ice was distributed to a migrant farm worker community in Homestead, Florida.
More than $35,000 of tree cutting, house mucking and debris removal was provided at no charge by volunteers across Miami Dade county and Key West, including assistance for nonprofit agencies who work with disadvantaged youth and special needs students.
700+ hours of volunteer service hours performed.