United Announces $15 Million Investment in Carbon Capture Company Svante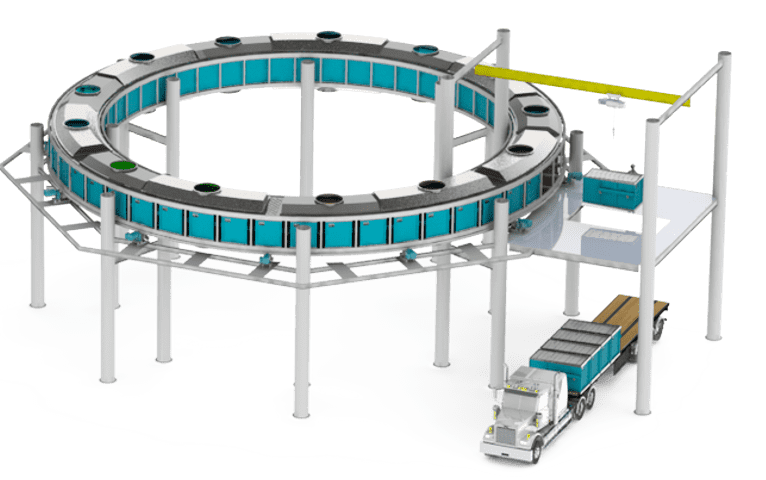 Airline looks to turn CO2 removed from the atmosphere into sustainable aviation fuel
United has invested in more future SAF production than any other airline in the world1
CHICAGO, April 13, 2023 /3BL Media/ -- United announced its $15 million investment in carbon capture technology company Svante, who provides materials and technology as part of the value chain that has the potential to convert CO2 removed from the atmosphere and from industrial emission sources into sustainable aviation fuel (SAF). This is the latest announced investment from the new UAV Sustainable Flight FundSM, a first-of-its-kind investment vehicle that is designed to leverage support from cross-industry businesses in order to support start-ups focused on decarbonizing air travel through SAF research, technology and production.
The airline aims to be 100% green by reducing its greenhouse gas (GHG) emissions 100% by 2050, without relying on traditional carbon offsets. To date, United has invested in the future production of over three billion gallons of SAF - the most of any airline in the world.1
"Carbon capture technology has the potential to be a critical solution in the fight to stop climate change and has the added benefit of helping us scale the production of SAF," said United CEO Scott Kirby. "And at United we're building on that approach by investing in both companies that can capture CO2 and others that can turn it into fuel. There's no question that this carbon utilization is in its infancy today, but as a leader in sustainable flying we must help build the foundation to deploy this technology of the future as expediently as possible. This is truly a global imperative, and United's investment in Svante reflects our dedication to making sustainable travel a reality."
This investment was made as part of Svante's Series E financing round and will fund and support Svante's commercial-scale filter manufacturing facility in Vancouver, BC, Canada. Svante is working with world-leading organizations, including Dimensional Energy, a carbon utilization – CO2 to jet fuel – company that United Airlines Ventures invested in last year.
"We are pleased to have the support of United Airlines as one of our world-class investors," said Claude Letourneau, Svante's President & CEO. "The airline industry has a huge opportunity to make a big impact on global decarbonization – battling climate change through the transition to sustainable aviation fuels and other innovative technologies that will help the world achieve net zero. Their investment in companies like ours will aid in accelerating the commercialization of carbon capture and removal technology."
Svante is a leader in second generation solid sorbent-based carbon capture and removal. The company's scalable, eco-friendly, and commercially available carbon capture and removal technology employs structured absorbent beds, known as filters. These filters can capture 95% of CO2 emissions from industrial sites as well as CO2 that's already in the air. Once the CO2 is captured, it is concentrated and can be used in the creation of SAF or other products. It can also be safely transported and stored underground.
Svante's manufacturing facility is anticipated to produce enough filter modules to capture millions of tons of carbon dioxide per year across hundreds of large-scale carbon capture facilities.
"It's great to see United's commitment to building an ecosystem for carbon dioxide (CO2) to Sustainable Aviation Fuel (SAF) manifest through this significant investment in Svante," said Jason Salfi, Dimensional Energy's CEO. "The teams at Svante and Dimensional Energy are working together to design integrated systems for captured CO2 to SAF today. There is enough CO2 in the atmosphere and in industrial process emissions to provide all of the carbon necessary for the fuels and products people use every day now and into the future. Svante provides the first step toward a circular carbon economy."
SAF is an alternative to conventional jet fuel that, on a lifecycle basis, reduces GHG emissions associated with air travel compared to conventional jet fuel alone. SAF is made from used cooking oil and agricultural waste, and, in the future, could be made from other feedstocks, including household trash, forest waste, or compressed CO2, the end product of Svante's carbon capture process.
The Federal Government Recognizes the Value of SAF
The 2022 Inflation Reduction Act includes the largest governmental climate change investments in U.S. history -- a new blended tax credit specifically for SAF along with other critical incentives for clean energy and carbon capture – that will help spur an increase in SAF infrastructure and supply while lowering costs for SAF consumers.
The U.S. military currently uses nearly five billion gallons of jet fuel annually and the Department of Defense will use a jet fuel blend containing at least 10% SAF by 2028 because of the 2023 National Defense Authorization Act.
And according to the U.S. Department of Energy, the country's vast feedstock resources are enough to meet the projected SAF demand of the entire U.S. aviation industry.
United's Commitment to Net-Zero Emissions by 2050
United was the first airline to commit to net-zero carbon emissions by 2050, without relying on traditional carbon offsets. In addition to the UAV Sustainable Flight FundSM, United has launched a SAF purchasing program called the Eco-Skies Alliance and established a venture fund - United Airlines Ventures - to identify and invest in companies and technologies that can decarbonize air travel. These strategic investments include carbon capture, hydrogen-electric engines, electric regional aircraft and air taxis.
About United
United's shared purpose is "Connecting People. Uniting the World." From our U.S. hubs in Chicago, Denver, Houston, Los Angeles, New York/Newark, San Francisco and Washington, D.C., United operates the most comprehensive global route network among North American carriers. United is bringing back our customers' favorite destinations and adding new ones on its way to becoming the world's best airline. For more about how to join the United team, please visit www.united.com/careers and more information about the company is at www.united.com. United Airlines Holdings, Inc., the parent company of United Airlines, Inc., is traded on the Nasdaq under the symbol "UAL". For further information about our environmental impact, review United's Corporate Responsibility Report and Annual Report on Form 10-K, available at crreport.united.com and ir.united.com.
About Svante
Svante offers companies in emission-intensive industries a commercially viable way to capture large-scale CO2 emissions from existing infrastructure, either for safe storage or to be used for further industrial use in a closed loop. With the ability to capture CO2  from industrial sources and directly from the atmosphere in an environmentally sustainable way, Svante makes industrial-scale carbon capture and removal a reality. The company is on the 2023 Global Cleantech 100, and was ranked second among private companies in the Corporate Knights Future 50 Fastest-Growing Sustainable Companies in Canada. Svante's Board of Directors includes Nobel Laureate and former Secretary of Energy, Steven Chu. To learn more about Svante, click here or visit Svante's website at www.svanteinc.com, or follow Svante on LinkedIn or Twitter @svantesolutions.
United Cautionary Statement Regarding Forward-Looking Statements and Other Important Information
This press release contains certain "forward-looking statements" within the meaning of the Private Securities Litigation Reform Act of 1995 relating to, among other things, plans and projections regarding the company's environmental, social and governance (ESG) goals, targets, commitments, strategies and initiatives and related business and stakeholder impacts. All statements that are not statements of historical facts are, or may be deemed to be, forward-looking statements. Such forward-looking statements are based on historical performance and current expectations, estimates, forecasts and projections about our future financial results, plans, objectives, goals, targets, commitments, strategies and initiatives and involve inherent risks, assumptions and uncertainties, known or unknown, including internal or external factors that could delay, divert or change any of them, that are difficult to predict, may be beyond our control and could cause our future financial results, plans, objectives, goals, targets, commitments, strategies and initiatives to differ materially from those expressed in, or implied by, the statements. These risks, assumptions, uncertainties and other factors include, among others, any failure to meet stated ESG goals, targets, commitments, strategies and initiatives in the time frame expected or at all as a result of many factors, including changing societal, market, competitive, regulatory or stakeholder expectations, and any delay or failure of any technology to be fully developed or become functional or marketable or to serve the purpose for which it was designed. No forward-looking statement can be guaranteed. Forward-looking statements in this press release should be evaluated together with the many risks and uncertainties that affect United's business and market, particularly those identified in the "Management's Discussion and Analysis of Financial Condition and Results of Operations" and "Risk Factors" sections in United's Annual Report on Form 10-K for the year ended December 31, 2022, as updated by our subsequent Quarterly Reports on Form 10-Q, Current Reports on Form 8-K and other filings with the Securities and Exchange Commission. Risks and uncertainties related to United's environmental compliance, climate commitments and climate strategy are further described in Part I, Item 1A. Risk Factors of United's Annual Report on Form 10-K for the fiscal year ended December 31, 2022—"We are subject to many forms of environmental regulation and liability and risks associated with climate change and may incur substantial costs as a result. In addition, failure to achieve or demonstrate progress towards our climate goals may expose us to liability and reputational harm."
The statements included in this press release are made only as of the date of this press release and except as otherwise required by applicable law or regulation, United Airlines undertakes no obligation to publicly update or revise any statement, whether as a result of new information, future events, changed circumstances or otherwise. In particular, United Airlines reserves the right to change, amend, supplement or abandon some or all of the statements regarding goals, targets, commitments, strategies, initiatives, intentions and other statements from time to time without notice.
In addition, some of our disclosures in this press release are estimates or based on assumptions due to inherent measurement uncertainties. For example, United's statement that it has already invested in the future production of more than three billion gallons of SAF – the most of any airline in the world is based on publicly announced future purchase agreements for SAF of certain airlines as of the date hereof.
1 Based on publicly announced airline offtake agreements for future purchases of SAF