Tork Joins Forces With Philadelphia Eagles to Enhance Sustainability Efforts at Lincoln Financial Field and Novacare Complex
Upgraded hygiene products, Tork PeakServe hand towel dispenser system and Tork Clarity Hand Washing Foam Soap, will provide 1.7 million fans with hygienic experiences annually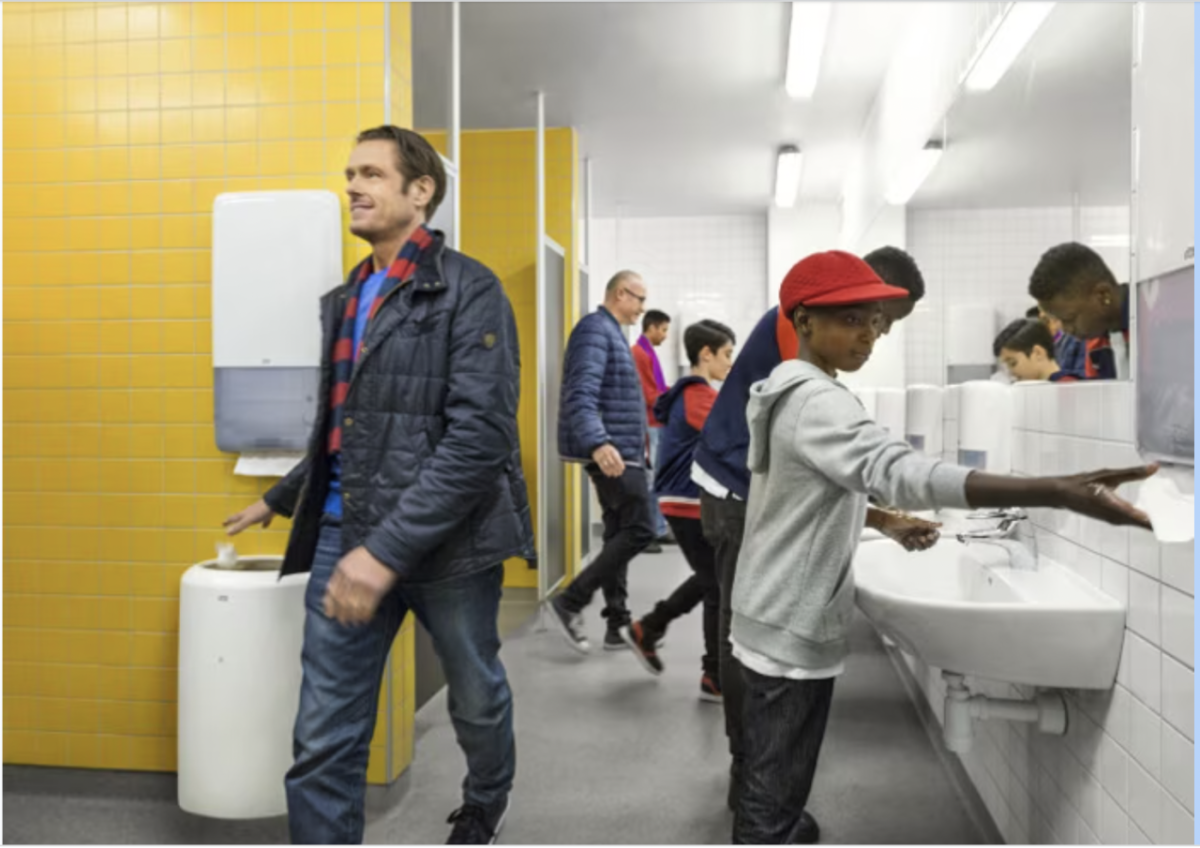 Originally published on Essity News Center
PHILADELPHIA, June 13, 2023 /3BL Media/ - The Philadelphia Eagles and Tork®, the professional hygiene brand from the global hygiene and health company, Essity, with North America headquarters in Philadelphia, today announced enhanced sustainability efforts by making an upgrade to the hygiene solution products available at Eagles facilities. The team will deploy the Tork PeakServe® Continuous™ hand towel system and Tork® Clarity Hand Washing Foam Soap at Lincoln Financial Field and NovaCare Complex.
The Eagles and Tork have partnered since 2007 to raise awareness and promote the benefits of proper hygiene. The partnership reinforces the Eagles' commitment to sustainability and providing hygienic, safe experiences for fans.
"Tork has been a valuable partner to the Philadelphia Eagles for 16 years, providing innovative hygiene solutions that help us achieve our sustainability goals," said Norman Vossschulte, Director of Fan Experience and Sustainability, Philadelphia Eagles. "We're excited to expand our partnership with Tork and upgrade our hand hygiene offering to fans and staff with Tork PeakServe and Tork Clarity Foam soap."
The Tork PeakServe Continuous Hand Towel system offers the highest capacity system available in the market, serving over 1,000 guests between refilling occasions1. The system helps minimize overconsumption with one-at-a-time dispensing, and towels are compressed by 50% to reduce storage space and transportation footprint2.
In addition to Tork PeakServe, the Philadelphia Eagles will now provide Tork Clarity Foam soap in restrooms and handwashing areas throughout its facilities. The eco-friendly, readily biodegradable3 soap features lower water consumption by up to 35%4, and 99% of its ingredients come from natural origin5. For more information on how Tork supports sustainable hygiene management, visit torkusa.com.
"We are excited to expand our partnership with the Philadelphia Eagles and contribute to their sustainability efforts," said Matt Urmanski, V.P. of Sales and Marketing of Essity Professional Hygiene North America. "Tork PeakServe and Tork Clarity Foam soap are award-winning, innovative solutions that promote both sustainability and efficiency, and we are thrilled to see them in action at Lincoln Financial Field helping enhance the fan experience."
Tork is a part of the global hygiene and health company Essity, recognized as one of the world's most sustainable companies. The brand has integrated sustainability at the core of its business strategy, focusing on where it can have the biggest impact, and has set high ambitions with a focus to contribute to well-being, sustainable consumption and a circular society. To learn more about sustainability efforts from Tork, visit www.torkusa.com/sustainability.
________________________________
1Compared to roll towel systems in North America and based on each guest using 2 towels
2Compared to Tork Universal Folded Towels
3Proven by third party lab test according to OECD301B
4Based on results of two internal panel tests and one external test comparing Tork Clarity Handwashing Foam Soap to Tork Mild Foam Soap
5Tork Clarity formulation following the ISO16128 (includes water as an ingredient)
About Tork 
The Tork brand offers professional hygiene products and services to customers worldwide ranging from restaurants and healthcare facilities to offices, schools and industries. Our products include dispensers, paper towels, toilet tissues, soap, napkins and wipers, but also software solutions for data-driven cleaning. Through expertise in hygiene, functional design and sustainability, Tork has become a market leader that supports customers to think ahead so they're always ready for business. Tork is a global brand of Essity and a committed partner to customers in more than 110 countries. To keep up with the latest Tork news and innovations, please visit Torkusa.com.
About Essity 
Essity is a leading global hygiene and health company. We are dedicated to improving well-being through our products and services. Sales are conducted in approximately 150 countries under the leading global brands TENA and Tork, and other strong brands, such as Actimove, JOBST, Knix, Leukoplast, Libero, Libresse, Lotus, Modibodi, Nosotras, Saba, Tempo, TOM Organic, Vinda and Zewa. Essity has about 48,000 employees. Net sales in 2022 amounted to approximately SEK 156bn (EUR 15bn). The company's headquarters is located in Stockholm, Sweden, and Essity is listed on Nasdaq Stockholm. Essity breaks barriers to well-being and contributes to a healthy, sustainable and circular society. More information at www.essity.com.
For more information, please contact: 
Raquel M Carbonari 
Brand Activation Director NA 
raquel.carbonari@essity.com