#ThankYouForward: Regions Bank Supports Community Heroes in Birmingham - and Empowers Them to Inspire Others
Forward-thinking appreciation program celebrates devoted senior volunteers who have helped support Birmingham throughout the pandemic.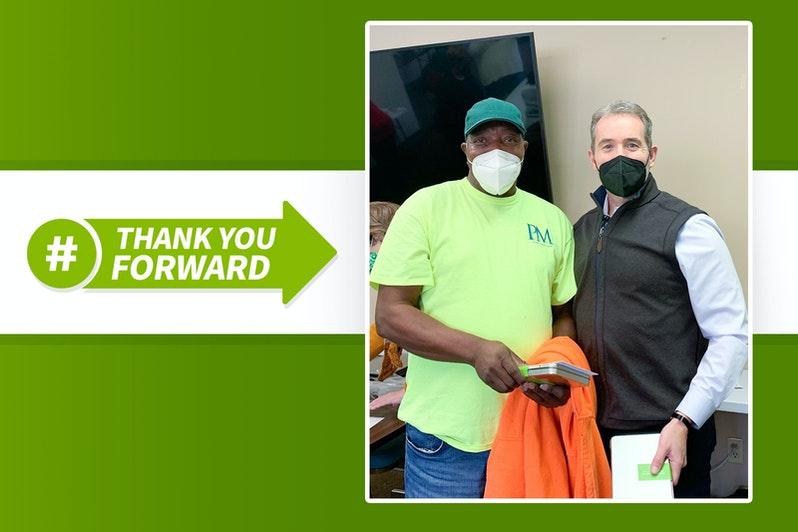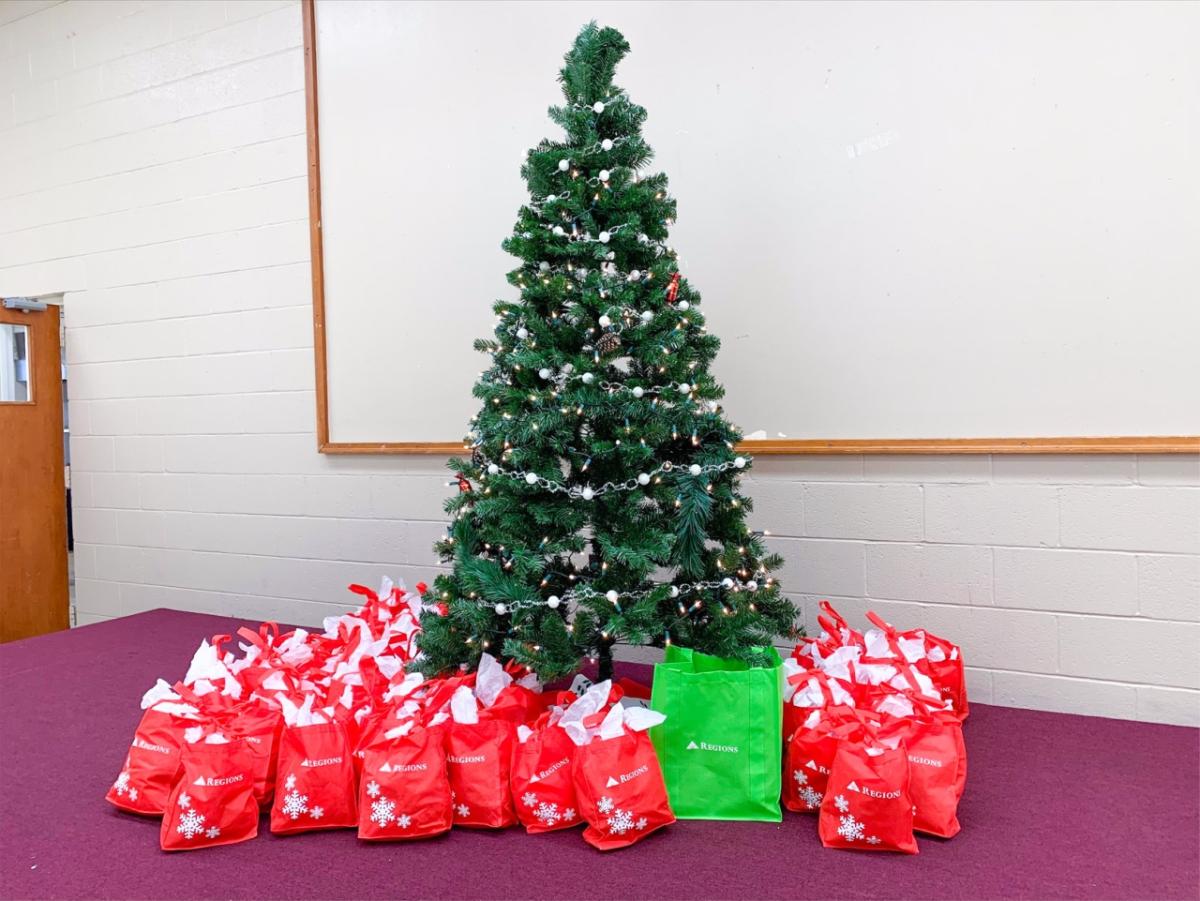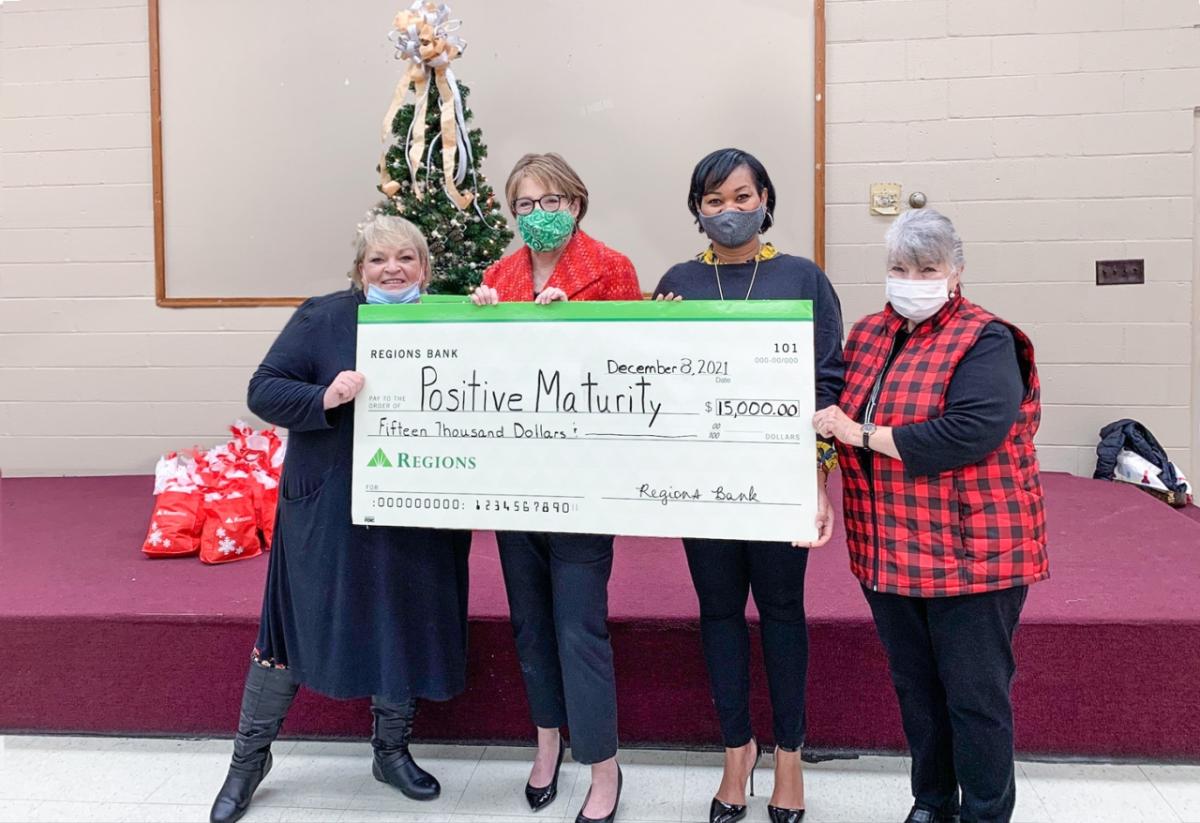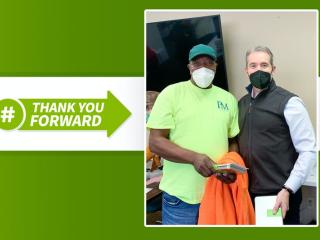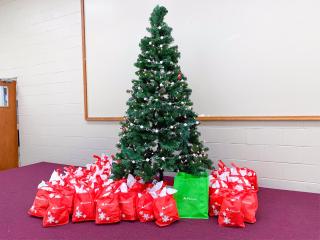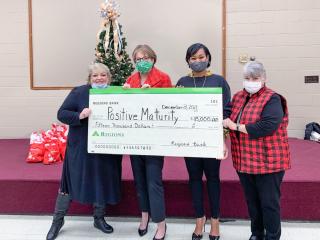 BIRMINGHAM, Ala., December 22, 2021 /3BL Media/ - Regions Bank is saying thanks – with a twist – to members of one of Birmingham's most valuable communities – its devoted senior volunteers.
The last two Thursdays combined, the bank presented Positive Maturity with 200 gift packages – each filled with two $20 Regions gift cards – in support of the organization's efforts to engage and empower local seniors to help enhance the lives of at-risk children and underserved seniors and adults throughout Jefferson County. Fifty packages were distributed among senior volunteers supporting Positive Maturity's 'Foster Grandparents' program on Dec. 9, and another 150 were distributed to Positive Maturity's 'Senior Companions' program volunteers on Dec. 16.
All 200 recipients will be encouraged to keep one $20 gift card – and then share the second $20 gift card with someone else. The Regions-branded Visa gift cards can be spent wherever Visa is accepted.
The gift-giving program is called 'Thank You Forward.' It represents a new compliment to Regions Bank's year-round community commitment, which includes volunteerism, financial support, and more throughout Birmingham and across 15 states served by Regions across the Southeast, the Midwest, and Texas.
"With 'Thank You Forward,' we are recognizing Positive Maturity volunteers for their service to our community, particularly during the pandemic, while giving them an opportunity to pay it forward and possibly inspire someone else to be a difference maker," said Alan Register, Birmingham Market Executive for Regions Bank. "In this season of goodwill, this is a forward-thinking way for us to exponentially increase the positive impact of our gratitude."
Positive Maturity was chosen by local Regions Bank leaders in recognition of the organization's efforts to create social service and civic engagement opportunities for the city's skilled and compassionate senior community. Positive Maturity's Foster Grandparents and Senior Companions programs provide stipend volunteer opportunities for low-income adults, 55 and older, who meet eligibility requirements:
Foster Grandparents work with children in Jefferson County who are deemed "at-risk" – serving as role models, mentors, tutors and friends.
Senior Companions are assigned to seniors and adults with disabilities in Jefferson County to assist their efforts in maintaining their independence. They are also able to provide respite services for families in need.
"Regions has been a long-time community partner of Positive Maturity through their financial support, sponsorships, volunteerism and board service, and we are thrilled to be selected for this innovative initiative of thanksgiving," said Penny Kakoliris, executive director of Positive Maturity. "Their efforts alone to educate seniors on fraud prevention and financial elder abuse have been invaluable given the prevalence of phone and email scams in today's society."
Kakoliris said Regions stepped up significantly last month when the Jefferson County Committee for Economic Opportunity (JCCEO) closed its doors, leaving thousands of low-income seniors without access to financial assistance for heating during the winter months. With many facing bills exceeding their monthly budgets and receiving disconnection notices, Regions contributed $15,000 to Positive Maturity's initiative to help care for these individuals.
Thank You Forward will continue in additional cities and towns across the Regions footprint during the holiday season.
About Regions Financial Corporation
Regions Financial Corporation (NYSE:RF), with $156 billion in assets, is a member of the S&P 500 Index and is one of the nation's largest full-service providers of consumer and commercial banking, wealth management, and mortgage products and services. Regions serves customers across the South, Midwest and Texas, and through its subsidiary, Regions Bank, operates more than 1,300 banking offices and approximately 2,000 ATMs. Regions Bank is an Equal Housing Lender and Member FDIC. Additional information about Regions and its full line of products and services can be found at www.regions.com.