#ThankYouForward: Regions Bank Initiative Gives Thanks to Community Difference Makers in North Alabama - With an Eye to the Future
Forward-looking program applauds devoted staff and students at Boys & Girls Clubs of North Alabama, who make the region a better place for youth and families.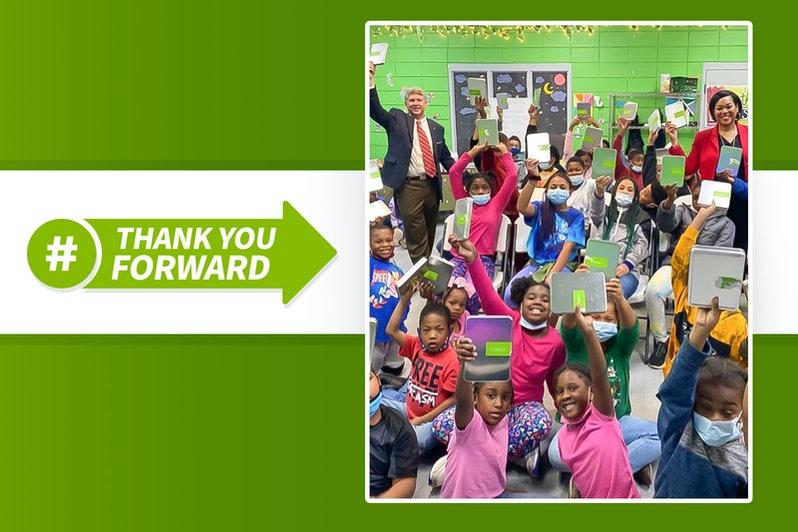 HUNTSVILLE, Ala., December 28, 2021 /3BL Media/ - Regions Bank is saying thanks in a whole new way to supporters of one of North Alabama's oldest and most valuable community difference makers.
Recently, the bank presented the Boys & Girls Clubs of North Alabama with 200 gift packages – each filled with two $20 Regions gift cards – in support of the organization's efforts to enable great futures for thousands of youths across the Tennessee River Valley. The packages were distributed among the organization's devoted staff, volunteers and students.
All 200 recipients are encouraged to keep one $20 gift card – and then share the second $20 gift card with someone else. The Regions-branded Visa gift cards can be spent wherever Visa is accepted.
The gift-giving program is called 'Thank You Forward.' It represents a new compliment to Regions Bank's year-round community commitment, which includes volunteerism, financial support, and more throughout North Alabama and across 15 states served by Regions across the Southeast, the Midwest, and Texas.
"The beauty of 'Thank You Forward' is it gives us an opportunity to honor some amazing people in our community, while in turn giving them opportunities to inspire others to follow in their footsteps," said Sean Kelly, Huntsville market executive for Regions Bank. "There are so many ways to make a difference in a young person's life, and our Boys & Girls Clubs of North Alabama has done so much for so many through the years. We hope the ripple effect from this unique approach to saying thanks will help even more young people in the areas we serve improve their futures."
Boys & Girls Clubs of North Alabama was chosen by local Regions Bank leaders in recognition of the organization's efforts to enable and inspire more than 5,000 young people each year to reach their full potential as productive, responsible citizens by connecting them with caring adults. The organization employs 25 professional staff supplemented by up to 120 part-time staff and hundreds of volunteers.
"This is just the latest example of Regions Bank's strong support of our organization through the years – from annual giving and sponsorship of our Leaders & Legends fundraising event to volunteers offering financial literacy and workforce readiness education to our youth," said Patrick Wynn, president and CPO of the Boys & Girls Clubs of North Alabama. "These types of deep-rooted partnerships are vital to the success of our mission to build great futures, and we could not be more grateful."
Thank You Forward will continue in additional cities and towns across the Regions footprint during the holiday season.
About Regions Financial Corporation
Regions Financial Corporation (NYSE:RF), with $156 billion in assets, is a member of the S&P 500 Index and is one of the nation's largest full-service providers of consumer and commercial banking, wealth management, and mortgage products and services. Regions serves customers across the South, Midwest and Texas, and through its subsidiary, Regions Bank, operates more than 1,300 banking offices and approximately 2,000 ATMs. Regions Bank is an Equal Housing Lender and Member FDIC. Additional information about Regions and its full line of products and services can be found at www.regions.com.