Teva Highlights Key Milestones Achieved in the 2017 Social Impact Report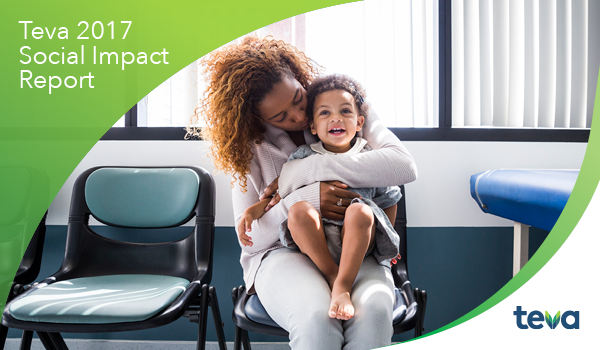 A message from our CEO, Kåre Schultz
Teva has a rich history of providing innovative, high-quality generic and specialty drugs and health solutions to patients around the world every day. Since joining the company late last year, I've been motivated by the opportunity to advance this legacy of promoting health.
In December 2017, we launched a comprehensive restructuring program, crucial to restoring our financial security and stabilizing our business. We have also strengthened our leadership team and created a new organizational structure. These decisions were not taken lightly, but were necessary to enable us to better serve our patients while maintaining the highest standards of quality, ethics and compliance.
In these times of change, our commitment to Social Impact has not wavered. Social Impact is inherently embedded in our business, as Teva is uniquely positioned to improve health by offering accessible treatments to millions worldwide.
The world is facing dynamic health, environmental and social challenges. Together with our partners and stakeholders, we are committed to evolving and adapting our efforts to effect change in ways that are aligned with our business expertise and resources.
I encourage you to read about our Social Impact progress in this report and look forward to advancing these efforts together.
Kåre Schultz
President & CEO, Teva Pharmaceutical Industries Ltd.
Report Highlights
Teva invested more than $1.8B in R&D last year, a large portion supporting patients with no alternative therapy.
In 2017, we contributed $82.3M across more than 25 countries through our Social Impact programs through donations, patient assistance and community involvement.
We supported 80 patient programs in 38 countries, reaching more than 300,000 patients offering patient assistance with educational resources, adherence strategies, and financial aid.
Teva released an independent research report, Multiple Chronic Conditions: The Global State as part of our commitment to address the challenges of non-communicable diseases (NCDs) and supporting people with two or more chronic health conditions. The report quantifies health, economic and personal challenges of patients with MCC and the burden on communities and systems.
In 2017, we introduced about 1000 generics globally and supplied 3.02 million tablets of a treatment for tuberculosis, saving $2,000+ per patient per year, with aim of increasing access to high-quality healthcare for people across the globe, at every stage of life.
Last year, we convened 17 patient groups representing 2,000 organizations in 50 disease areas across 170 countries via Improving Health Global Patient Advocacy Dialogue.
Teva invested $120M in a global program to proactively make medicines at 38 facilities counterfeit-compliant ahead of anticipated regulatory change.
We supplied more than 36,000 medicines to more than 20,000 patients through the Teva Cares Foundation helping to mitigate financial barriers and easing access to our specialty medicines.
Our commitment to sustainable goals includes several milestones:


We achieved 30 percent of our global electricity supply from green (renewable) sources
recycled 40 percent of waste and achieved the lowest greenhouse gas emissions efficiency rate in Teva's history (8 percent lower than in 2016 and 24 percent lower than in 2012)
Teva also made a $20.3M investment in 87 energy-efficiency projects reducing greenhouse gas emissions by 16,700 tons

We spent almost $175M with diverse and small suppliers, an approximately 46 percent increase, keeping with our commitment to develop a network of suppliers that reflect our customer and patient base.
Teva is a leading global pharmaceutical company that delivers high-quality, patient-centric healthcare solutions used by millions of patients every day. Teva's "2017 Social Impact Report: Improving Health, Enabling Better Days" spotlights the company's commitment to corporate responsibility and transparency, and provides context on its efforts to contribute to healthy communities in ways the business can uniquely support—through safe medicines, collaboration, health initiatives and innovative research.
Media Contact Information:
Teva Pharmaceutical Industries Ltd.
IR Contacts
United States
Kevin C. Mannix, (215) 591-8912
or
Israel
Ran Meir, 972 (3) 926-7516
Tomer Amitai, 972 (3) 926-7656
PR Contacts
United States
Elizabeth DeLuca, (267) 468-4329
or
Israel
Yonatan Beker, 972 (54) 888-5898