Teen Builds Friendships, Fosters Acceptance Through Inclusive Team Sports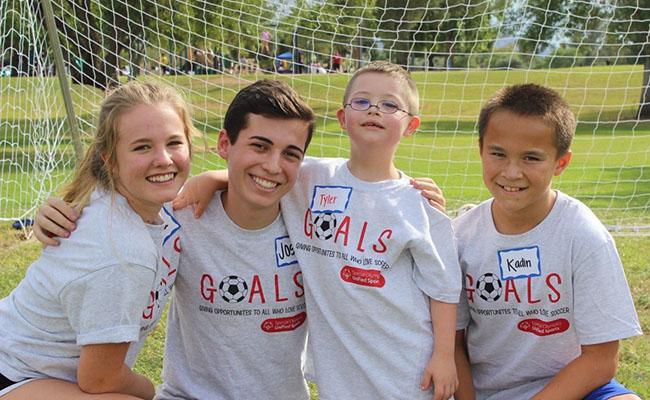 Josh Kaplan, along with friends Emma, Tyler, and Kaden, participate in a GOALS soccer scrimmage. GOALS provides athletes with intellectual disabilities the opportunity to pair up with neurotypical peers and play on a soccer team.
Teen Builds Friendships, Fosters Acceptance Through Inclusive Team Sports
For Josh Kaplan, giving back to the community is part of who he is. Driven by the Jewish concept of Tikkun Olam, or "repairing the world," he believes each of us has the power to create change and participate meaningfully in the world around us.
An avid soccer player, Josh turned his passion into action when he launched GOALS (Giving Opportunities to All who Love Soccer) in his hometown of Phoenix. The program partners young athletes who have intellectual disabilities with neurotypical peer buddies, who then play as unified pairs in small-sided, non-competitive games twice each month. Inspired by a teammate's brother, whose Down syndrome prevented him from joining a soccer team, Josh created GOALS to help break down barriers, build friendships and foster genuine acceptance through the team sport.
Now a freshman at Emory University, Josh continues to lead GOALS and is actively involved in the Atlanta community. He currently serves on the Special Olympics Arizona Youth Activation Committee and as an ambassador for Youth Service America and Special Olympics International.
We spoke with Josh to learn about what drives his passion for service, his dreams for GOALS and why he thinks everyone should get involved in their community.