Teachers on the New Frontier
Teachers on the New Frontier
by Victoria Glazar, Verizon Corporate Social Responsibility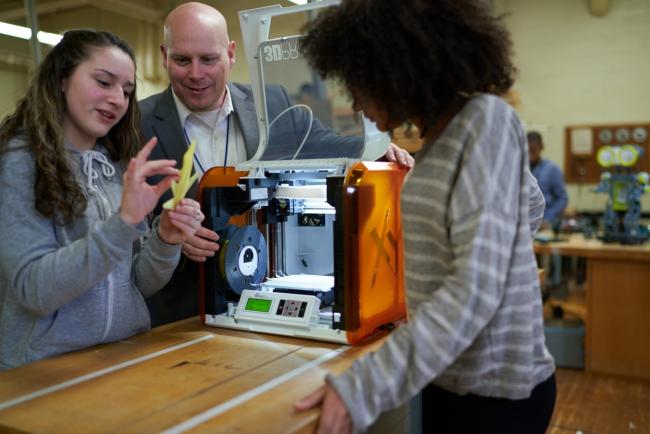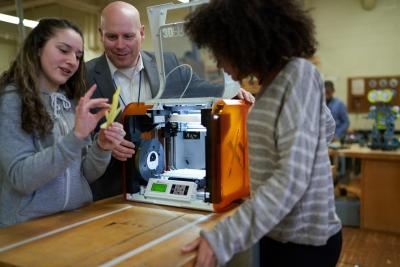 Thursday, May 17, 2018 - 11:25am
For many middle school teachers, taking part in a one-to-one initiative, where every student has a digital device for learning, has led to an existential search. In a technology-driven, student-centered learning environment, what does it mean to be a teacher? Back when many teachers were in training, the role of the teacher was clear: to impart facts to students. Teachers gave lectures at the front of the classroom, and wrote information on the board. And students copied that information down to commit it to memory. In contrast, we're now in a world where the universe of facts is at the student's fingertips. In this world, the challenge is dealing with the enormity of information that's engulfing students, and the teacher's role is less about giving students information, and more about helping them manage and use it. This role evolution is part of the learning curve that teachers in Verizon Innovative Learning are experiencing. They're pioneers on this new frontier of education.
Take Michael, an eighth-grade Language Arts teacher at Lamar Middle School in Irving, Texas. In 2016, he was one of Lamar's 55 teachers and 842 students who received tablets with data plans as part of the Verizon Innovative Learning program, administered by the Verizon Foundation and nonprofit Digital Promise. The program's objective is to put this powerful tool for individualized 24 X 7 learning in students' hands, and give teachers a tech-infused curriculum and comprehensive training to help them make the most of it in the classroom. Michael said the tablets enabled him to implement personalized, student-paced learning, which radically changed his role. He found he needed to spend some time and thought on what to do with himself in the classroom, realizing he no longer needed to stand at the front of the class and lecture. "I'm no longer a teacher; now I'm a facilitator," he said. 
Michael's Digital Learning Coach at Lamar, Alissa Womack, said she hears this from teachers a lot. "They're not used to students working at their own pace and staying on task to this extent," she said.
Change is a challenge, Womack said, but it's one that teachers are embracing. "My first reaction when someone brings this up is 'Isn't it amazing?' We all recognize that, even though it's not easy going outside our comfort zone, we would never want to go back."
As Digital Learning Coach, a position provided as an integral part of the Verizon Innovative Learning program, Womack's role is to help teachers adapt to their changing roles, and to realize the full potential of technology in the classroom. She says that entails a number of changes in the way teachers teach, including planning lessons and differentiating instruction.  "I understand it can be scary, but I always reassure teachers that once they get familiar with it, it's going to be easier."
Teachers are not the only ones learning to adapt. Students are taking on a more active role in the learning process, helping teachers to learn functionality and collaborating with them to discover more ways to put the tablets to use. "Students have more ownership. That not only makes them more engaged, it also brings out their creativity," Womack said. "It's exciting to see our students and staff bloom in their creative and innovative use of technology."