TCS's Digital Empowers Returns With a New Year of Content and Conversations
Don't miss the inaugural event for Digital Empowers 2022: Systemic change powered by digital innovations.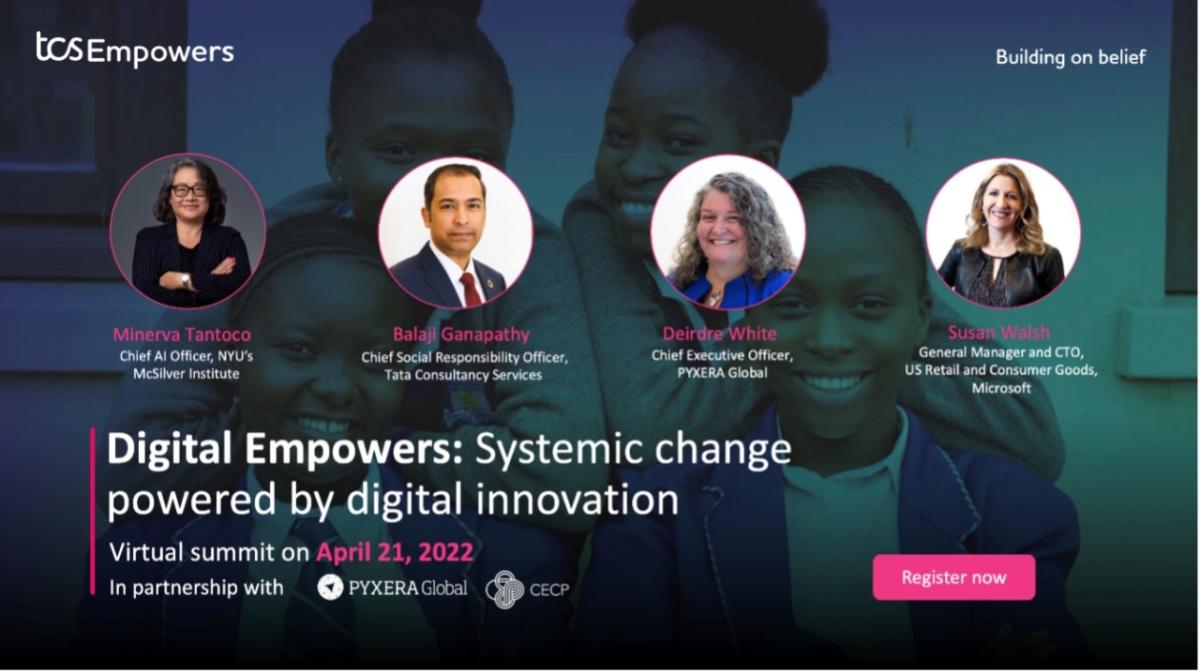 Tata Consultancy Services, in partnership with Chief Executives for Corporate Purpose (CECP) and PYXERA Global, is pleased to announce more engagement opportunities to create transformative social impact via Digital Empowers, TCS' thought leadership initiative. Digital Empowers brings together cross-sector coalitions of multi-stakeholder coalitions of multi-stakeholder partnerships to accelerate social impact for communities around the world. Collaboration and co-innovation have the power to create best-in-class products, technology, and solutions that are accessible to marginalized and underserved communities around the world.
Over the course of the next year, participants will have the opportunity to engage with others focused on systemic change powered by digital innovation leveraging cross-sector collaborations, purpose coalitions, and partnerships to drive sustainable action Digital Empowers' inaugural event will take place on Thursday, April 21, 1:00 – 2:00 PM E.T. Titled "Systemic Change Powered by Digital Innovation", the event will feature Balaji Ganapathy; Global Social Responsibility Officer, TCS; Minerva Tantoco, Chief AI Officer, NYU McSilver Institute; Deirdre White, CEO, PYXERA Global; and Susan Walsh, CTO, US Retail and Consumer Goods, Microsoft.
Register now: https://on.tcs.com/SystemicChangeEvent
Launched in 2018, Digital Empowers has been at forefront of conversations at the intersection of social impact and technology. In 2021, TCS released Technology as a Catalyst for Empowering Communities, an insightful report spanning the first three years of the initiative. The paper explores the unique and innovative ways in which technology is being tapped to create value for communities and to drive social impact.