T5's Food Trash Turns to Healthy Soils
T5's Food Trash Turns to Healthy Soils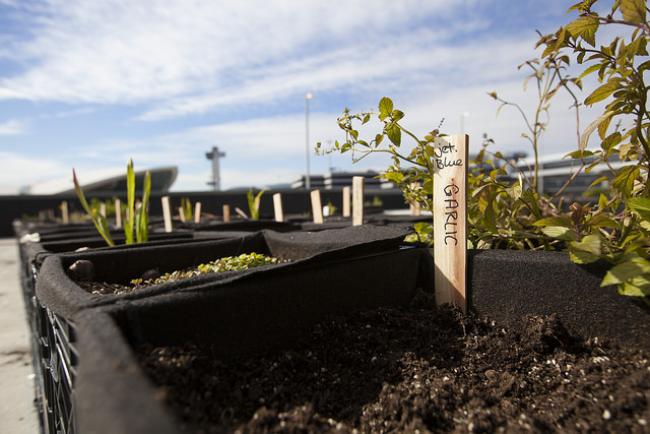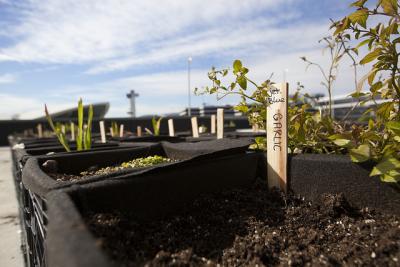 Monday, July 10, 2017 - 8:35am
"Deciding to join the composting initiative in T5 was a no-brainer. We pride ourselves on offering great products to the community through our concepts. Being able to help positively impact the environment in the process is a win-win in our eyes."

—Anthony Martino, General Manager, Jamba Juice and Dunkin Donuts
In 2016, our JFK T5 composting program put 100,000 pounds of food waste back to work. This saved roughly 38 tonnes* of CO2e emissions (because greenhouse gases are released during the landfill process).
The nutrients in Dunkin' Donuts and Jamba Juice scraps were composted at McEnroe Organic Farm. in upstate New York to nurture new plants. Back at JetBlue's T5 Farm, crewmember volunteers spread the compost to grow fresh produce for donation to City Harvest and a private food bank in Brooklyn.
Composting turns food trash into nutrient-rich soils. In 2017 our goal is to compost 150,000 pounds of waste for 57 tonnes* of CO2e reductions.
*Reductions calculated by using the EPA Waste Reduction Model (WARM), based on standard for food waste (non-meat) of 0.76 MTCO2e reduced per short ton of waste
To learn more about JetBlue's long-term responsibility platform and to view the full report, visit responsibilityreport.jetblue.com/2016