In Sync With Zac Brown to Support Veterans
A Wells Fargo grant is helping a Grammy award-winning artist continue to support the troops at Camp Southern Ground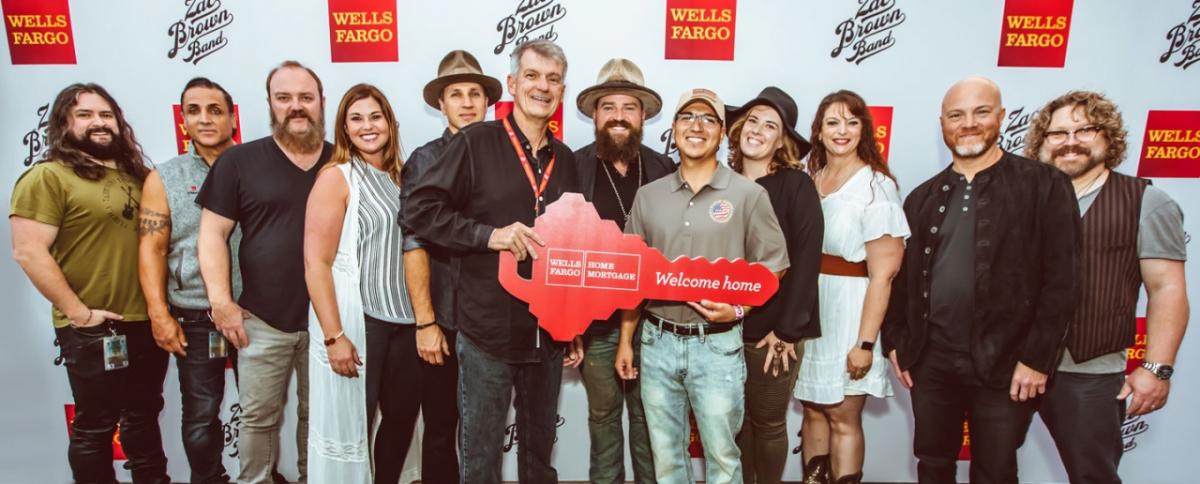 Wells Fargo CEO Tim Sloan, Zac Brown, Ramond and Sarah Acosta, and Andrea Dellinger of Military Warriors Support Foundation, celebrate the Acostas' mortgage-free home.
In Sync With Zac Brown to Support Veterans
Former Army Master Sgt. Orlando Aikens went to camp for a day and returned home with a clearer view of his future.
Thanks to Camp Southern Ground — founded by multiplatinum Grammy award-winning artist Zac Brown, of Zac Brown Band, to serve children and host programs for veterans and military families — Aikens' Oct. 14 visit included hiking trails through more than 400 acres of pastureland and joining 14 other local veterans at a career-transition workshop.
The workshop, hosted by Wells Fargo and Camp Southern Ground, was led in part by nonprofits Hire Heroes USA and Team Red, White & Blue, which help veterans transition to civilian life. It also included tips on maintaining and building credit from Wells Fargo's Hands on Banking® curriculum.
"Experiences like this are great for veterans," Aikens said. "We don't have the uniform on anymore, and aren't worried about taking care of our fellow soldiers. Now it's a great time to take care of ourselves."
Brown, a former camp counselor himself and longtime champion of veterans and their service to the U.S., bought the land for Camp Southern Ground about six years ago in Fayetteville, Georgia.
His goal? To honor those protecting our freedoms through summer camp experiences for military children and retreats and programs throughout the year for active service members, veterans, and their families.
Common commitment to veterans
This is Wells Fargo's third year working with Brown and Camp Southern Ground to support veterans, service members, and their families. The company's ongoing pledge to veterans includes employing 20,000 veterans by 2020 and providing homes, career-transition assistance, and financial education to veterans and their families.
During Zac Brown Band's 2017 Welcome Home tour, Wells Fargo teamed with the Military Warriors Support Foun
On the evening of the Oct. 14 workshop, Zac Brown Band held its annual benefit concert, Night of Candles, to support Camp Southern Ground. A large portion of that night was made possible by presenting sponsor Wells Fargo, which made a generous donation to Camp Southern Ground to help with the construction of its first residential lodge. Mike Dobbs, the camp's president and CEO, called the grant a "critical early step" in the camp's long-range development plan.
"Wells Fargo's grant this year is going straight into the lodge, our most critical need," he continued. "When the camp's plan is complete it will serve up to 250 campers per week with an inclusive focus on military children, those with neurodevelopmental disorders, such as autism spectrum, children from the inner city, and children with typical needs. With the mission of helping each child identify and magnify their unique gift or strength in an atmosphere of support and acceptance of our differences, we believe camp can be a transformative and positive experience."
Preparing for civilian life
Aikens said he was drawn to Camp Southern Ground by the opportunity to develop realistic career goals. He is preparing to translate his food-service management skills from the military into a civilian job in logistics.
"The question, 'What next?' is what brought me here," he said. "What I took away is you've got to be realistic when you're coming out of service and going into the civilian sector."
The day also helped veterans transition to civilian life in areas beyond their careers, such as their personal finances. Wells Fargo Personal Banker Donny Winske said he enjoyed talking to veterans about credit management, and the chance to meet Brown, who dropped in on the group.
"It was a great opportunity to be able to talk to a group of veterans and enhance their knowledge about credit and other topics, and aspects of their financial lives after their tours end, and what that looks like," Winske said. "The camp is amazing, and I'm awed by it and the veterans and their service and sacrifice."