Sustainable Growth at Citi
By Ed Skyler, Executive Vice President for Global Public Affairs, Citi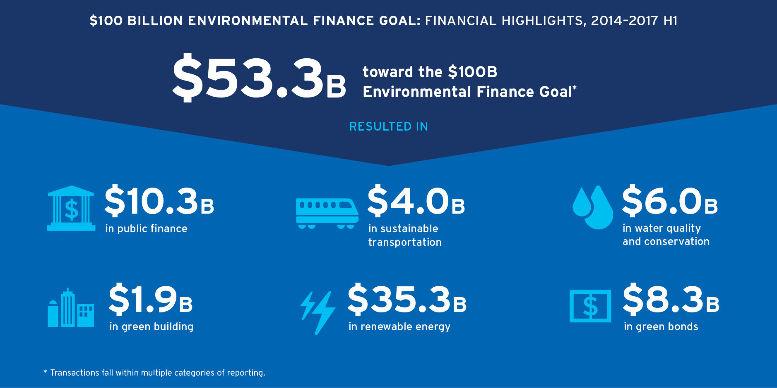 As part of our continued support of the Paris Agreement and our own efforts to protect the environment, we're making notable progress on our commitment to finance $100 billion in clean energy, infrastructure and technology projects that are helping to build a more sustainable economy.
In our latest report, Sustainable Growth at Citi: Progress and Impacts of Citi's $100 Billion Environmental Finance Goal, we share more about our progress to date, how we're measuring our impact and what we're learning in partnership with our clients.
As a global bank, we believe we play an essential role in financing a sustainable economy and that our environmental finance activity represents a significant growth opportunity for our business and our clients. We're engaged in conversations with other corporates, governments, NGOs on an ongoing basis and at this week's 23rd annual Conference of Parties (COP23) in Bonn, Germany.
In the first three years of our ten-year commitment, Citi has already financed and facilitated $53.3 billion in environmental solutions in partnership with our clients, which will help address climate change and benefit society. At the half way mark of our goal, we're proud to highlight the following impacts:
3.7 million metric tons of GHG emissions avoided by our environmental finance activity
1,883 MW of new renewable energy capacity
Over 88,000 estimated jobs supported in the United States
This activity coupled with our ambitious renewable energy goal and continued efforts toward out Sustainable Progress Strategy illustrate our unwavering commitment to financing sustainable growth. We'll continue to work alongside our clients to innovate, finance and facilitate the global transition to a low-carbon economy – and report in detail on our efforts every step of the way.