Sustainable Finance Policy in Americas Finally Catching Up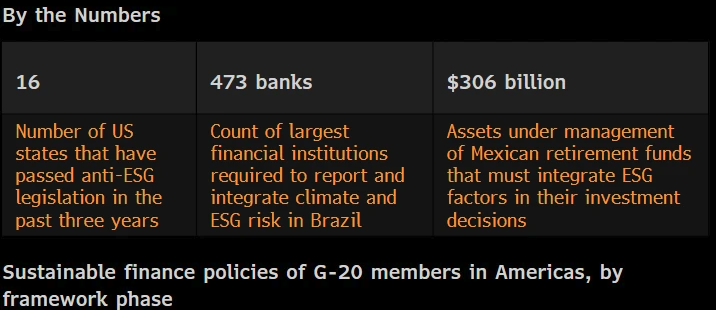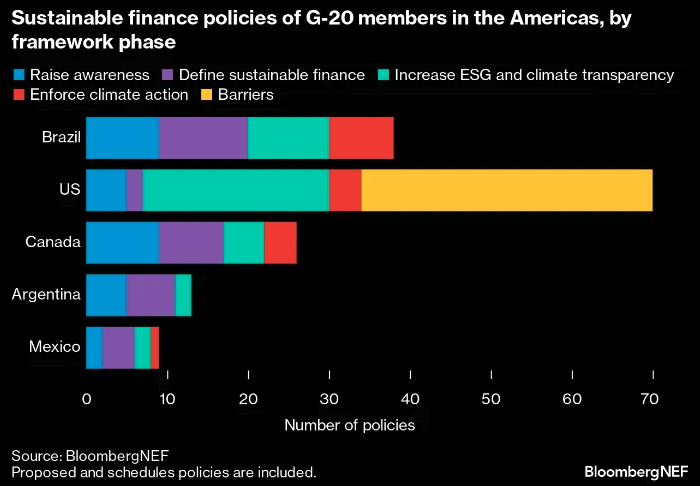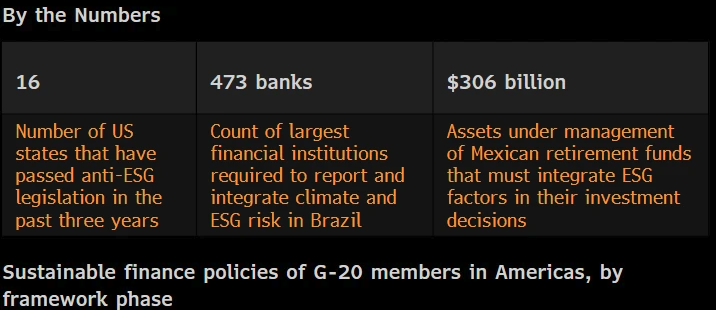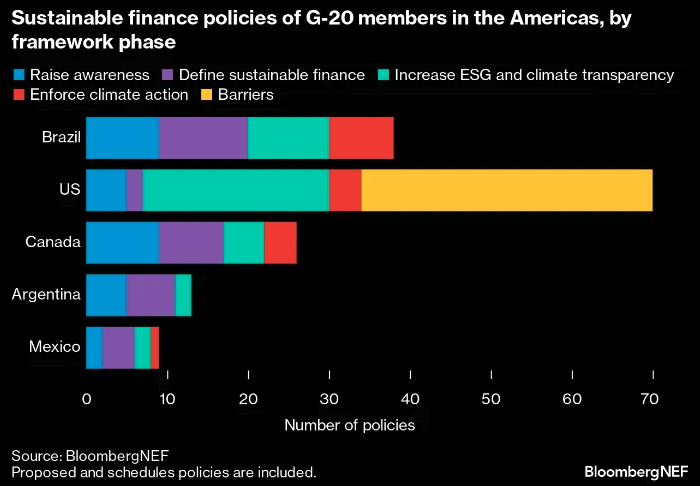 Originally published on bloomberg.com
This analysis is from BloombergNEF. It appeared first on the Bloomberg Terminal.
Attention corporations and financial institutions: get ready for heavier sustainable finance regulation in the Americas. While the region still lags Europe and Asia, change is quickly on the way. Across the five countries that are members of the G-20 – the US, Canada, Brazil, Mexico and Argentina – 156 policies have been implemented, with more than half of these arriving since 2021.
A patchwork of voluntary taxonomies, climate risk stress test pilots and mandatory ESG disclosure, they are mostly aimed at banks, asset owners and corporations, but will have a profound impact on any private sector player with exposure in the region.
The US leads sustainable debt issuance in the Americas, making up 81% of the region's $1.4 trillion total. But it has failed its neighbors in setting an example on policy. The country's marquee mandatory disclosure policy for environmental, social and governance (ESG) factors is in regulatory purgatory and 16 states have now put forward anti-ESG policies, which could raise the cost of their funds. A climate-risk stress test pilot is the only saving grace for the US. Things could get worse before they get better.
Brazil is the region's leader in sustainable finance policy, with 38 policies targeting corporations and banks. Banks with assets representing more than 0.1% of the country's GDP (of which there are 473 today) must disclose their risks and opportunities from climate change, while 277 pension funds with a combined $240 billion of assets must disclose ESG factors. President Lula da Silva's proven climate track record bodes well for more stringent regulation in the future.
While Canada's 26 sustainable finance policies may seem ambitious, just eight of these are mandatory. There is reason to keep an eye on the country though – a roadmap calls for a green taxonomy to be fully implemented by 2025, with mandatory climate risk disclosure also in the pipeline that will impact over 3,400 listed companies.
Despite having just nine sustainable finance policies, Mexico punches above its weight. Pension funds must integrate ESG into their investment decisions. In early 2023, the country also produced a green taxonomy, emulating the European Union and adding social factors.
Argentina has been gathering momentum, with 11 of its 12 sustainable finance policies having been passed since 2019. Chief among them is a regulation requiring funds to align 75% of their investments with their name.
BloombergNEF (BNEF), Bloomberg's primary research service, covers clean energy, advanced transport, digital industry, innovative materials and commodities. BNEF helps corporate strategy, finance and policy professionals navigate change and generate opportunities. Explore more content on the BNEF blog.