Sustainable Brands: Americans Want Brands to Help Them Live The Good Life
80% of consumers are loyal to businesses that help them live The Good Life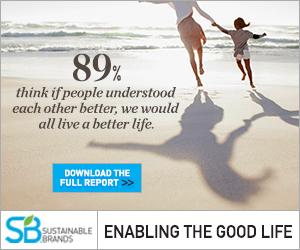 SAN FRANCISCO, December 12, 2017 /3BL Media/ –  Sustainable Brands®, in conjunction with Harris Poll and Carol Cone On Purpose and supported by Ketchum, recently released a comprehensive new report, Enabling the Good Life. According to a survey representing the general US adult population, consumers are shifting their focus away from status, money and personal achievement to value a life that is simpler, more balanced, and filled with meaningful connections to people, community and the environment.
The Good Life research was designed to understand the core elements that are most important to how Americans are defining The Good Life today. They report that their views are distinctly 'different from their parents' -  and point to how consumers and brands, individually and together, might accelerate the realization of these emerging aspirations.
Key findings of the report include:
Four Key Elements of The Good Life:
Today's consumers ranked these 4 components as critical elements of The Good Life, ranked in order of priority: 36% of Americans ranked Balanced Simplicity as the most important element of The Good Life, followed by Meaningful Connections (28%), Money and Status (26%) and Personal Achievement (10%).
Cash Plays a Role But is No Longer King:
71% of adults surveyed say their view of The Good Life is different from that of their parents. Indeed, though Money and Status and Personal Achievement are still important to today's consumers, they are outranked by the desire for Balanced Simplicity and Meaningful Connections.
We're More Alike than the Media Makes us Out to Be:
The ranking of these 4 Elements holds true across generations, genders, and political affiliations. Thus, despite the myriad of pressing social and environmental issues and the widespread divisiveness seen in America's politics today, there is much agreement in Americans' outlook.  
Americans Want More Cooperation and Service Towards Others:
While 83% of respondents acknowledge that many individuals cannot access The Good Life today and that the world would be a better place if we could, respondents see greater understanding and service as a way forward. More than 3 in 4 adults (76%) agree that living The Good Life requires making a difference for others in the world and 89% argue that, if people understood one another better, we would all live a better life.
"It is popular today to hold the view that many assume Americans disagree on what The Good Life looks like. Yet, our research shows that leading a balanced, healthy life that is connected to people and issues that matter is at the heart of these new aspirations, and this holds true across demographics. For example, Balanced Simplicity rises to the top as having the largest impact on The Good Life, regardless if you're young (34%) or old (38%), Republican (34%) or Democrat (38%), male (37%) or female (35%). It turns out, despite what we are led to believe, there is more that connects than decided us when it comes to our core aspirations," said KoAnn Skrzyniarz, Founder/CEO of Sustainable Brands of the study results. "We believe it is time to come together to bring a better life into focus through effective consumer/brand partnership."
The New Role for Business and Brands to Support the Good Life Journey
The research showed that brands have an enormous opportunity to help individuals achieve The Good Life. Though about half of respondents (51%) sense that companies aspire to help them live The Good Life, nearly 2 of 3 (65%) struggle to name brands that are actually doing something about it. Respondents shared that they want businesses to help them live The Good Life, and a strong majority (80%) say they are loyal to those that do.  
"The majority of Americans believe brands can help them live more meaningful lives, yet two-thirds don't believe companies currently are providing products to help them do so. There's a return on empathy most marketers fail to comprehend," states Wendy Salomon, VP of the Harris Poll.
"People don't really have ideas of how brands can specifically help, and brands are waiting for consumers to tell them what to do. Instead, brands need to generate their own insights and ideas, based on Americans' emerging sense of what's important to a life well lived – and create their own innovations to bring to market," explains Skrzyniarz. "Yes, there is a disconnect. Yet, if brands innovate, the payoff is that 4 in 5 Americans say they would be loyal to brands that help them achieve the Good Life."
The full Enabling The Good Life report is part of a three-year initiative by Sustainable Brands entitled "Redefining, Redesigning and Delivering The Good Life."  An exploration into how The Good Life differs outside of the US will be explored at a number of Sustainable Brands international events in the months to come. In June 2018, SB community will gather at SB'18 Vancouver to launch the second year of this global initiative – Redesigning the Good Life – to share global insights collected in the year just past, discuss how brands can use these insights to innovate their product and service offerings and meet consumers' changing vision of The Good Life.
Research Methodology
The survey was conducted online within the U.S. by Harris Poll in conjunction with Sustainable Brands, April 10 – 14, 2017. A total of 1,074 interviews were conducted among U.S. adults 18+. The data were weighted to ensure that relevant demographic characteristics of the sample matched those of the U.S. general population. All respondents (not only those who met the qualifying criteria) were weighted to U.S. Census Bureau demographic profiles for the U.S. population 18+ on gender, age, region, education, income, and ethnicity. Propensity score weighting was used to adjust for respondents' propensity to be online.
About Sustainable Brands
Sustainable Brands® is the premier global community of brand innovators who are shaping the future of commerce worldwide. Since 2006, our mission has been to inspire, engage and equip today's business and brand leaders to prosper for the near and long term by leading the way to a better future. Digitally published news articles and issues-focused conversation topics, internationally known conferences and regional events, a robust e-learning library and peer-to-peer membership groups all facilitate community learning and engagement throughout the year. Sustainable Brands is hosted by Sustainable Brands Worldwide, a division of Sustainable Life Media headquartered in San Francisco, CA.