Sustainable Brands Allures Global Brand Leaders to Copenhagen Conference
BASF, Danone, SC Johnson, UPS and others share research, tools and insights at SB'17 Copenhagen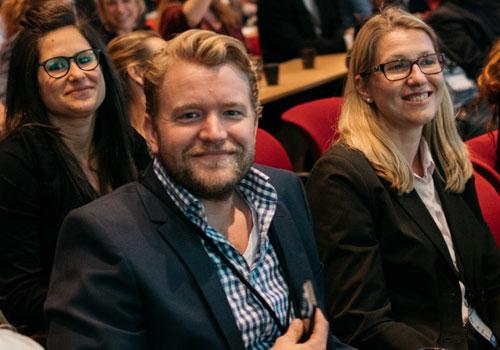 SAN FRANCISCO, October 30, 2017 /3BL Media/ - Sustainable Brands® kicks off its pan-European conference SB'17 Copenhagen today at the Radisson Blu Scandinavia Hotel in Copenhagen, Denmark. Over 350 business executives from 25+ countries are convening today to continue the conversation on Redefining the Good Life, or how business can meet evolving consumer demands and continue to deliver value for their customers.
More than 100 influential brand leaders and practitioners of social and environmental innovation are sharing disruptive business strategies, tools and frameworks for understanding, quantifying or responding to shifts in consumer attitudes towards The Good Life.
Full program highlights include:
Long Run Works leads a deep dive studio sharing their unique storytelling methodology that leverages the 'hero's journey' to share business successes.    
 
The Finnish Innovation Fund convenes a research roundtable to explore what The Good Life means to consumers, and how they imagine brands can help take them there.
 
The UN Global Compact Nordic Network, Chr. Hansen and PwC host the 'Good Global Goals' Innovation Lab to discuss best-practices for reporting progress on the UN Global Goals.
 
Radley Yeldar facilitates a breakout session on creating a new visual language for sustainability and explore how brands can depict sustainability and "The Good Life" in a way that resonates with their consumers.
 
Ørsted, previously known as DONG Energy, shares the latest big reveal from the energy company as they shift from a fossil fuel intensive business to a renewable energy giant.
 
Unilever and Oxfam discuss lessons learned through their groundbreaking partnership to tackle gender and inequality.
 
Ikea Switzerland and EDGE Certified Foundation outline how top brands can leverage the EDGE certification process to measure and advance gender equality in the workplace.
 
Everycs delivers the first ever 'public' demonstration of the largest data and tools platform for product sustainability.
 
Quantis presents on the engagement tools, communication strategies and metrics necessary to get clear buy-in on your sustainability initiatives.
 
Ecofys hosts a lunch presentation on achieving global sustainability goals by extending science-based targets along the entire value chain.
Networking and collaboration activities continue in the Activation Hub at SB'17 Copenhagen where attendees are gathering to cultivate conversation around complex problems in the market sectors of mobility, packaging, homes, chemistry, energy, cities, food and supply chain. The Activation Hub pavilion activities at SB'17 Copenhagen include:
A Good Homes pavilion, hosted by SC Johnson, addresses the opportunities and challenges for leadership in product transparency.
 
A Good Energy pavilion, facilitated by Natalia Gorina of South Pole Group, explores the political and economic systems that work in tandem with energy production and the barriers as renewable energy goes mainstream.
 
A Good Packaging pavilion, facilitated by Jenny Andersson of The Earthkind Company, shares innovative designs and circular principles for reducing packaging materials.
 
A Good Food pavilion, facilitated by LEADx, discusses the shifting tides of global food systems and how to influence consumer preferences for more sustainably grown food.
In addition to the co-creative Activation Lab sessions, attendees are invited to a series of special conference events. Ørsted (formerly known as DONG Energy) brings attendees to the Ørsted Avedøre Power Station, a power plant that was recently converted to run entirely on sustainable biomass instead of coal. Carlsberg features a tour of their Copenhagen brewery as well as an evening reception for conference attendees and Max Burgers hosts a lunchtime tasting of its vegan burgers.
Sustainable Brands is proud to recognize BASF, Ørsted (formerly known as DONG Energy), Ecofys, SC Johnson, Quantis, The Carlsberg Group, Chr. Hansen, PwC, the UN Global Compact Nordic Network and 599 Labs as Major Sponsors for SB'17 Copenhagen. Supporting sponsors include Nature Bank, South Pole Group, everycs and Trucost. Additional sponsors and partners include: Ecosphere+, Plastic Bank, Scouts, CSR.dk, brandchannel, D&AD, SustainAbility, treedom, dopper, Terracycle, FIBS, and Business in the Community, among others.
For a complete list of sponsors and speakers as well as the conference schedule, please visit the conference website at www.SB17Copenhagen.com. Registration is still available and tickets can be purchase onsite at the Radisson Blu Scandinavia Hotel.
About Sustainable Brands
Sustainable Brands® is the premier global community of brand innovators who are shaping the future of commerce worldwide. Since 2006, our mission has been to inspire, engage and equip today's business and brand leaders to prosper for the near and long term by leading the way to a better future. Digitally published news articles and issues-focused conversation topics, internationally known conferences and regional events, a robust e-learning library and peer-to-peer membership groups all facilitate community learning and engagement throughout the year. Sustainable Brands is a division of Sustainable Life Media, headquartered in San Francisco, CA.