Sustainability Report: Balancing Stakeholder Needs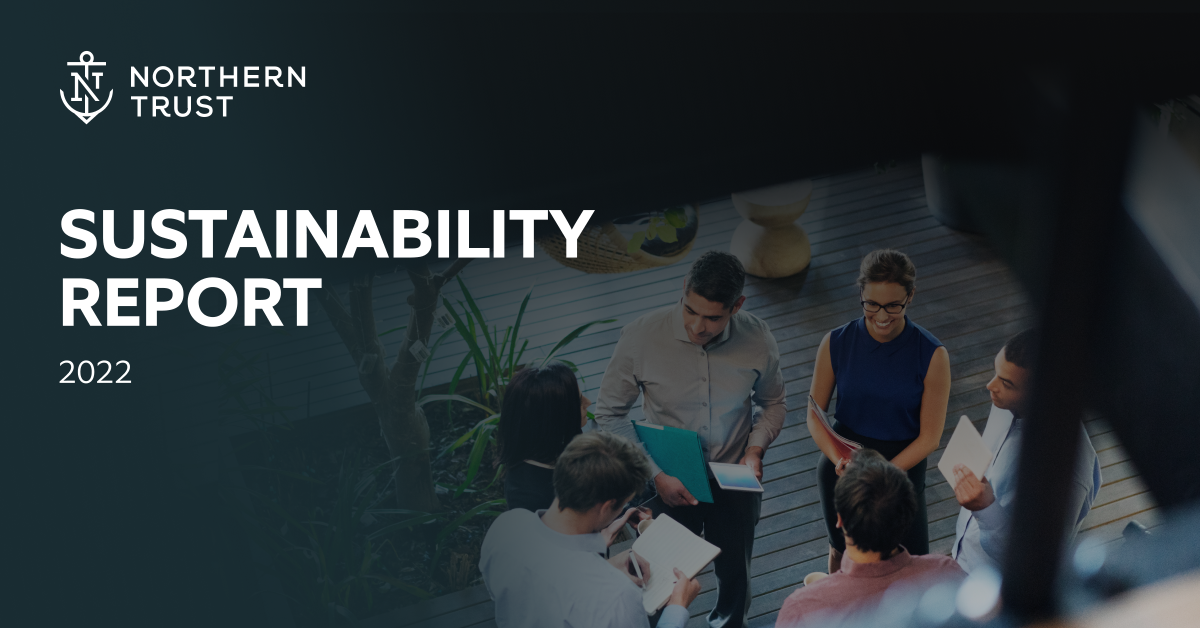 Northern Trust announced today it has released its latest Sustainability Report, highlighting efforts to bolster inclusion in the workplace, engage in philanthropic and social impact investing, and minimize the environmental impact of business operations.
"Our approach to sustainability is grounded in our enduring principles of service, expertise, and integrity," said Kimberly Evans, Head of Corporate Sustainability, Inclusion and Social Impact. "While our stakeholders' expectations and demands vary by topic and timing, it is our responsibility to navigate the ambiguity in a way that honors our commitment to people, the planet and prosperity for current and future generations."
 
Highlights from the 2022 Sustainability Report include:
Diversity, Equity and Inclusion: Northern Trust is committed to advancing an inclusive culture in which all individuals are valued, respected, supported and can fully participate in and contribute to the firm's success. Examples of Northern Trust efforts include a Women's Leadership Development Forum in which more than 2,100 women have enrolled.
Community Development: Northern Trust's community development portfolio exceeded $3.9 billion as of the end of 2022. Investment priorities include affordable housing; community financial entities that focus on unbanked, underbanked and underserved communities, including support of micro-lending programs; education and social services; and job creation.
Corporate Philanthropy: In 2022, Northern Trust donated more than $19 million to non-profit groups in support of a philanthropic strategy that focuses on four areas of fundamental impact to broaden opportunities and improve financial futures: educational excellence, food security, accessible health care and affordable housing. Over the past decade, Northern Trust has donated more than $170 million to charities across the globe.
Materiality Assessment: Northern Trust conducted an assessment in 2022 to evaluate post-pandemic shifts relative to environmental, social and governance issues from our stakeholders' perspectives, the competitive landscape, and needs of the communities in which we work and live. Our expertise is aided by participation with leading frameworks, in industry groups and in stakeholder engagements. This report outlines what we learned and how we're developing plans to address the top priorities. The results will be used to establish our key performance indicators for the next several years.
Sustainable Operations: A fundamental principle of sustainability is to meet the needs of the present generation without compromising the abilities of future generations to meet their own needs. We align our business to this concept by integrating environmental considerations into company-wide processes, continually improving business practices and delivering tangible, positive results related to the environment. Northern Trust managed its business operations to achieve carbon neutrality for the first time in 2022.
As of Dec. 31, 2022, Northern Trust reduced our energy consumption by more than 30 percent compared to a 2019 baseline. Additionally, Northern Trust in 2022 worked with Climate Vault to reduce carbon emissions through a two-step approach. Climate Vault first purchases and "vaults" carbon emission allowances from government-regulated compliance markets. Climate Vault will then leverage the value of the emission allowances to fund an equivalent or greater amount of carbon removals from new carbon dioxide removal (CDR) technologies through a bi-annual grant process. Additional information about our GHG emissions can be found in our Statement of GHG Emissions.
Media Contact: 
Doug Holt
312-557-1571
Doug_Holt@ntrs.com