Strengthening Relationships With Diverse Suppliers, Farmers, and Partners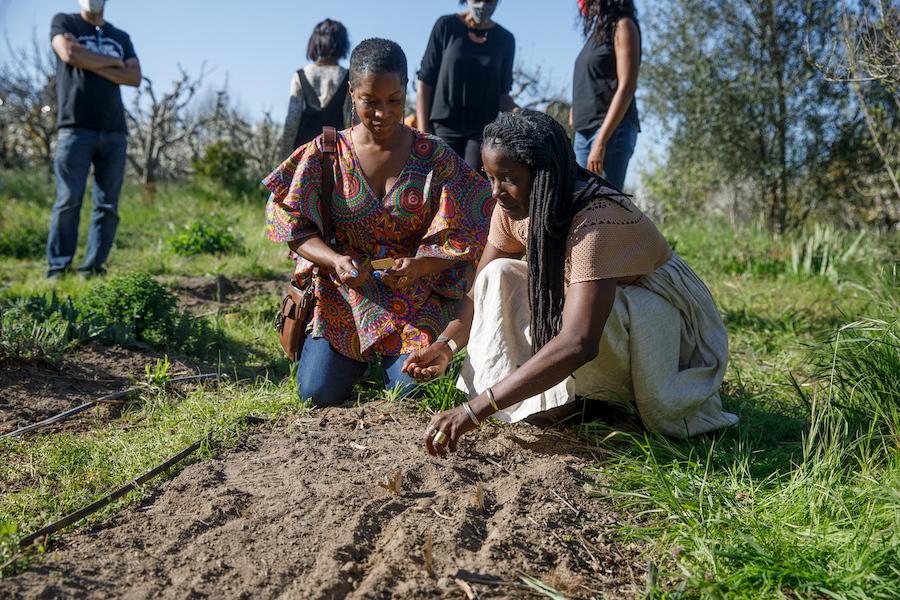 Committed to continuously developing an innovative and inclusive supply chain, Aramark proudly partners with a broad network of small organizations owned and operated by minorities, women, and other diverse populations.
Supplier diversity is not only a key supply chain and diversity, equity, and inclusion (DEI) initiative for Aramark, it is a business imperative that delivers success for clients, consumers, and communities.
"Aramark's commitment to working with small businesses and businesses owned and operated by minorities, women, and other diverse populations is key to forming strategic relationships that provide more culturally authentic products, increase value for our clients, and foster local economic impact," said Natily Santos, Vice President of Responsible Sourcing at Aramark. "Supporting minority and women-owned business enterprises (M/WBEs) is an essential supply chain initiative that contributes greatly to our sustainability, community relations, and diversity and inclusion goals."
Understanding that innovation, flexibility, and support are key to strengthening these relationships with diverse suppliers, Aramark takes a customized approach, adjusting to meet its partners' unique needs in the geographies the company serves.
From providing access to mentoring and business development programs for regional M/WBEs, to supporting grants to local farms owned by Black, Indigenous, and People of Color (BIPOC), below are some highlights of Aramark's supplier diversity efforts from the past year.
Mentoring Regional Business Leaders
In summer 2022, Aramark announced the start of its second Centers of Excellence (COE) mentoring cohort with the Eastern Minority Supplier Development Council (EMSDC) and Southern California Minority Supplier Development Council (SCMSDC) to continue support of small businesses and businesses owned and operated by minorities, women, and other diverse populations across Pennsylvania, New Jersey, Delaware, and southern California.
Through the three-month mentoring program, Aramark executives and volunteers from Aramark's employee resource groups (ERGs) provide skills training, best practices sharing, executive coaching sessions, and more.
During the 2022 COE program, which ended in September, 15 Aramark volunteer coaches, eight Aramark subject matter experts, and 15 M/WBE mentees worked together to share knowledge and grow professionally and personally.
Chicago Business Management Education Program
Aramark partners with the Chicago Minority Supplier Development Council (Chicago MSDC) for the Progress, Insight, and Performance Education (PIPE) program for M/WBEs.
This eight-week, advanced business management program, taught in collaboration with the University of Phoenix, provides participants with the skills and knowledge needed to optimize their businesses. Topics include strategic planning, managing organizational goals, business ethics, supply chain, and project management.
Fourteen people from M/WBE businesses participated in the fifth PIPE cohort program, which concluded in December 2022.
"I was so busy working on the business that I had forgotten the importance of evaluating the current status of our organization," said 2022 graduate Jeanetta Hawkins, owner of Personal Touches by Jeanetta (PTBJ), a special events design, production, and unique rental company. "Completing the PIPE program was one of the best decisions that I could have made. Gaining insight on best practices and tools that can be implemented into PTBJ immediately was epic!"
Participating PIPE business owners work in a variety of industries, including arts and entertainment, construction, facility services, food preparation, hospitality, IT, promotions, transportation, and utilities.
Nearly 50 business leaders have graduated from the PIPE program since 2020 across eight different states in the U.S.
"Participating in these supplier diversity initiatives through our Chicago MSDC partnership is so rewarding and has contributed to my personal growth," said Octavia G. Matthews, Vice President of Strategic Partnerships, Aramark Facilities Management. "I am a member of the MBE Certification Committee and for three years have served as an ethics instructor in the PIPE program. This unique work allows me to intersect my commitment to our facilities business growth, MBE development, and community service in greater Chicagoland."
To find out more about the Chicago PIPE program, watch the 2022 video or read the 2021 press release.
Cultivating Minority Farmers and Sustainable Agriculture
This year, Aramark supported efforts to ensure the sustainability of BIPOC owned or managed farms and agricultural nonprofits.
In all, 17 U.S. farms in 11 states (including California's EARTHseed Farm, pictured at top) received Aramark grants through The FruitGuys Community Fund Grant program in 2022.
Aramark has committed to supporting a similar number of BIPOC farms for the 2023 and 2024 grant cycles.
"BIPOC and independent farmers are critical to growing great food and strengthening local communities. In our experience, it is often the smaller, independent farms that are the drivers of a diverse food system while welcoming the next generation of farmers," said Chris Mittelstaedt, Founder and CEO, The FruitGuys. "Grants to The FruitGuys Community Fund allow for the funding of diverse sustainable agriculture projects that have positive impacts on the environment, local food webs, and farm diversity. We are grateful to Aramark for their support."
Recognized for Partnering with Women-Owned Businesses
Aramark received a Done Deals Award from the Women's Business Enterprise Council East Region (WBEC-East) in late 2022 for purchasing from and partnering with WBEs.
The annual awards recognize member organizations that demonstrate the highest financial spend with certified WBE suppliers in the Pennsylvania, southern New Jersey, and Delaware region over a 12-month reporting cycle. More than $40 million worth of goods and services were sourced by Aramark during the period.
A strategic supplier diversity partner for more than 10 years, WBEC-East supports Aramark's WBE engagement and sourcing efforts. Aramark previously won Done Deals awards in 2016 and 2018 and in 2021 won a Resiliency Award which recognizes a council member who showcases a commitment to continuous improvement, overcoming obstacles, sustainability, and focus on innovation and positive change.
Supplier Diversity Overview
Aramark's robust supply chain includes more than 4,500 small businesses and other diverse suppliers or subcontractors, including 1,542 supplier relationships with M/WBEs across the enterprise in the U.S.
In fiscal year 2022, Aramark's spend with small businesses and diverse suppliers exceeded $727 million, including approximately $385 million with M/WBEs.
Nearly 7,000 jobs are supported through Aramark's supplier diversity spend, with $1.2 billion of total economic impact attributed to the company's supplier diversity program in fiscal year 2022.
In addition, Aramark has set a goal to spend 25 percent of company supply chain purchases with small and diverse businesses by 2025.