Still Rocking the Youth Vote: MTV to Support Orgs Focused on Young Voters in Georgia
Still Rocking the Youth Vote: MTV to Support Orgs Focused on Young Voters in Georgia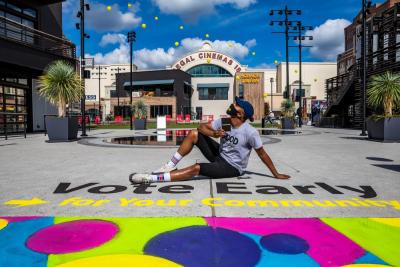 Thursday, November 12, 2020 - 4:35pm
In keeping with MTV's long history of youth voter engagement and as a continuation of our efforts to register first-time voters for the 2020 election through our Vote For Your Life campaign, MTV is proud to make funding available to organizations working to get out the youth vote for the upcoming runoff election in Georgia.  
MTV invites nonprofit and nonpartisan organizations to apply for one of at least 10 grants of up to $10,000 to support new and creative ways to engage young people to vote, especially the estimated 23,000 young people in Georgia who were not eligible to vote in the general election, but who will turn 18 in time to vote in the upcoming runoff election on January 5.  Grantees may be eligible to receive more than $10,000, based on the strength of the application, as determined by MTV.
If you've had big dreams that have been held back by budgetary concerns, we want to hear from you and help you bring those dreams to life as you work to get out the vote in Georgia and continue Georgia's new record of unprecedented youth voter turnout.
Please fill out this short application by 11:59 PM EST on November 16, 2020.  The MTV team will select the top applications by November 20, 2020 and will notify the selected organizations. Funding may take up to 60 days to process. Grants can only be made to 501(c)(3) nonpartisan nonprofit organizations.