States, Local Government Step Up to Play Increasingly Critical Role in a Smarter Clean Energy Future
The federal government has long shaped U.S. energy policy, but today, we see states and corporations taking up the mantle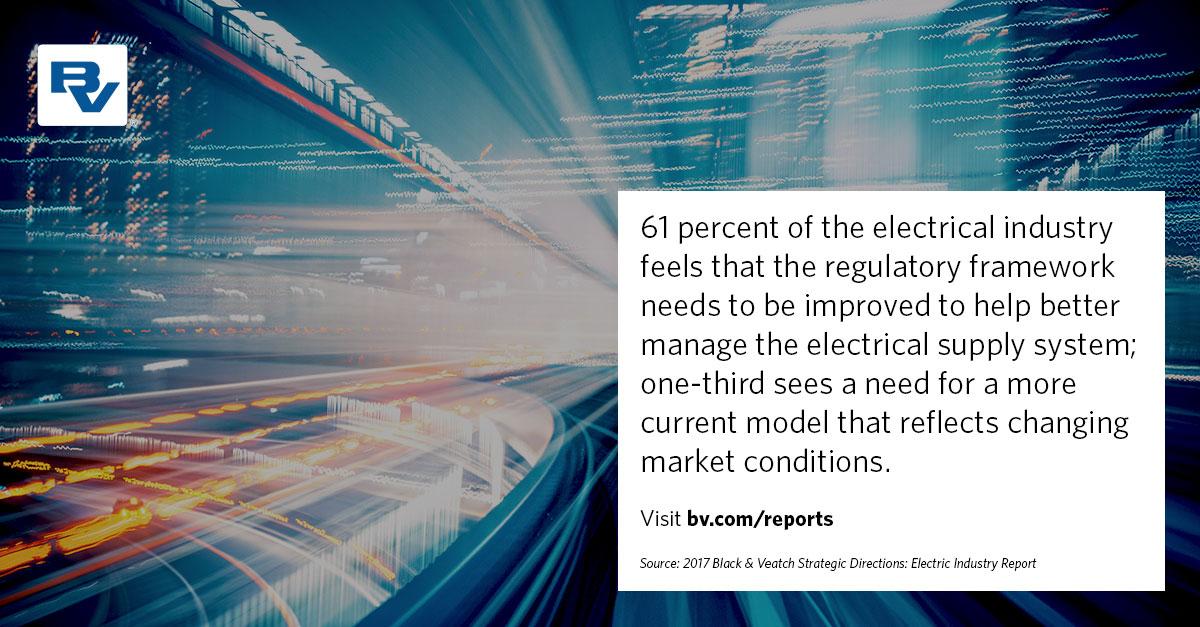 The federal government has long played a central role in shaping U.S. energy independence and security. This year marks the 10th anniversary of the Energy Independence and Security Act of 2007 (EISA). Over the last decade, federal programs have significantly influenced the energy sector, particularly in the development of smart grids and renewable energy.
Today, however, we stand at an inflection point where states, municipal governments and even corporations are stepping up to become the primary drivers of the future of clean energy.
Download the 2017 Electric Industry Report
The federal government has had a long relationship with clean energy, as outlined in the regulatory section of this report. Although recent moves by the administration are changing the playing field, survey data shows that there is still a clear case for government involvement.
For example, 61 percent of respondents feel that the regulatory framework needs to be improved to help better manage the electrical supply system; over a third (33 percent) indicated that there is a need for a more current model that reflects changing market conditions such as distributed generation, while 31 percent identified a need for improved EPA environmental compliance.
Encouraging Evolution with Energy Incentives
In a 2011 analysis, Management Information Services, Inc. named special exemptions and credits as accounting for the majority (47 percent) of incentives since 1950. In the years since, the U.S. saw shifts not only in the form of incentives, but also the industries that received them. According to DBL Investors, the oil and gas sector enjoyed the largest percentage of federal energy incentives over the last 91 years, with an average of $4.86 billion in investments every year (in 2010 dollars).
Implementing Policy Mandates, Tax Incentives and Partnerships
The government has also looked to policy mandates to encourage change. In 2009, the American Recovery and Reinvestment Act (Recovery Act) brought teeth to the goals that EISA defined, allocating $4.5 billion to the Department of Energy (DOE) to modernize the electric grid. Meanwhile, the Smart Grid Investment Grant and Smart Grid Demonstration programs led to billions of dollars in investments in over 130 smart grid projects focused on grid modernization, cybersecurity, interoperability and data collection.
Another route has been tax incentives that support renewable energy technology. These incentives are helping to create new energy products and services and deploy clean distributed energy resources into the grid.
Public-private partnerships are becoming an increasingly attractive option, with microgrids presenting an excellent opportunity for stakeholders to get involved in an evolving energy ecosystem. These options illustrate the many ways in which governments at all levels can play a critical role in stimulating and supporting grid modernization and contribute to a more sustainable, smarter grid.
Outlook for Today, Tomorrow and the Future
While the energy sector enjoys federal support, increasingly it is state and local governments and corporations that may have the largest direct impact on the vision and action plans for clean energy. California recently passed legislation to accelerate achievement of 50-percent renewable energy by 2026 (from 2030), and 100-percent renewable energy by 2045. Oregon, Massachusetts and Nevada have also enacted laws setting targets for energy storage. At the municipal level, mayors from over 100 cities across the US have adopted goals to transition to 100-percent renewable energy no later than 2035.
While the industry expresses appreciation for the policy-driven approach taken by these states, they do have concerns about scope, speed and other factors. However, armed with greater flexibility and a better understanding of local and regional factors, states and smart municipalities are in the best position to enact meaningful change within our energy infrastructure and significantly impact the development and adoption of new energy technology.