Smithfield Foods Supports Veterans with $25,000 Contribution to Warrior Canine Connection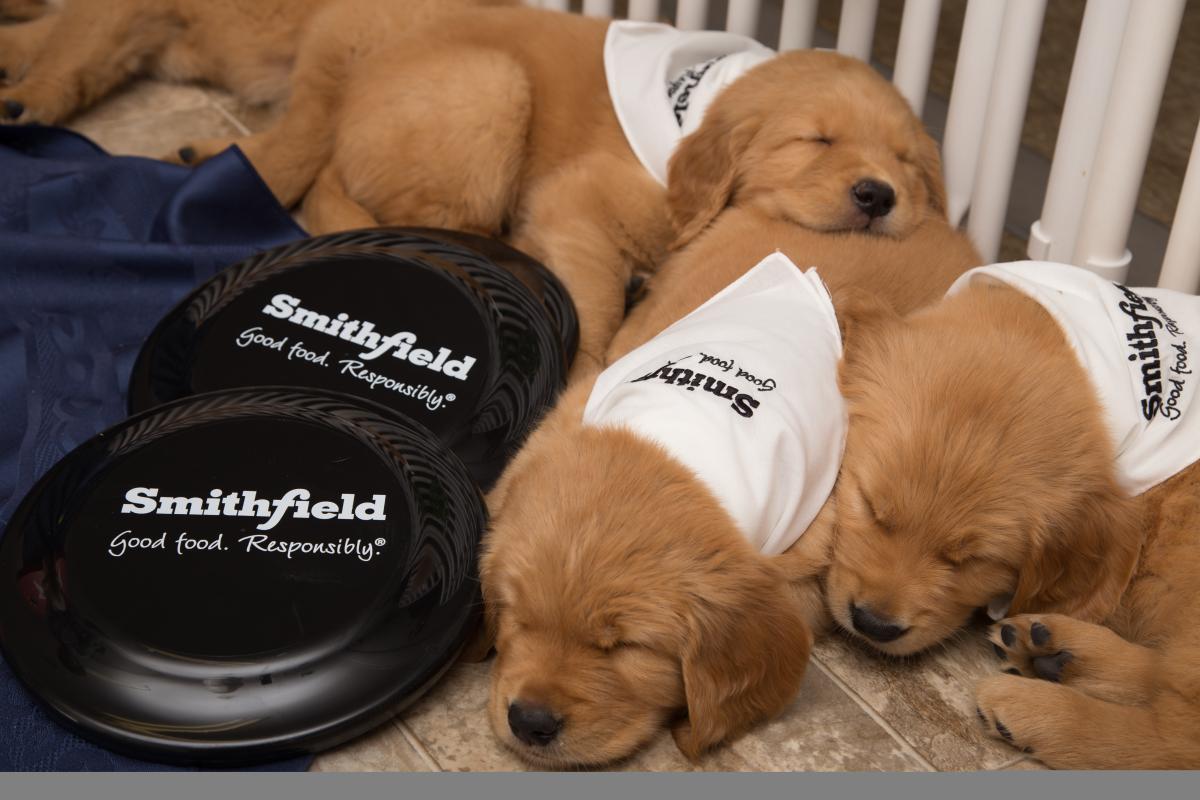 SMITHFIELD, Va, November 9, 2017 /3BL Media/ — The Smithfield Foundation, the philanthropic arm of Smithfield Foods, Inc., is pleased to announce it has joined forces with the Warrior Canine Connection (WCC), a pioneering organization that utilizes a Mission Based Trauma Recovery therapy model to help service members and veterans reconnect with their families and communities. Smithfield's $25,000 donation will help fund a new Puppy Enrichment Center where future service dogs begin their training at WCC's Healing Quarters in Boyds, Maryland.
With this gift, Smithfield is supporting WCC's efforts to enlist recovering warriors in a therapeutic mission of learning to train service dogs. Through this program, warriors interact with dogs from birth through adulthood, training them to become service dogs for fellow veterans. Warrior trainers benefit from the engagement with the dogs, while veterans receive the support that a service dog provides.
"Warrior Canine Connection has worked with more than 4,000 wounded veterans receiving treatment for post-traumatic stress and traumatic brain injury to provide a non-pharmaceutical intervention that mitigates symptoms associated with their injuries," said WCC Founder and Executive Director Rick Yount. "As a nonprofit organization, we can't do it alone, and we are incredibly grateful that Smithfield has stepped forward to help address the mental health and well-being of our nation's veterans."
WCC's new comprehensive Healing Quarters provides a tranquil, safe, healing environment to serve thousands more wounded veterans and their families. Smithfield's contribution enables WCC to increase the number of dogs available for therapeutic service dog training and placement.
"The connection with a service dog offers physiological and psychological benefits to both the warriors who train these animals and their fellow veterans with disabilities who utilize service dogs," said Dennis Treacy, president of the Smithfield Foundation. "The compounding, positive impact on bettering the lives of those who have given so much to our country – a core focus of our charitable giving and philanthropic efforts at Smithfield – is why we are proud to support this program."
Smithfield has a long history of supporting veterans and military families through volunteerism, food and charitable donations and partnerships. In the past five years, Smithfield has donated more than $3 million to Operation Homefront through its Eckrich® brand. Last year, Smithfield introduced two new veterans' initiatives – Operation 4000! and Smithfield Salutes. Smithfield Salutes is a Veterans Employee Resource Group that aims to make the transition from military to civilian life a seamless one. Through Operation 4000!, Smithfield is working to employ 4,000 veterans—10 percent of its U.S. workforce—by 2020.
To learn more about Smithfield's support of veterans, visit smithfieldfoods.com/veterans.
For more information about Warrior Canine Connection, visit warriorcanineconnection.org.
About Smithfield Foods
Smithfield Foods is a $15 billion global food company and the world's largest pork processor and hog producer. In the United States, the company is also the leader in numerous packaged meats categories with popular brands including SmithfieldⓇ, EckrichⓇ, Nathan's FamousⓇ, FarmlandⓇ, ArmourⓇ, John MorrellⓇ, Cook'sⓇ, KretschmarⓇ, GwaltneyⓇ, Curly'sⓇ, MargheritaⓇ, CarandoⓇ, Healthy OnesⓇ, KrakusⓇ, MorlinyⓇ and BerlinkiⓇ. Smithfield Foods is committed to providing good food in a responsible way and maintains robust animal care, community involvement, employee safety, environmental and food safety and quality programs. For more information, visit www.smithfieldfoods.com.
About Warrior Canine Connection
Warrior Canine Connection is a pioneering organization that utilizes a Mission Based Trauma Recovery model to empower returning combat Veterans who have sustained physical and psychological wounds while in service to our country. Based on the concept of Warriors helping Warriors, WCC's therapeutic service dog training program is designed to mitigate symptoms of post-traumatic stress disorder, traumatic brain injury, and other challenges, while giving injured combat Veterans a sense of purpose, help in the reintegration back into their families and communities, and promote consideration of a potential career path as a service dog trainer. For more information, visit warriorcanineconnection.org. 
###
Contact:
Keira Lombardo
Smithfield Foods, Inc.
(757) 365-3050