Smithfield Foods President and CEO Kenneth M. Sullivan Receives CR Magazine's 2017 Responsible CEO of the Year Award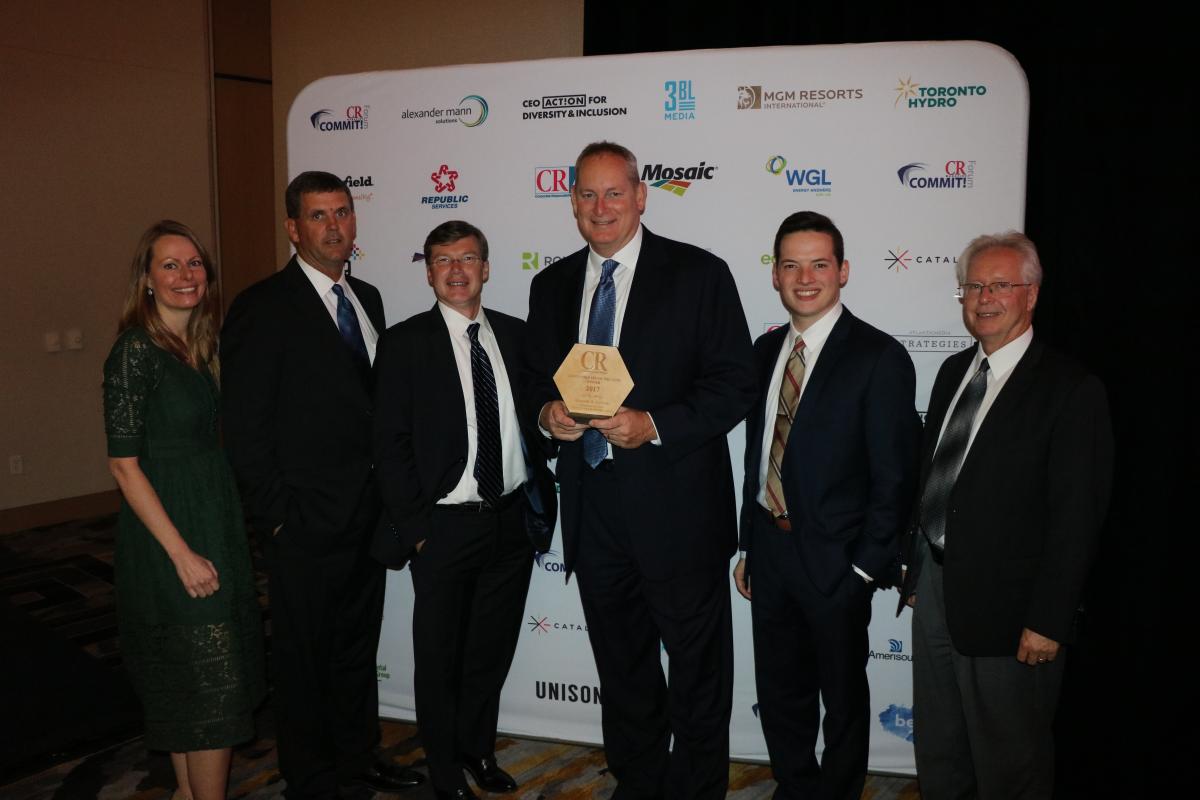 Keira Lombardo, senior vice president of corporate affairs, Kraig Westerbeek, senior director of Smithfield Renewables, Stewart Leeth, chief sustainability officer and vice president of regulatory affairs, Ken Sullivan, president and chief executive officer, Jonathan Toms, corporate affairs coordinator and Bill Gill, assistant vice president sustainability.
SMITHFIELD, Va., Oct. 16, 2017 /3BL Media/ — Smithfield Foods, Inc. is pleased to announce its President and CEO, Kenneth M. Sullivan, has been honored with CR Magazine's Responsible CEO of the Year Award — presented to a chief executive who demonstrates diligence in the areas of employee relations, environmental impact and sustainability, human rights, philanthropy, and corporate responsibility practices.
In its 10th year, the prestigious award ceremony took place during COMMIT!Forum — a leading event for corporate responsibility and sustainability practitioners. Dave Armon, CEO of the Corporate Responsibility Board and publisher of CR Magazine, delivered the distinguished honors.
"Under Ken's leadership, Smithfield has seized opportunities for continuous improvement and developed transformative solutions that have set new standards for corporate responsibility and sustainability practices," said Armon. "His influence has ignited innovation within his own company and inspires other leaders in the food industry."
Since taking the helm of the world's largest hog producer and pork processor in 2016, Sullivan has launched several new initiatives and expanded corporate responsibility programs. Late last year, Smithfield became the first major protein producer to adopt a greenhouse gas reduction goal throughout its entire supply chain by pledging to cut emissions 25 percent by 2025. The company also announced Operation 4000!, its goal to make veterans 10 percent of the company's U.S. workforce within the next three years, and expanded its hunger-relief initiative Helping Hungry Homes® program, which has provided nearly 80 million pounds of protein to local food banks across the country since 2011.
"Our industry-leading programs reflect the passion and commitment of our more than 50,000 employees to producing good food the right way," said Sullivan. "I am honored to accept this recognition on behalf of the company and the collective efforts of our entire team.  This award belongs to them."
Responsible CEO of the Year is selected by a judging panel comprised of past Responsible CEO winners, who measure the magnitude in which candidates have impacted their organization and community, the extent of corporate initiatives led by CEOs during the previous year, and the overall risk inherited by CEOs in order to deliver on corporate commitments.
More information about Smithfield's corporate responsibility efforts may be found in Smithfield's most recent sustainability report.
About Smithfield Foods
Smithfield Foods is a $15 billion global food company and the world's largest pork processor and hog producer. In the United States, the company is also the leader in numerous packaged meats categories with popular brands including SmithfieldⓇ, EckrichⓇ, Nathan's FamousⓇ, FarmlandⓇ, ArmourⓇ, John MorrellⓇ, Cook'sⓇ, KretschmarⓇ, GwaltneyⓇ, Curly'sⓇ, MargheritaⓇ, CarandoⓇ, Healthy OnesⓇ, KrakusⓇ, MorlinyⓇ and BerlinkiⓇ. Smithfield Foods is committed to providing good food in a responsible way and maintains robust animal care, community involvement, employee safety, environmental and food safety and quality programs. For more information, visit www.smithfieldfoods.com.
###
Contact:
Keira Lombardo
Smithfield Foods, Inc.
(757) 365-3050