Smithfield Foods Donates More Than 39,000 Pounds of Protein to the Freestore Foodbank
Smithfield Foods Donates More Than 39,000 Pounds of Protein to the Freestore Foodbank
Kroger Partners for Smithfield's 2018 Helping Hungry Homes® Tour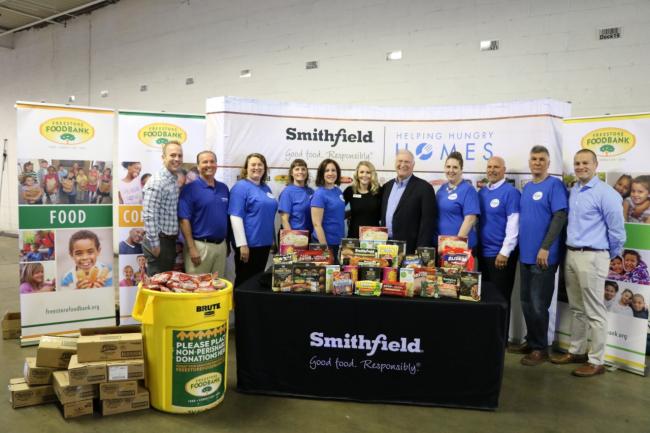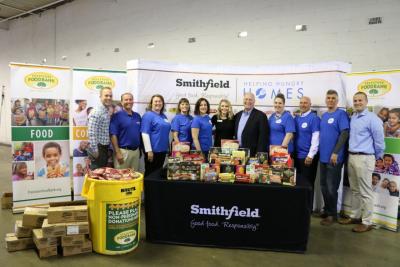 Wednesday, April 25, 2018 - 9:35am
CINCINNATI, April 25, 2018 /3BL Media/ – Today, Smithfield Foods, Inc. joined forces with Kroger to donate more than 39,000 pounds of protein to the Freestore Foodbank. Smithfield's contribution was part of the company's 2018 Helping Hungry Homes® donation tour. Now in the program's 10th year, Helping Hungry Homes® is Smithfield's signature hunger-relief initiative focused on alleviating hunger and helping Americans become more food secure. The donation, equivalent to more than 157,000 servings, will help families fight hunger across Ohio, Kentucky, and Indiana.
"At Freestore, our motto of Food-Connection-Hope is strengthened by donations from great partners like Smithfield and Kroger," said Kurt Reiber, president and CEO of the Freestore Foodbank. "Smithfield and Kroger's hunger relief efforts align with our mission to not only provide food, but to also create stability and further self-reliance for people in crisis. Together, we can solve hunger and help keep our communities healthy and strong."
Smithfield and Kroger representatives presented the donation to the Freestore Foodbank at an event at the food bank this morning. Members of the organizations discussed food insecurity in the local community and the significance of this donation, which will provide protein throughout the food bank's service area including a network of 400 community partner agencies serving 20 counties across Ohio, Kentucky, and Indiana.
"Smithfield has been a longtime ally to Kroger in the fight against food insecurity," said Erin Rolfes, Cincinnati-Dayton corporate affairs manager for Kroger. "As part of our Zero Hunger Zero Waste initiative, Kroger is committed to ending hunger in our region by 2025 – a goal we cannot reach without strong partners like Smithfield and the Freestore Foodbank."
This is the 17th large scale protein donation made by Smithfield to food banks across the country during its 2018 Helping Hungry Homes® tour. Since the program's inception in 2008, Smithfield has provided more than 100 million servings of protein to food banks, disaster relief efforts, and community outreach programs nationwide.
"As a food company, Smithfield is proud to provide wholesome protein to those in need, with help from partners like Kroger and the Freestore Foodbank," said Dennis Pittman, senior director of hunger relief for Smithfield Foods. "We understand and take great pride in our responsibility to help these hungry homes through nutritious donations, while also inspiring others in the community to get involved in assistance programs to support the places we all call home."
For more information about Smithfield Foods' Helping Hungry Homes® initiative and a list of upcoming donation events, visit helpinghungryhomes.com.
# # #
About Smithfield Foods
Smithfield Foods is a $15 billion global food company and the world's largest pork processor and hog producer. In the United States, the company is also the leader in numerous packaged meats categories with popular brands including Smithfield®, Eckrich®, Nathan's Famous®, Farmland®, Armour®, Farmer John®, Kretschmar®, John Morrell®, Cook's®, Gwaltney®, Carando®, Margherita®, Curly's®, Healthy Ones®, Morliny®, Krakus® and Berlinki®. Smithfield Foods is committed to providing good food in a responsible way and maintains robust animal care, community involvement, employee safety, environmental and food safety and quality programs. For more information, visit www.smithfieldfoods.com.
About Kroger
Kroger Cincinnati/Dayton Division employs more than 20,000 associates who serve customers in 109 supermarkets (including 18 Marketplace stores), warehouses and offices in the Greater Cincinnati, Northern Kentucky, Eastern Indiana, and Dayton areas.  With more than 4,000 groups participating in the Division's Community Rewards Program, $4 million was donated back to local non-profit organizations in 2017.  The division focuses its charitable efforts on hunger relief, health and wellness initiatives, child welfare and grass roots organizations.  For more information about Kroger, please visit www.kroger.com.
About Freestore Foodbank
The Freestore Foodbank is the largest emergency food and services provider to children and families in Greater Cincinnati, Northern Kentucky and Southeast Indiana. The organization distributes 24 million meals annually to low-income individuals and families. The Freestore Foodbank supports 400 community partners in 20 counties throughout Kentucky, Ohio and Indiana, including food kitchens, homeless shelters, emergency food pantries, social service centers and program sites. By providing emergency food distribution, the Freestore Foodbank responds to the issue of poverty and food insecurity in our community and provides an array of services (emergency clothing, housing services, SNAP assistance, Medicaid outreach and others) aimed at creating self-reliance. The Freestore Foodbank is a member of Feeding America. Visit www.freestorefoodbank.org for more information.
Media Contacts:
Dalton Agency for Smithfield
Jana Beasley
(904) 534-8568
jbeasley@daltonagency.com
Freestore Foodbank
Sarah Cook
(513) 482-4502 
scook@freestorefoodbank.org
Kroger Food and Drug
Erin Rolfes
(513) 782-8745
erin.rolfes@kroger.com