Smithfield Foods Donates More Than 35,000 Pounds of Protein to the Tarrant Area Food Bank
Kroger and NASCAR Driver Aric Almirola Join the Ninth Stop of Smithfield's 2019 Helping Hungry Homes® Tour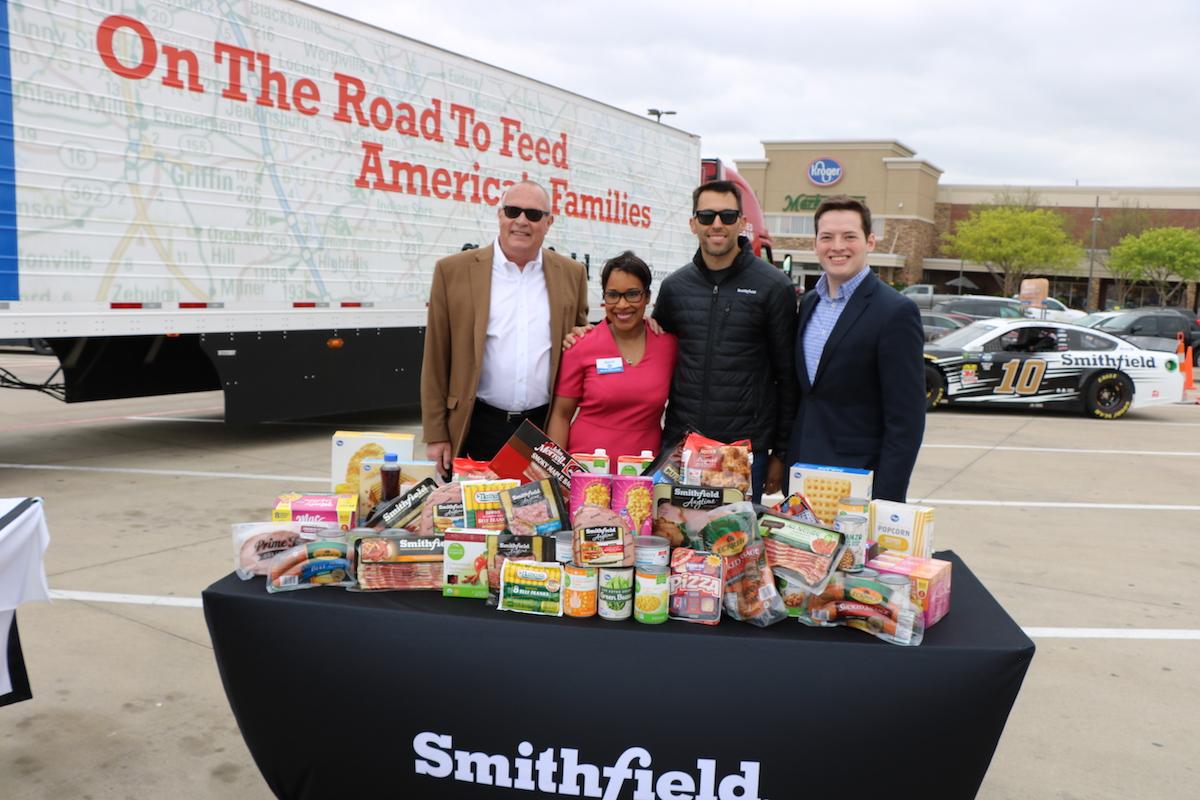 Smithfield Foods donates more than 35,000 pounds of protein to Tarrant Area Food Bank with help from Kroger and Aric Almirola as part of Smithfield's Helping Hungry Homes tour.
FORT WORTH, Texas, April 2, 2019 /3BL Media/ – Smithfield Foods, Inc. and Kroger have joined forces to donate more than more than 35,000 pounds of protein to Tarrant Area Food Bank. Smithfield's contribution was part of the company's 2019 Helping Hungry Homes® donation tour. Helping Hungry Homes® is Smithfield's signature hunger-relief initiative focused on alleviating hunger and helping Americans become more food secure. The donation, equivalent to more than 140,000 servings, will help families fight hunger in the North Texas region.
"Our mission to empower communities to eliminate hunger by providing food, education and resources through innovation and collaboration is something that Smithfield's Helping Hungry Homes® program aligns with wholeheartedly," said Bo Soderbergh, executive director of Tarrant Area Food Bank. "Tarrant County is one of the top 10 counties in the U.S. with the highest number of people suffering from hunger. This donation with help from likeminded partners will make an incredibly positive impact on those we serve."
Representatives from Smithfield Foods and Kroger presented the donation to Tarrant Area Food Bank during an event at a local Kroger this morning. Members of each organization discussed food insecurity in the local community and the significance of this donation that will provide protein throughout the food bank's service area, which includes more than 10 counties across North Texas.
The donation also aligns with Kroger's visionary Zero Hunger | Zero Waste initiative, aimed at ending hunger in the communities Kroger calls home and eliminating waste across the company by 2025.
"Kroger is a longtime ally of Smithfield's efforts to alleviate hunger, and we are honored to take part in yet another protein donation during the Helping Hungry Homes® tour across the country," said April Martin Nickels, manager of Corporate Affairs for Kroger's Dallas Division. "Kroger knows that wholesome meals matter, and we are confident that this contribution of nutrient-rich resources will go a long way to help our neighbors in need who are facing food insecure situations."
As part of the race weekend festivities leading up to the O'Reilly Auto Parts 500, Aric Almirola, driver of the No. 10 Smithfield Ford Mustang for Stewart-Haas Racing assisted with the donation presentation. Following the donation event, Smithfield offered fans a chance to race against Almirola in realistic racing simulators to see if they had what it takes to defeat the pros and win premium prizes.
"It's always an honor and a privilege to join with Smithfield's Helping Hungry Homes® program on the road to end hunger in communities across the country," said Almirola. "In North Texas, 1 in 6 people struggle with hunger. By coming together for this generous donation today, we're able to step in and provide relief to those who need it most."
This is the ninth large-scale protein donation made by Smithfield to food banks across the country during its 2019 Helping Hungry Homes® tour. Since the program's inception in 2008, Smithfield has provided more than 120 million servings of protein to food banks, disaster relief efforts, and community outreach programs nationwide.
"Smithfield understands that hunger doesn't discriminate, and that a variety of circumstances can arise that place our friends, family, and neighbors in need of assistance," said Jonathan Toms, associate manager of charitable initiatives for Smithfield Foods. "This understanding drives our passion to provide wholesome protein donations nationwide, in support of our social purpose. We hope that this donation with our community-minded partners will aid in alleviating and raising awareness of hunger across North Texas for those in need."
For more information about Smithfield Foods' Helping Hungry Homes® initiative and a list of upcoming donation events, visit helpinghungryhomes.com.
# # #
About Smithfield Foods
Smithfield Foods is a $15 billion global food company and the world's largest pork processor and hog producer. In the United States, the company is also the leader in numerous packaged meats categories with popular brands including Smithfield®, Eckrich®, Nathan's Famous®, Farmland®, Armour®, Farmer John®, Kretschmar®, John Morrell®, Cook's®, Gwaltney®, Carando®, Margherita®, Curly's®, Healthy Ones®, Morliny®, Krakus®, and Berlinki®. Smithfield Foods is committed to providing good food in a responsible way and maintains robust animal care, community involvement, employee safety, environmental and food safety and quality programs. For more information, visit www.smithfieldfoods.com, and connect with us on Facebook, Twitter, LinkedIn, and Instagram.   
About Tarrant Area Food Bank
TARRANT AREA FOOD BANK (TAFB), based in Fort Worth, holds the belief that all people deserve regular, nutritious meals. TAFB works to empower communities to eliminate hunger by providing food, education and resources through innovation and collaboration. Through a network of 270 Partner Agencies, TAFB serves 13 counties in North Texas. Learn more at tafb.org and on Facebook, Twitter, and Instagram.
About The Kroger Co. 
At The Kroger Co. (NYSE: KR), we are dedicated to our Purpose: to Feed the Human Spirit™. We are nearly 15,000 associates in the Kroger Dallas Division which includes Dallas/Fort Worth, East Texas and Northwest Louisiana who serve more than two million customers daily through a seamless digital shopping experience and 112 retail food stores. We serve America through food inspiration and uplift, with a commitment to create #ZeroHungerZeroWaste communities by 2025. To learn more about us, visit our newsroom and investor relations site.
About Stewart-Haas Racing:
Stewart-Haas Racing is the title-winning NASCAR team co-owned by three-time NASCAR Cup Series champion Tony Stewart and Gene Haas, founder of Haas Automation – the largest CNC machine tool builder in North America. The organization fields four entries in the Monster Energy NASCAR Cup Series – the No. 4 Ford Mustang for Kevin Harvick, the No. 10 Ford Mustang for Aric Almirola, the No. 14 Ford Mustang for Clint Bowyer and the No. 41 Ford Mustang for Daniel Suárez. The team also competes in the NASCAR Xfinity Series with two fulltime entries – the No. 00 Ford Mustang for Cole Custer and the No. 98 Ford Mustang for Chase Briscoe. Based in Kannapolis, North Carolina, Stewart-Haas Racing operates out of a 200,000-square-foot facility with nearly 400 employees. For more information, please visit us online at www.StewartHaasRacing.com, on Facebook at www.Facebook.com/StewartHaasRacing, on Twitter @StewartHaasRcng and on Instagram @StewartHaasRacing.
Media Contacts:
Dalton Agency for Smithfield
Jana Beasley
(904) 534-8568
jbeasley@daltonagency.com
Tarrant Area Food Bank
Jim Macphearson
(817) 269-2269
jim.macphearson@tafb.org
Kroger
April Martin Nickels
(469) 645-7920
april.martinnickels@kroger.com
True Speed Communication for Stewart Haas Racing
Dakota Hunter
(704) 875-3388 ext. 813
Dakota.Hunter@TrueSpeedCommunication.com