Smithfield Foods Donates More Than 35,000 Pounds of Protein To Montana Food Bank Network
Albertsons joins the 41st stop of Smithfield's 2018 Helping Hungry Homes® Tour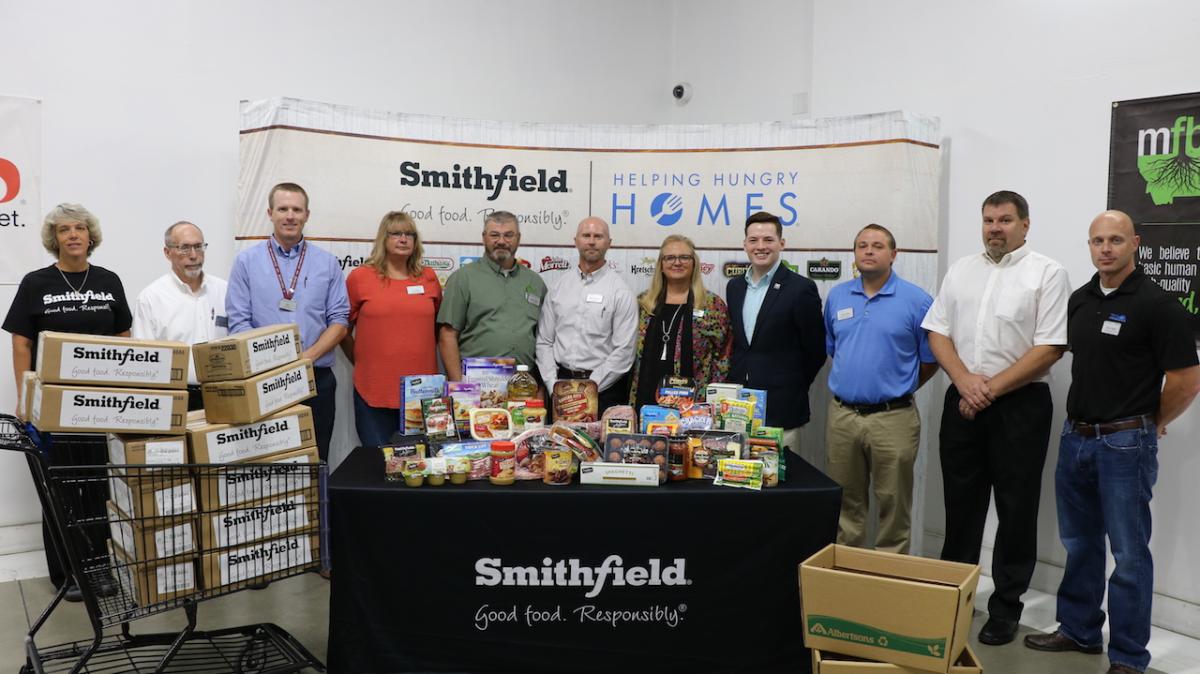 Smithfield and Albertsons Work to Alleviate and Raise Awareness of Hunger in Montana Communities with a Protein Donation to Montana Food Bank Network
MISSOULA, Mont., August 17, 2018 /3BL Media/ - This week, Smithfield Foods, Inc. and Albertsons joined forces to donate more than 35,000 pounds of protein to Montana Food Bank Network. Smithfield's contribution was part of the company's 2018 Helping Hungry Homes® donation tour. Now in the program's 10th year, Helping Hungry Homes® is Smithfield's signature hunger-relief initiative focused on alleviating hunger and helping Americans become more food secure. The donation, equivalent to more than 141,000 servings, will help families fight hunger across Montana.
"We believe every person has a basic human right to access nutritious, high-quality food to nourish the mind, body, and soul," said Gayle Carlson, chief executive officer of Montana Food Bank Network. "This generous donation from Smithfield Foods and Albertsons helps us continue providing relief to the many households struggling with hunger within our communities."
Smithfield and Albertsons representatives presented the donation to Montana Food Bank Network at an event at the food bank this morning. Members of the organizations discussed food insecurity in the local community and the significance of this donation, which will provide protein throughout the food bank's service area, reaching more than 130,000 food insecure individuals across Montana. 
"At Albertsons we are committed to helping those in the communities we call home," said Bob Simonson, district manager for Albertsons Companies Intermountain Division. "We are thankful for the opportunity to team up with Smithfield and contribute to the Montana Food Bank Network."
This is the 41st large scale protein donation made by Smithfield to food banks across the country during its 2018 Helping Hungry Homes® tour. Since the program's inception in 2008, Smithfield has provided more than 100 million servings of protein to food banks, disaster relief efforts, and community outreach programs nationwide.
"Smithfield is honored to provide support to those struggling with hunger throughout Montana and across the country," said Jonathan Toms, associate manager of charitable initiatives for Smithfield Foods. "We hope this donation of protein will provide relief to those batting food insecurity, and are proud to partner with Albertsons and Montana Food Bank Network who do so much to support this community every day." 
For more information about Smithfield Foods' Helping Hungry Homes® initiative and a list of upcoming donation events, visit helpinghungryhomes.com.
 
About Smithfield Foods
Smithfield Foods is a $15 billion global food company and the world's largest pork processor and hog producer. In the United States, the company is also the leader in numerous packaged meats categories with popular brands including Smithfield®, Eckrich®, Nathan's Famous®, Farmland®, Armour®, Farmer John®, Kretschmar®, John Morrell®, Cook's®, Gwaltney®, Carando®, Margherita®, Curly's®, Healthy Ones®, Morliny®, Krakus® and Berlinki®. Smithfield Foods is committed to providing good food in a responsible way and maintains robust animal care, community involvement, employee safety, environmental and food safety and quality programs. For more information, visit www.smithfieldfoods.com. For more information, visit www.smithfieldfoods.com, and connect with us on Facebook, Twitter and LinkedIn.
About Montana Food Bank Network
Montana Food Bank Network's mission is to end hunger through food acquisition and distribution, education and advocacy. Their belief is that every person has the basic human right to access nutritious high-quality food that nourishes the mind, body and soul. The Network is made up of 238 neighborhood food banks, community pantries, social organizations, homeless shelters, schools and many other organizations committed to ending hunger in Montana. The Montana Food Bank Network distributes food across Montana from Heron to Wibaux, Eureka to Yellowstone and everywhere in between.
About Albertsons Companies
Albertsons Companies is one of the largest food and drug retailers in the United States, with both a strong local presence and national scale. We operate stores across 35 states and the District of Columbia under 20 well-known banners including Albertsons, Safeway, Vons, Jewel-Osco, Shaw's, Acme, Tom Thumb, Randalls, United Supermarkets, Pavilions, Star Market, Haggen and Carrs. Albertsons Companies is committed to helping people across the country live better lives by making a meaningful difference, neighborhood by neighborhood. 
# # #
Media Contacts:
Dalton Agency for Smithfield
Jana Beasley
(904) 534-8568
jbeasley@daltonagency.com
Montana Food Bank Network
Gayle Carlson
(406) 721-3875
gcarlson@mfbn.org
Albertsons 
Kathy Holland
(208) 395-5949
Kathy.Holland@albertsons.com