Smithfield Foods and Food Lion Partner to Donate Easter Meals to Families in Need
Smithfield Foods and Food Lion Partner to Donate Easter Meals to Families in Need
Supported by Smithfield's Helping Hungry Homes® and Food Lion's Food Lion Feeds hunger-relief initiatives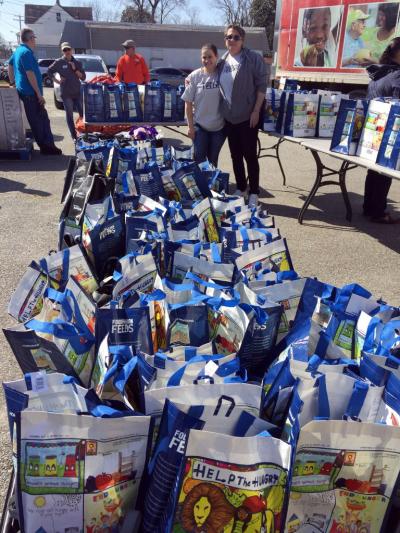 Thursday, March 29, 2018 - 12:00pm
SMITHFIELD, Va., March 29, 2018 /3BL Media/ – Smithfield Foods, Inc., and Food Lion have partnered for the second annual Easter Eats donation, a Food Lion Feeds initiative to provide Easter meals to families facing hunger. Together, Smithfield and Food Lion delivered a total of 300 Easter meal bags each containing a Smithfield ham and an assortment of sweet potatoes, green beans, corn, cornbread stuffing, carrots, brown gravy mix, and more.
Part of Smithfield's and Food Lion's shared mission to alleviate hunger and address food insecurity across the country, the Easter Eats donation served families in need at two donation events: one in southeastern Virginia and the second in central West Virginia.
"We're hopeful that this donation of delicious Easter staples of Food Lion side items and Smithfield ham will make the holiday extra special for hundreds of families in the towns and cities we serve," said Benny Smith, manager of community relations for Food Lion's Eastern market. "We're grateful for partners like Smithfield who share our commitment to help end food insecurity in Virginia, West Virginia, and beyond."
The first of two Easter Eats donation events took place in Kearneysville, West Virginia, where Smithfield and Food Lion delivered 150 meal bags to the local community during a mobile donation event at Leetown Baptist Church community facility.
Smithfield and Food Lion distributed the remaining 150 meal bags to those in need during a second mobile donation event in Norfolk, Virginia, with help from the Food Bank of Southeastern Virginia and the Eastern Shore. Volunteers from each of the participating food banks assisted with the preparation, packaging, and distribution of the donations.
"As a food company, we believe that it is our great honor and responsibility to feed people, especially those in need," said Dennis Pittman, senior director of hunger relief for Smithfield Foods. "Easter is a time for loved ones to come together and we are proud to partner with Food Lion Feeds for this heartwarming donation of wholesome meals, to keep the focus on family and friends this holiday." 
The Easter Eats donation supports Food Lion's pledge to provide 500 million meals by the end of 2020 through its Food Lion Feeds program. To date, the company has already donated more than 377 million meals. Smithfield's contribution was part of the company's Helping Hungry Homes® initiative. Since the program's inception in 2008, Smithfield has provided more than 100 million servings of protein to food banks, disaster relief efforts, and community outreach programs nationwide.
# # #
About Smithfield Foods
Smithfield Foods is a $15 billion global food company and the world's largest pork processor and hog producer. In the United States, the company is also the leader in numerous packaged meats categories with popular brands including Smithfield®, Eckrich®, Nathan's Famous®, Farmland®, Armour®, Farmer John®, Kretschmar®, John Morrell®, Cook's®, Gwaltney®, Carando®, Margherita®, Curly's®, Healthy Ones®, Morliny®, Krakus® and Berlinki®. Smithfield Foods is committed to providing good food in a responsible way and maintains robust animal care, community involvement, employee safety, environmental and food safety and quality programs. For more information, visit www.smithfieldfoods.com.
About Food Lion
Food Lion, based in Salisbury, N.C., since 1957, has more than 1,000 stores in 10 Southeastern and Mid-Atlantic states and employs more than 63,000 associates. By leveraging its longstanding heritage of low prices and convenient locations, Food Lion is working to own the easiest full shop grocery experience in the Southeast, anchored by a strong commitment to affordability, freshness and the communities it serves. Through Food Lion Feeds, the company has committed to provide 500 million meals to individuals and families in need by the end of 2020. Food Lion is a company of Delhaize America, a U.S. division of Zaandam-based Royal Ahold Delhaize Group. For more information, visit www.foodlion.com.
Contact
Dalton Agency for Smithfield