Smart Metering Enables Smarter Utility Management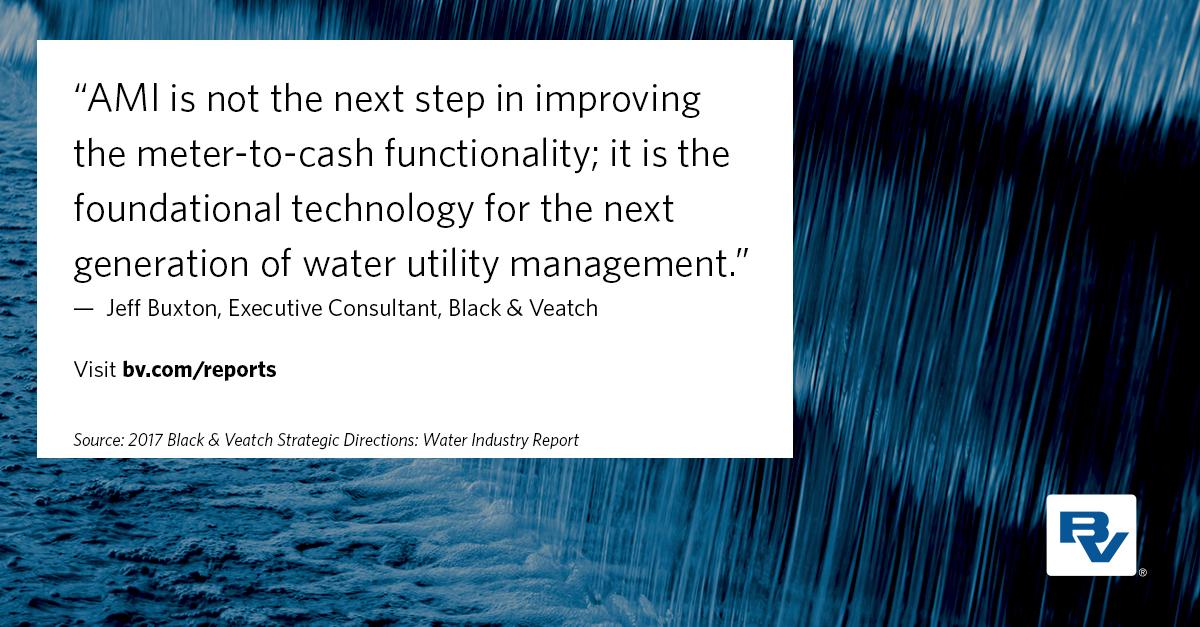 Smart Metering Enables Smarter Utility Management
Among the most notable findings from this year's Strategic Directions: Water Industry Report is the velocity of planning throughout the industry for implementing more advanced operational technologies, such as advanced metering infrastructure (AMI) and enterprise asset management. More than 30 percent of utilities have indicated plans to implement these technologies, indicating the industry's evolution and response to perennial issues of tightening budgets, rising costs and providing enhanced customer service.
Download the 2017 Water Industry Report
Smart Metering Advances
Decades ago, many water utilities began adopting automated meter reading (AMR) technology to reduce the cost of meter reading and improve the meter-to-cash business process. The benefits of the technology are proven and well-documented. Now, as survey results show, approximately three-quarters of utilities have or are planning to implement AMI.
AMI is not the next step in improving the meter-to-cash functionality; it is the foundational technology for the next generation of water management. For utility leaders considering an upgrade from manual reading, AMI benefits in the meter-to-cash process will be substantial. However, utilities that have already successfully implemented AMR, justifying the investment in AMI will require a business case based on total, smart water management capabilities and enhanced customer benefits.
AMI Benefits
AMI meter reading provides more than just streamlined billing operations. The data generated from AMI can be used in virtually all business and operational functions. Beyond simple meter reading, AMI benefits include a network of metering, control valves, pressure monitoring and other sensing devices to transmit valuable operational and customer data.
Plotting a Roadmap for Transition
When approaching the transition to AMI, report results show that 33 percent are considering a migratable transition from AMR to AMI, 33 percent are planning to implement a full proactive deployment of AMI, 18 percent are planning to implement AMR first, with a full AMI replacement in the distant future, and the remaining 16 percent plan to follow another path.
These smart metering investments can be substantial, and the technology is ever-evolving. Thus, no matter which path they choose, utility leaders need to develop a strategy and a roadmap that demonstrates full awareness of how their transition to automated and advanced systems will evolve and expand over time. To fully realize the benefits of AMR and AMI, the utility will need to have a framework in place that can not only capture and analyze the data but can also be trusted to determine the utility's path forward for optimized water management.