Skills-Based Volunteering: A Game Changer for Corporate Philanthropy
Common Impact releases first-of-its-kind study to quantify long-term outcomes of skills-based volunteering on the social sector and corporate partners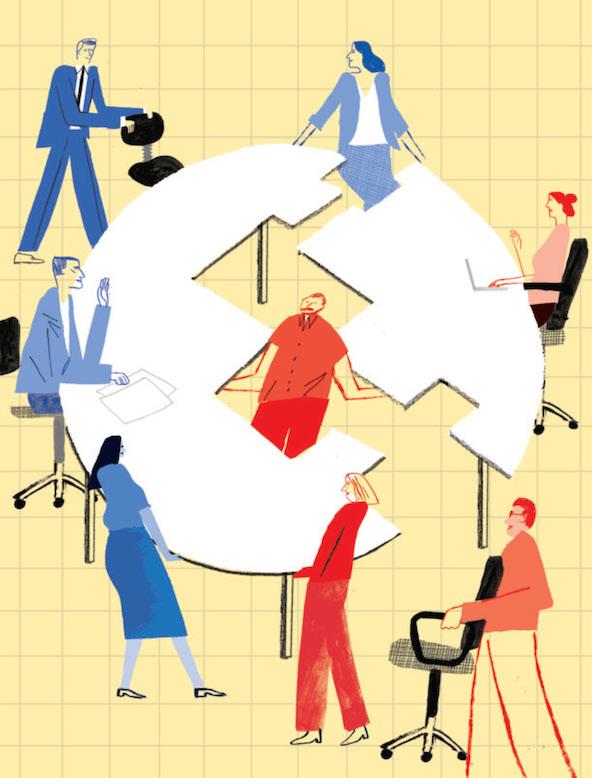 Illustration by Luke Best
NEW YORK, September 6, 2017 /3BL Media/ --– New research from Common Impact, a nonprofit that pioneered corporate skills-based volunteering (SBV), demonstrates the sustained impact that SBV has on the social sector by creating transformational partnerships between nonprofits and companies.
What is Skills-Based Volunteering (SBV)?
SBV volunteering aligns the skills and talents of professionals to strengthen the infrastructure and capacity of the nonprofit sector.   
Social Impact: SBV amplifies investment 7:1 in critical nonprofit infrastructure, allowing organizations to be more effective in tackling challenges in our community
Business Impact: SBV is a turnkey solution for corporate employees to develop their skills in an experiential learning environment.
One of the biggest differentiators of skills-based volunteering is a concept Common Impact refers to as the knitting factor. Although traditional corporate philanthropy, which focuses on grant making and volunteerism, creates tremendous value, the exchange is often transactional and short lived. SBV stitches together previously untapped or underutilized expertise and resources from the corporate and nonprofit sectors to create more meaningful engagements that ultimately strengthen outcomes for both parties.
"The solutions that result from true skills-based partnerships are more sustainable and effective as they create lasting community change that does not come undone when partners part ways," said Danielle Holly, CEO of Common Impact. "We see the long-term impact of SBV throughout our client base every day.  It's gratifying to see those results born out on a larger scale in these research results."
The knitting factor also differentiates SBV from traditional pro bono by encouraging business professionals to help nonprofit employees learn new skills and knowledge, versus simply delivering a short term, transactional service.
"This project was huge for me professionally," said Muna Idriss, Director of Systems at Capital Good Fund. "I learned so much from the Fidelity team. It changed my career trajectory." Previously, Idriss had been a junior employee and now, thanks to her work with Common Impact and Fidelity, man­ages the systems department at Capital Good Fund.
Common Impact surveyed its nonprofit alumni to quantify the longitudinal impact of SBV. Highlights include:
91% of respondents said that their SBV project impacted their organization's ability to better meet their mission
65% of respondents said that they have continued to use SBV after their project with Common Impact to build the capacity of their organization
73% of respondents said that they continued the relationship with the company for which their SBV volunteers worked after the engagement ended
"Our Pro Bono Challenge—which is Schwab's version of skills-based volunteering—is a win-win for our employees and our communities.  It allows our employees to give the best of themselves and share their talents with local nonprofits," says Carrie Schwab-Pomerantz, Chair and President of Charles Schwab Foundation. "Nearly 70% of our employees who participate continue to volunteer with their nonprofit partner after the event, leading to deeper and longer-lasting relationships with our communities."  
For the companies that engage in SBV, there is also significant skill development for the employees who participate, particularly if that skill development is integrated as a goal of the engagement.
"Skills-based volunteering helps to build long term involvement and pride among our employees who participate," says Paul Lesser, Head of Human Resources for Enterprise Technology and Global Services at Fidelity. "They can deepen their skills in an experiential learning environment, while making a difference in their local communities."
The study also addresses key barriers that nonprofits face when pursuing cross-sector partnerships. Interviews with nonprofit leaders identified the most common obstacles to successful skills based volunteer programs as a lack of support or resources to implement or maintain the final product, a lack of understanding of overall value, a misunderstanding of the time commitment required and imbalanced corporate/nonprofit power dynamics.
"Skills-based volunteerism addresses the common imbalances of funding relationships," said Christine Letts, Rita E. Hauser Senior Lecturer in the Practice of Philanthropy and Nonprofit Leadership at Harvard Kennedy School. "Rather than pushing nonprofits to write grant proposals that accommodate the guidelines of their funders, a skills-based volunteer program empowers nonprofits to honestly assess their needs and proactively seek a business partner that can provide those skills."
Drawing on more than 17 years of experience developing skills-based volunteer programs, Common Impact is introducing a Skills-Based Volunteering Toolkit to equip nonprofits with the resources and best practices to break down the aforementioned challenges and to engage in successful and strategic partnerships.
To view and access the full article published in Stanford Social Innovation Review (SSIR), visit https://ssir.org/articles/entry/the_promise_of_skills_based_volunteering.
About Common Impact
Common Impact is a nationally-recognized nonprofit and leader in skills based volunteerism. Founded in 2000, Common Impact partners with Fortune 500 companies and hundreds of the country's leading nonprofit organizations to create transformational change through skills-based volunteering and build a society in which individuals and businesses invest their unique talents towards a shared purpose: strengthening the local communities in which we live and work. Learn more about Common Impact's services, impact, and clients.
Media Contact
Chris Nahil, Message & Medium (on behalf of Common Impact)
chris@messge-medium.com
617-529-6126