Serenbe Hosts 2018 Biophilic Leadership Summit, Sponsored By Interface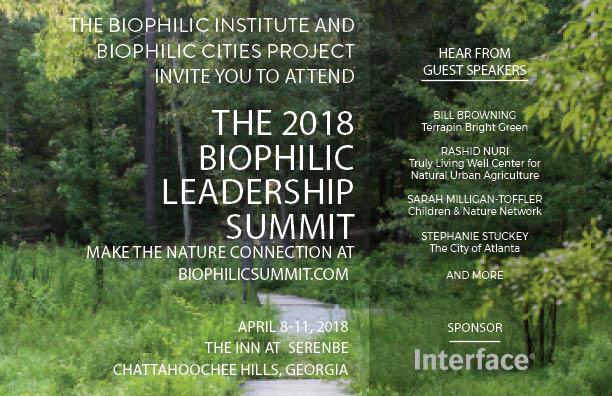 Serenbe Hosts 2018 Biophilic Leadership Summit, Sponsored By Interface
December 1, 2017 /3BL Media/ - Those interested in learning how to implement sustainable, biophilic practices in their communities can do so at the 2018 Biophilic Leadership Summit, held at Serenbe. Along with The Biophilic Institute and Biophilic Cities, and sponsored by Interface, Serenbe will host the summit April 8-11, 2018. The priority of the Summit is to illuminate innovative ideas in biophilic design and is ideal for networking with nature-centered change makers, urban planners, architects and environmentalists.
"Here at Serenbe, we recognize the importance of nature and how to integrate that into our everyday lives," says Steve Nygren, Founder and CEO of Serenbe. "This community is a living part of its natural surroundings, where residents are directly engaged with the natural world and aim for a happier, healthier and more meaningful lives by experiencing nature on a daily basis."
The Summit will kick off with a welcome dinner held on The Farmhouse at Serenbe's Gainey Garden lawn. Guests will enjoy seasonal cocktails and a freshly-foraged meal curated by Executive Chef Brian Moll, and the evening will culminate with an outdoor theatre performance from Serenbe's award-winning theatre company.   Summit speakers will include Dennis Creech of The Kendeda Fund, Amanda Sturgeon of The Living Future Institute, Bill Browning with Terrapin Bright Green and Stephanie Stuckey of the City of Atlanta, among many others.   Alongside the panels, keynotes and workshops will allow the chance to meet with industry experts to hear their expertise and discuss future directions of biophilic design. President of Biohabitats, Inc., Keith Bowers, is the confirmed keynote speaker for Tuesday evening. Panel topics include "A Green Community for All: Equity & Access," "Preserving Wildlife," "A Resilient America: Climate Change," "Funding for Green Initiatives," "Improving Education in Biophilia" and "Nature-Based Wellness". From the pre-conference Welcome Dinner to the closing Educational Tour, the Summit will provide endless opportunities to network with fellow attendees and share new ideas.   Attending organizations include Truly Living Well, Chicago Urban Wildlife Institute, Terrapin Bright Green, Children & Nature Network and The Nature Conservancy. Attendees will break from panels and keynotes to partake in harvesting at Serenbe Farms, hear AIR Serenbe artist performances and stargazing with the Atlanta Astronomy Club.   Registration for the event can be found at 
biophilicsummit.com
, with special rates for students and government officials (please email denise@serenbe.com for government-rate access code). Pass options include: Full Summit Pass, One Day Pass, Wednesday Tour Pass or Evening Keynote Passes.     If you are unable to attend the event, your brand can become a sponsor. 
Click here
 for more information.