Second Annual National Box Tops for Education Week Kicks Off
Week-long event encourages communities to clip Box Tops to help raise much-needed funds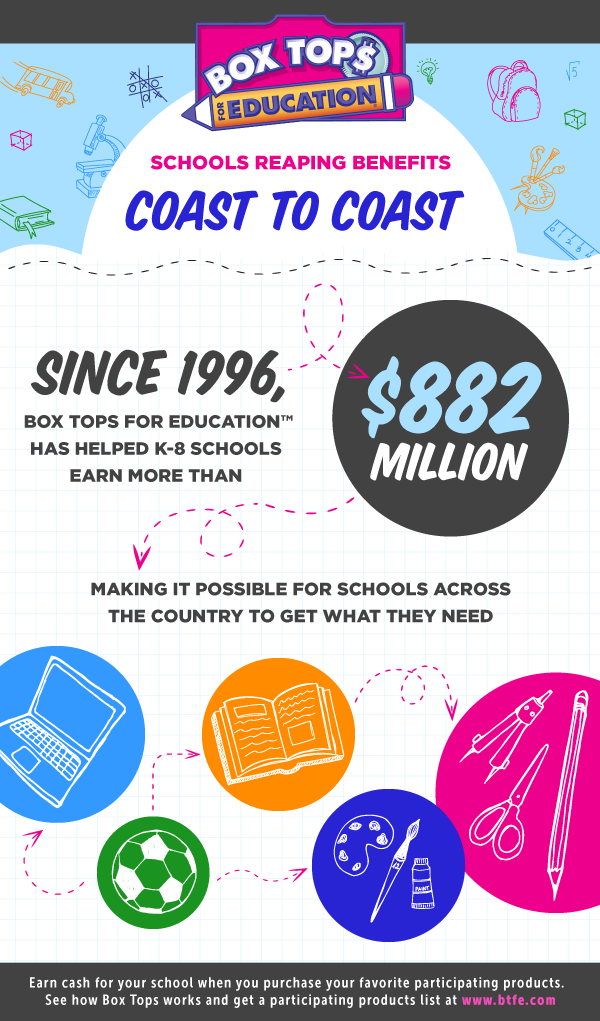 Second Annual National Box Tops for Education Week Kicks Off
MINNEAPOLIS, Minn., September 18, 2018 /3BL Media/ – As kids return to the classroom, schools and teachers often scramble to gather the supplies and equipment they need. Too often, gaps in funding force schools to make difficult decisions, leaving important items unfunded. For more than 22 years, General Mills Box Tops for Education has been helping bridge that gap for schools across the country, raising more than $882 million for K-8 schools since 1996. National Box Tops for Education Week [September 17-23] is a special collection drive to focus attention on this simple way to help support local schools.
National Box Tops for Education Week gives Box Tops coordinators and volunteers the tools they need to rally their communities to participate in the Box Tops for Education program, including the instructional materials to hold neighborhood clipping drives where adult volunteers collect Box Tops from neighbors. It's designed to motivate parents, and others in the community, to support their local schools.
"Last year, we had one school raise nearly as much in a one-day clipping drive as they historically do throughout the entire year," said Erin Anderson who oversees the Box Tops for Education program at General Mills. "Schools continue to need help with even the most basic of supplies – and funds raised with Box Tops can make a significant dent."
The General Mills Box Tops for Education program has helped schools earn cash to fund enrichment programs like field trips and guest speakers; buy important items like playground equipment, library books, new technology, art supplies, musical instruments, and so much more. More than 70,000 K-8 schools in the U.S. participate.
Box Tops are found on hundreds of products; everything from Annie's organic pastas and snacks, Nature Valley granola bars, Cheerios cereal, Hefty trash bags and Paper Mate pens, providing every household in America with opportunities to take part in a local clipping drive. Supporters can simply clip Box Tops and turn them in to their local participating school.
"Box Tops for Education continues to be the premier school fundraising program that brings communities and schools together to raise much-needed funds for their local schools," said Anderson. "The beauty of the program is that Box Tops are on hundreds of products that families are already buying, so it's just a matter of clipping and submitting them to schools – it's that easy."
The Box Tops Bonus app, a digital expansion of the program, allows users to find special offers for products they love, scan their receipt and designate their school of choice to receive Bonus Box tops. The app has improved geolocation, so it's even easier to find Box Tops offers at nearby stores and users can edit the school they support as kids advance from elementary to middle school. 
In addition, supporters can enter the "Double Up" Sweepstakes through September 30, 2018 for a chance to have their school's fall Box Tops earnings check doubled.
For additional information, a complete list of participating Box Tops products, how to participate in National Box Tops for Education Week, or to subscribe to the program's email newsletter, visit BoxTops4Education.com.
About Box Tops for Education
America's K-8 schools have earned more than $882 million through the Box Tops for Education program since it was founded by General Mills in 1996. More than 70,000 schools use that cash to purchase items such as computers, library books, art supplies, playground equipment and more. Schools can earn up to $20,000 per year from the Clip Program by finding Box Tops on hundreds of participating products. To learn more visit www.boxtops4education.com.
About General Mills
General Mills is a leading global food company that serves the world by making food people love. Its brands include Cheerios, Annie's, Yoplait, Nature Valley, Häagen-Dazs, Betty Crocker, Pillsbury, Old El Paso, Wanchai Ferry, Yoki, Blue and more. Headquartered in Minneapolis, Minnesota, USA, General Mills generated fiscal 2018 consolidated net sales of US $15.7 billion, as well as another US $1.1 billion from its proportionate share of joint-venture net sales. For more information visit Generalmills.com and follow our "A Taste of General Mills" blog.