SC Johnson Provides Support for Earthquake Recovery
Company Donates $100,000 to Red Cross for Ongoing Relief Efforts in Mexico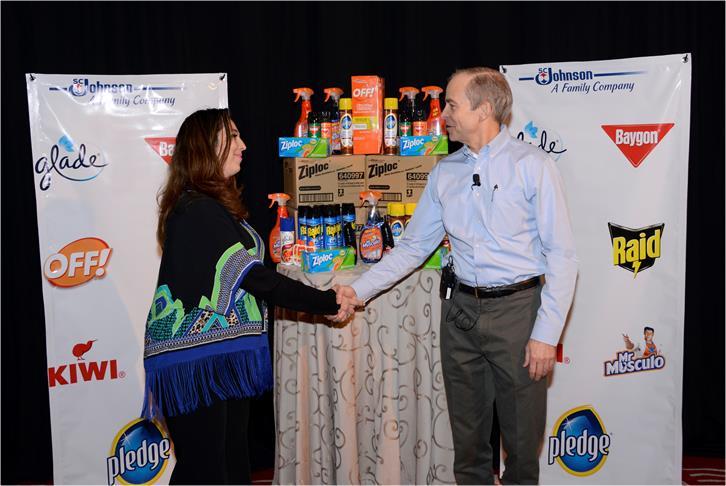 SC Johnson Chairman and CEO Fisk Johnson (right) congratulates Ana Laura Robles Quijano from the Mexican Red Cross during today's donation announcement. Photo courtesy SC Johnson
RACINE, Wis., October 17, 2017 /3BL Media/ – SC Johnson today announced the donation of $100,000 to the Red Cross to help relief efforts following the earthquakes and aftershocks that devastated parts of Mexico.
"Our hearts go out to all of those impacted by this terrible disaster," said Fisk Johnson, Chairman and CEO of SC Johnson. "SC Johnson has operated in Mexico since 1954 and our roots run deep here. We hope our donation provides relief to those in need." 
Mexico was hit by two destructive earthquakes in September that caused deaths, thousands of injuries and catastrophic damage to hundreds of homes and buildings. According to news reports, a powerful 8.1 magnitude quake struck Oaxaca and Chiapas in the southeast of the country on Sept. 7. Almost two weeks later, on Sept. 19, a magnitude 7.1 quake struck Mexico City, Puebla, Morelos and other cities.
SC Johnson has a manufacturing facility in Toluca and operations in Mexico City.
To date, the Red Cross has deployed dozens of doctors and nurses, ambulances, urban rescue teams and logistics units. More than 2,000 volunteers are now providing humanitarian assistance, according to the Red Cross.
"We're grateful to SC Johnson for supporting Red Cross relief efforts after these devastating earthquakes," said Jose Antonio Monroy, Secretary General of the Mexican Red Cross. "It is the donations like this that enable us to help provide aid to those in need."
Today's donation is the most recent example of SC Johnson's support in Latin America. Earlier this year, the company announced it exceeded a 2016 commitment to provide $15 million in pest control products and financial donations to help at-risk families combat mosquitoes that may carry the Zika virus – much of that commitment went to Latin America countries. In August, the company announced a 12 million peso donation to Dibujando un Mañana to be used to fund vital programs to help Mexican girls rise above poverty, homelessness and neglect.
Those wishing to provide financial donations to help with Mexico earthquake relief efforts can go to www.redcross.org/donate.   
About SC Johnson
SC Johnson is a family company dedicated to innovative, high-quality products, excellence in the workplace and a long-term commitment to the environment and the communities in which it operates. Based in the USA, the company is one of the world's leading manufacturers of household cleaning products and products for home storage, air care, pest control and shoe care, as well as professional products. It markets such well-known brands as GLADE®, KIWI®, OFF!®, PLEDGE®, RAID®, SCRUBBING BUBBLES®, SHOUT®, WINDEX® and ZIPLOC® in the U.S. and beyond, with brands marketed outside the U.S. including AUTAN®, TANA®, BAMA®, BAYGON®, BRISE®, KABIKILLER®, KLEAR®, MR MUSCLE® and RIDSECT®. The 131-year-old company, which generates $10 billion in sales, employs approximately 13,000 people globally and sells products in virtually every country around the world. www.scjohnson.com
About the American Red Cross
The American Red Cross shelters, feeds and provides emotional support to victims of disasters; supplies about 40 percent of the nation's blood; teaches skills that save lives; provides international humanitarian aid; and supports military members and their families. The Red Cross is a not-for-profit organization that depends on volunteers and the generosity of the American public to perform its mission. For more information, please visit redcross.org or cruzrojaamericana.org, or visit us on Twitter at @RedCross.
Media Contact
SC Johnson Global Public Affairs
USPublicAffairs@scj.com
262-260-2440