SC Johnson Goes Above and Beyond Regulatory and Industry Standards With Skin Allergen Transparency
Company Fulfills Commitment to Disclose Skin Allergens by Product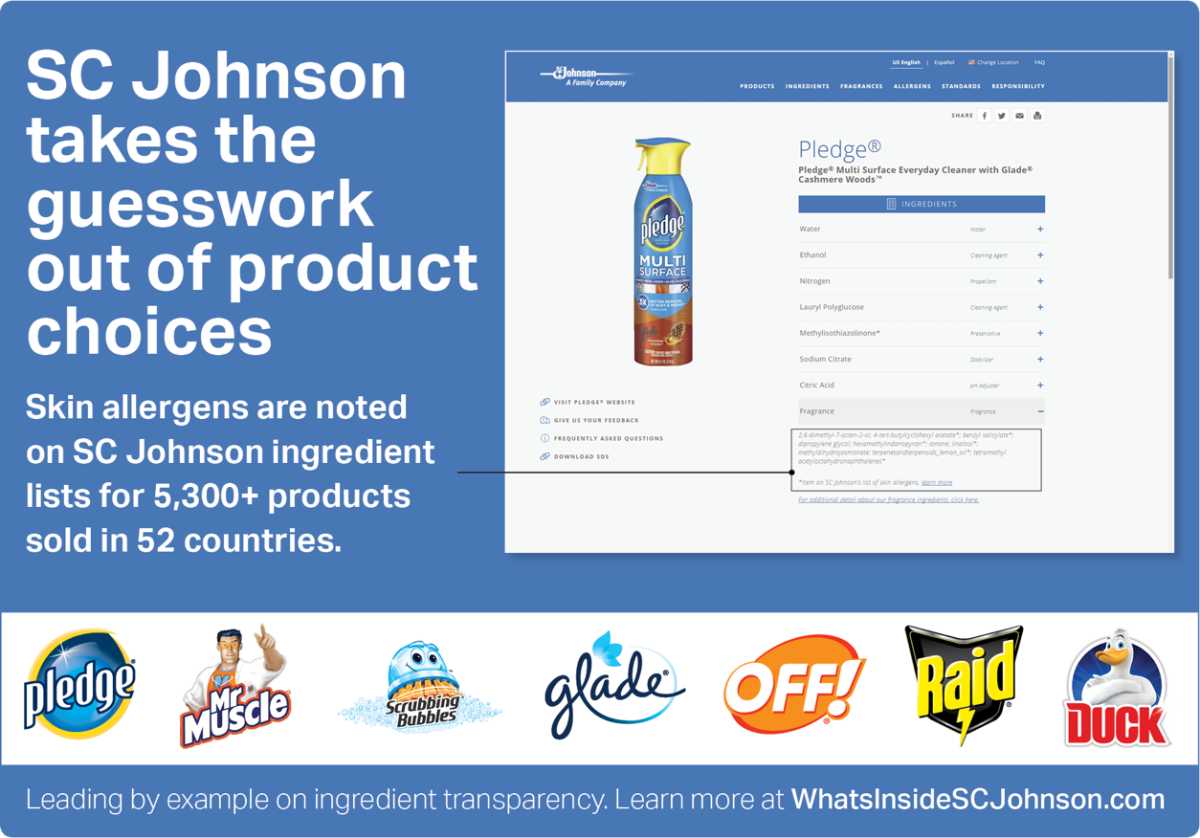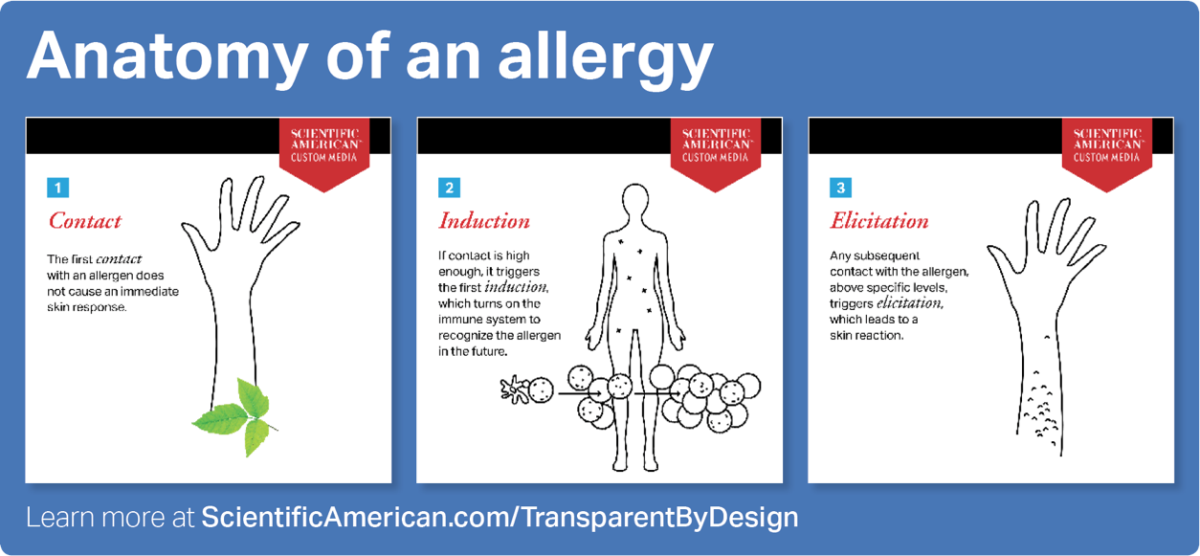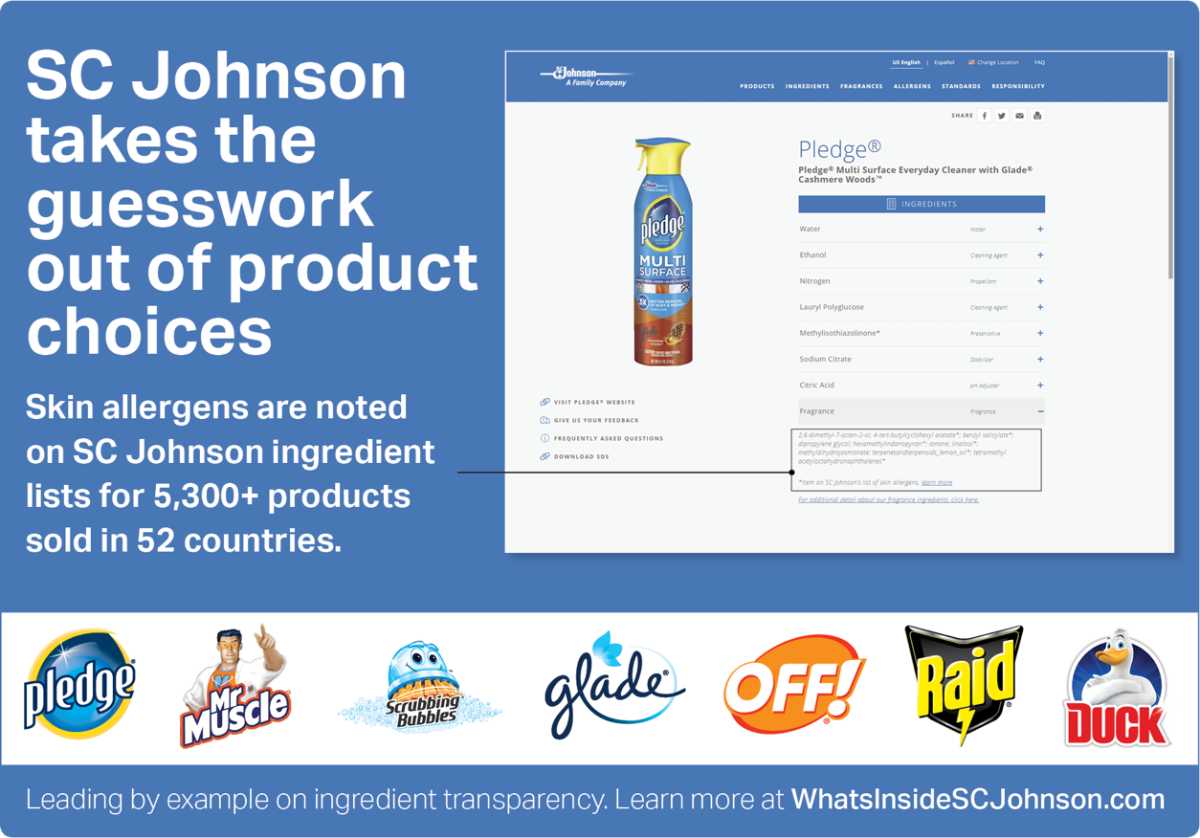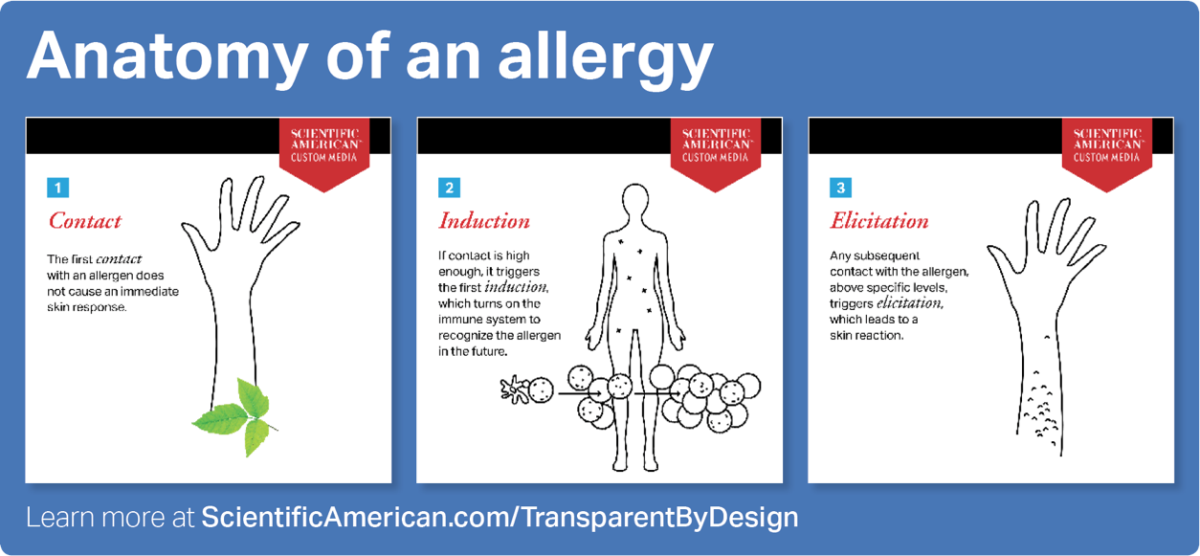 /*-->*/
RACINE, Wis., December 13, 2017 – SC Johnson announced that it has fulfilled a commitment it made in May 2017 to disclose the presence of 368 skin allergens by product on its ingredient website WhatsInsideSCJohnson.com. Previously, the company published a list of fragrance and non-fragrance skin allergens on its website, and beginning today takes it a step further by listing the specific allergens by product. With this initiative, the company goes well above and beyond regulatory and industry allergen disclosure standards, including those in the European Union and the United States.
"We continue to lead by example in ingredient transparency because families should have easy access to information on the products they bring into their homes," said Fisk Johnson, Chairman and CEO of SC Johnson. "Other companies use similar ingredients, but we're helping consumers make informed choices by disclosing the specific skin allergens that may occur in our products. Those who may have skin allergies will be helped by this transparency."
SC Johnson's industry-leading ingredient transparency program provides information for more than 5,300 products in 34 languages sold by the company in 52 countries worldwide. With the programs expansion into Asia Pacific earlier this year, the company's transparency website, WhatsInsideSCJohnson.com, now serves more than 5 billion consumers.
Allergens & Allergic Reactions
A skin allergen is a substance that the immune system recognizes as a threat and attacks. The presence of a skin allergen does not mean, however, that it will automatically cause a person to develop a skin allergy or a skin allergy reaction. What matters most is the dose or the amount of exposure. The consensus among the scientific community is that a dose of less than 0.01 percent is unlikely to cause a reaction for most skin allergens in rinse-off products. This new transparency initiative discloses skin allergens down to 0.01 percent.
Skin allergies can be created or induced when a non-sensitized person is exposed to an allergen over time and above a certain minimum dose. This is called "induction." After a person develops a skin allergy to a given substance, they may have a reaction like redness or a rash. This is called "elicitation" and occurs even when coming into contact with that substance at a lower level or from a different source. SC Johnson takes care to use ingredients with potential skin allergens only in amounts so low that it would be highly unlikely to create a new skin allergy or trigger a skin allergy reaction.
SC Johnson Transparency Journey
SC Johnson began its transparency journey by launching its WhatsInsideSCJohnson.com ingredient website in 2009. The website offers consumers unparalleled access to a comprehensive list of product ingredients for such iconic brands as Glade®, Pledge®, OFF!®, Raid®, Windex®, Mr Muscle®, Scrubbing Bubbles®, and Ziploc®.
In 2012, it added a comprehensive list of fragrance ingredients used in its products. The SC Johnson Exclusive Fragrance Palette excludes about 2,400 ingredients that don't meet the company's high standards even though they meet industry standards and are legal in commerce. 
In 2015, working closely with fragrance houses, SC Johnson added to its website product-specific fragrance disclosure. Consumers with questions can find on WhatsInsideSCJohnson.com the list of fragrances in individual SC Johnson products, across its categories. In 2016, the company expanded its ingredient disclosure program to Europe. In 2017, the program rolled out across Asia Pacific with Latin America to follow next year. 
In 2017, SC Johnson broke additional ground by disclosing, on a product-specific basis, the presence of 368 skin allergens that may occur in its products. The list of these allergens has already been published on WhatsInsideSCJohnson.com, and today, the site lists the allergens when contained in a product.