Sappi North America Wins 2017 AF&PA Sustainability Award for Safety
Recognized for over Two Million Hours Worked Without Lost Time Injury project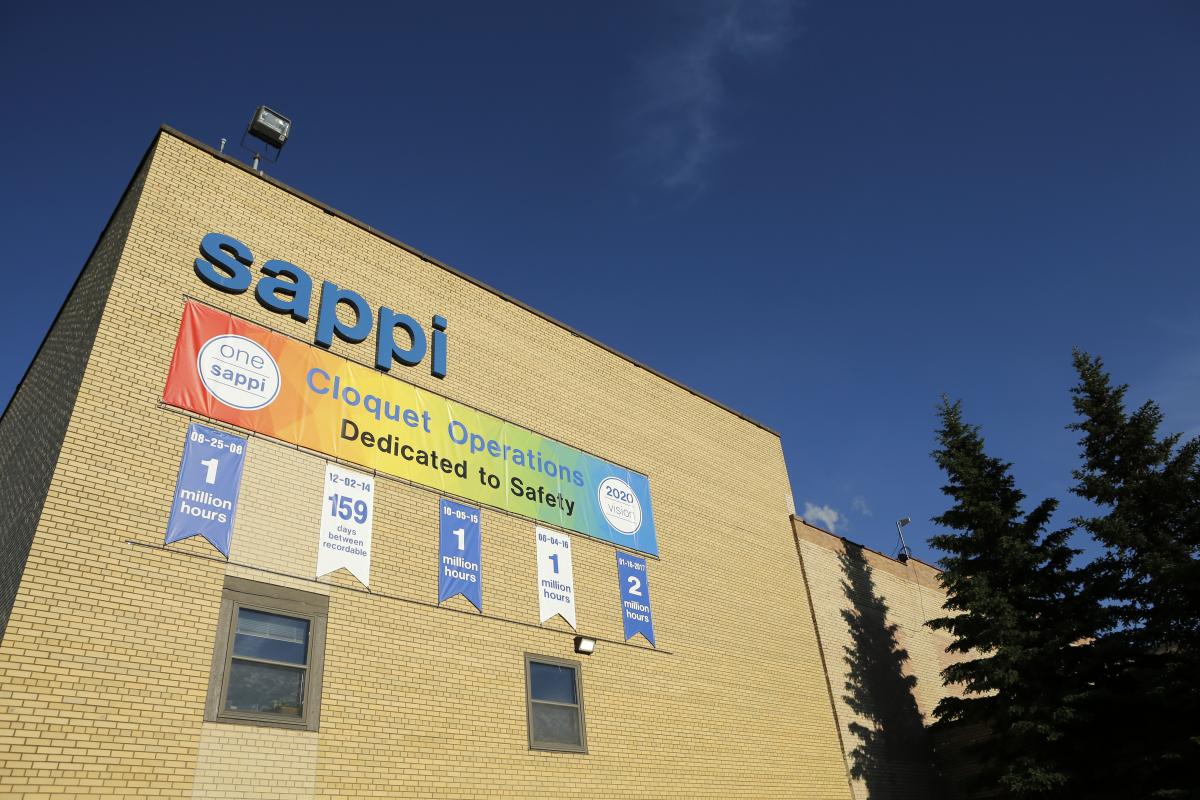 WASHINGTON, Novemeber 7, 2017 /3BL Media/ - The American Forest & Paper Association (AF&PA) recognized Sappi North America with the 2017 AF&PA Leadership in Sustainability Award for Safety for their Over Two Million Hours Worked Without Lost Time Injury project. This is the second year in a row AF&PA has honored Sappi for its sustainability advancements. The award was presented at AF&PA's annual meeting on Friday, Nov. 3 in Greensboro, Georgia.
"All of Sappi's mills follow standard industry safety measures, but their mill in Cloquet, Minnesota went the extra mile to implement a set of initiatives that reached unprecedented safety records," said AF&PA President and CEO Donna Harman.
Sappi's Cloquet mill implemented four unique safety programs, engaging and educating its employees on recognizing safety issues, reducing risk of injury, maintaining a safe work environment, and creating and sustaining safety standards. The programs led the Cloquet mill to reach a company milestone of two million hours worked without a lost time injury – an equivalent to over 450 days without significant injury.
"On behalf of Sappi, I'd like to thank the AF&PA for recognizing our Cloquet mill's safety achievement," said Sappi North America President and CEO Mark Gardner. "Its true value is that our employees go home at the end of each shift without injuries and can enjoy their time with loved ones – that is priceless."
Designed to recognize exemplary sustainability programs and initiatives in the paper and wood products manufacturing industry, AF&PA's annual sustainability awards are given based on the merit of entries received across multiple categories.
Projects that support progress toward the Better Practices, Better Planet 2020 sustainability goals qualify for recognition in the "Leadership" category, which has five subcategories that correspond to the goals: Paper Recovery for Recycling, Energy Efficiency/Greenhouse Gas Reduction, Sustainable Forest Management, Safety, and Water. The "Innovation in Sustainability" award is reserved for projects that merit recognition for their contribution to sustainable business practices, not one of the goals specifically.
AF&PA releases its sustainability report every other year. The 2016 Sustainability Report showed that the U.S. pulp, paper, packaging, tissue and wood products manufacturing industry has made significant, measurable progress toward achieving its Better Practices, Better Planet 2020 sustainability goals.
 For more information, visit sustainability.afandpa.org.
# # #
 Editor's Note: Click here to retrieve photos (caption included) of the award winners.
About AF&PA
The American Forest & Paper Association (AF&PA) serves to advance a sustainable U.S. pulp, paper, packaging, tissue and wood products manufacturing industry through fact-based public policy and marketplace advocacy. AF&PA member companies make products essential for everyday life from renewable and recyclable resources and are committed to continuous improvement through the industry's sustainability initiative - Better Practices, Better Planet 2020. The forest products industry accounts for approximately four percent of the total U.S. manufacturing GDP, manufactures over $200 billion in products annually, and employs approximately 900,000 men and women. The industry meets a payroll of approximately $50 billion annually and is among the top 10 manufacturing sector employers in 45 states. Visit AF&PA online at www.afandpa.org or follow us on Twitter @ForestandPaper.
About Sappi North America
Sappi North America, headquartered in Boston, is a market leader in converting wood fiber into superior products that customers demand worldwide. The success of our four diversified businesses – high quality Coated Printing Papers, Specialised Cellulose, Release Papers and Specialty Packaging – is driven by strong customer relationships, best-in-class people and advantaged assets, products and services. Our high quality Coated Printing Papers, including McCoy, Opus, Somerset and Flo, are the key platform for premium magazines, catalogs, books and high-end print advertising. We are a leading manufacturer of Specialised Cellulose used in a wide range of products, including textile fibers and household goods, and one of the world's leading suppliers of Release Papers with our Ultracast, PolyEX, Classics and Neoterix lines for the automotive, fashion and engineered films industries. Our Specialty Packaging products, such as LusterPrint and LusterCote, represent an important asset in the food packaging and labeling industries. Customers rely on Sappi for high technical, operational and market expertise; products and services delivered with consistently high quality and reliability; and, state-of-the-art and cost-competitive assets and innovative spirit.
 Sappi North America is a subsidiary of Sappi Limited (JSE), a global company headquartered in Johannesburg, South Africa, with more than 12,000 employees and manufacturing operations on three continents in seven countries and customers in over 150 countries around the world. Learn more about Sappi at: www.sappi.com