Sands ECO360 Holds Green Ideas Challenge for Team Members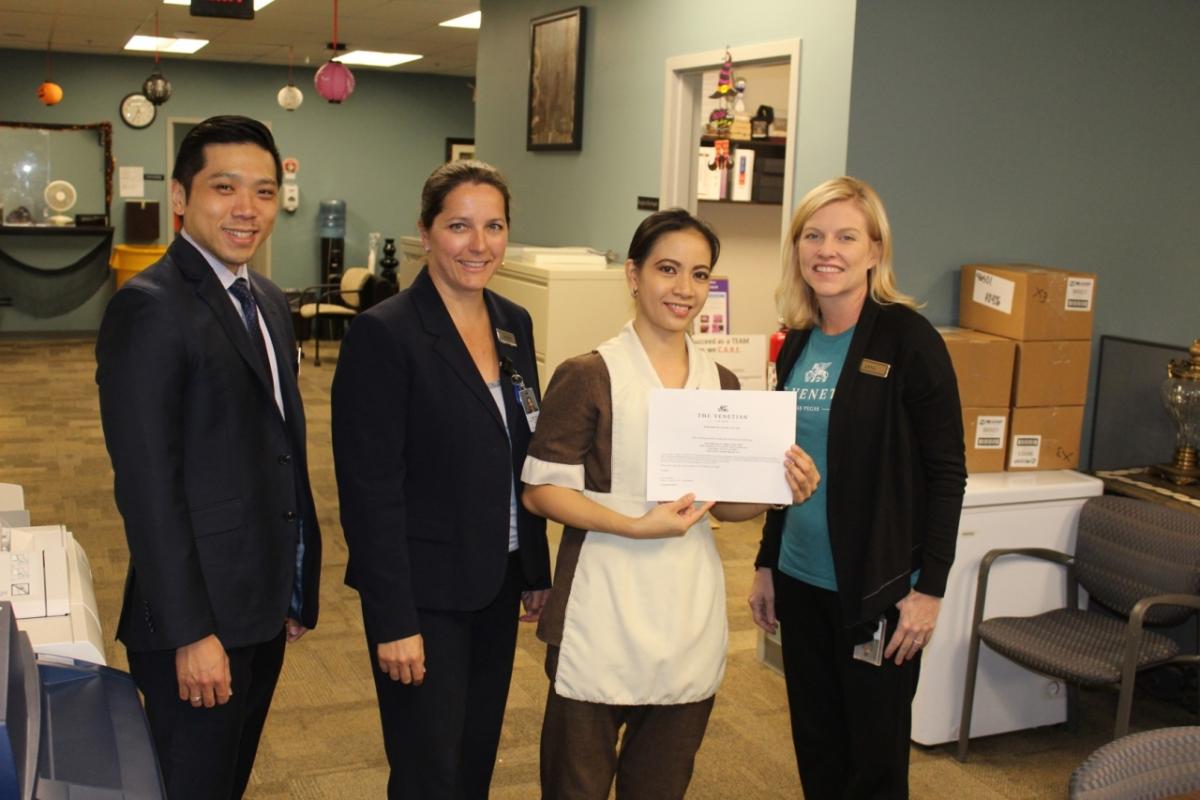 Las Vegas Sands - Green Ideas Challenge Winners
As Published on the Sands Confidential Blog
Team Members at The Venetian, The Palazzo and Sands Expo participated in the Green Ideas Challenge conducted by the property sustainability team.  Approximately 180 ideas were submitted from various departments, and the goal is to implement the top three ideas in 2018.  The first place idea was to repurpose or donate slightly damaged items from guest suites to a local charity, second place was to replace continuously running dish washing nozzles in the employee dining rooms and third place was to calibrate the faucet sensors in Heart of House Team Member restrooms to not run longer than necessary.  
"The third place idea will be implemented by Facilities in a few weeks," Marc Komatsu, sustainability manager, said.  "The first and second place ideas are a bit more complex and intricate and we are currently working with the relevant departments to create a plan on how to execute these ideas.  The purpose of the event was to have Team Members think more about the environment and ways they can make a sustainable impact here on property or in their daily lives." 
In two rounds of judging, the initial round entailed the property sustainability team giving a score to each of the 180 ideas submitted based on several criteria: Innovation, Measurable Results, Achievability, Relevance and Timing.  All scores were combined and tallied and the top 10 highest scores were sent onto the final round.  The final round judges evaluated the top 10 ideas based on the same criteria used in the initial round of judging, as well as implementation feasibility.  The final round judges included executives from the sustainability team.  Prizes included a one-night stay in a Palazzo Siena Suite, dinner at Chica, a gondola ride and two tickets to BAZ and cash. 
"We thought this would be a great opportunity to provide a portal for all Team Members to submit their unique sustainable ideas and observations and be recognized for it," Komatsu said.  "We felt no one knows their job duties or work areas better than the Team Members themselves.  "While Team Members go about their daily activities, they may observe a process or area that could be improved upon that would benefit the environment."  
The Venetian, The Palazzo and Sands Expo, as part of Las Vegas Sands' responsibility to the planet, thrive on innovations in sustainability and reducing waste.  The property's responsibility to the planet is as important to as the commitment to the comfort and well-being of guests and Team Members. The Sands ECO360 Global Sustainability strategy is designed to help minimize environmental impact, and it reflects the company's vision to lead the way in sustainable building development and resort operations.