Sands China Ltd. Celebrates First Class of International Strategic Leadership Program Graduates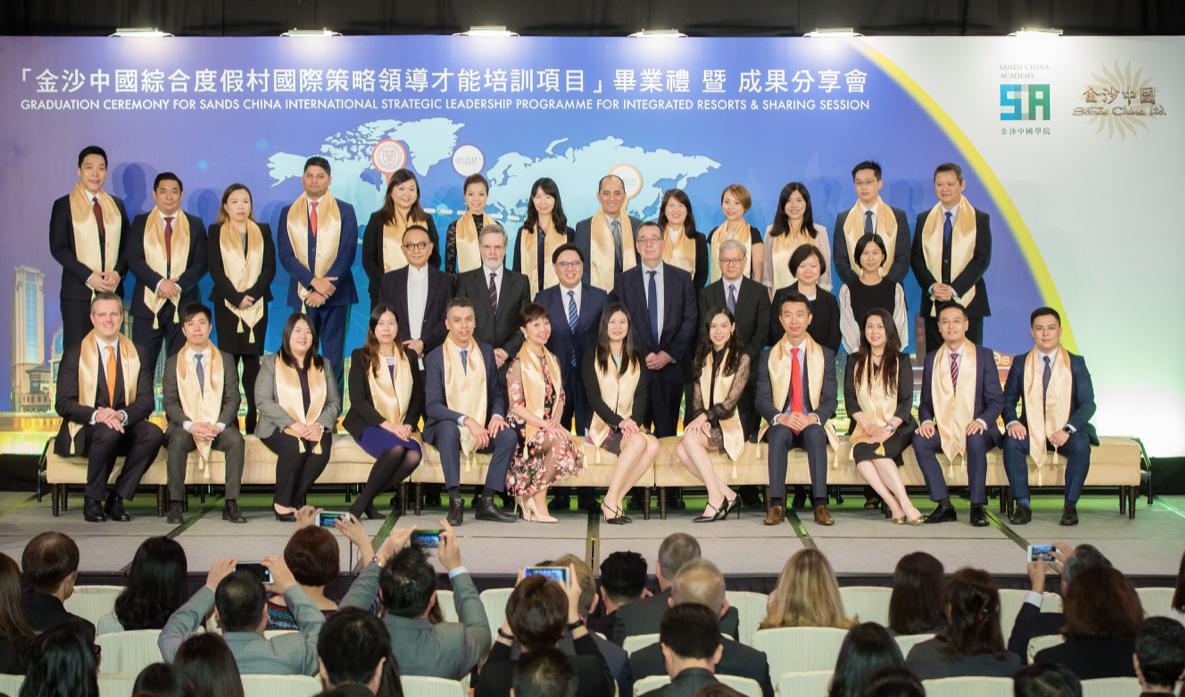 In July 2017, a group of 25 Sands China Ltd. Team Members were selected as the first class of Sands China International Strategic Leadership Program for Integrated Resorts. The class graduated on November 17 with a commencement ceremony at Sands Cotai Central. 
For five months, Team Members studied at the Católica Lisbon School of Business & Economics in Lisbon, Portugal; Cornell School of Hotel Administration in Ithaca, New York; and the University of St. Joseph in Macao, taking advantage of the unique areas of industry expertise of each educational institution.
"We are very proud of these Team Members for being the first to successfully finish this pioneering professional development initiative from our company," said Dr. Wilfred Wong, president of Sands China Ltd. "Investing in our Team Members and in local Macao talent remains a top priority for Sands China, and we are pleased to work with these three distinguished institutions of higher learning to provide a trailblazing program of leadership development for our Team Members. We congratulate them all on their success."
The 25 participants are the Company's director-grade and above local talents, nominated by an executive committee. They received a wide-range of high-level topics on the China Market, leadership, and business management aimed at the hospitality, retail, MICE and entertainment businesses that make up the Integrated Resort Service industry.
"When the Integrated Resort industry first took off in Macao, Sands China already started devising plans to develop locals into Integrated Resort professionals with international horizons for the Company and the city," Professor David Patient, director and coordinator of the program and senior associate dean for research of the Católica Lisbon School of Business and Economics, said. "I can say with confidence that these are the people who are going to get ahead. They're going to make big contributions to the organization."
The program also prompted Team Members to think of a realistic business challenge faced by the company and create a set of recommendations on how to deal with it. The coursework was then presented by each participant to Sands China senior executives before the ceremony.
"This was a wonderful journey. We have to be dynamic and have vision for the future," said Connie Chio, assistant vice president of Paiza Operations. "After the program, the way we look at things are broadened. We not only think of Macao but we learned to think globally and internationally."
The visionary program is the latest initiative of Sands China Academy with plans to continue the program in 2018, according to Antonio Ramirez, senior vice president of human resources for Sands China.
"We always try to be pioneers in terms of training and development programs. It happened in that way when we opened Sands Macao in 2004 and we continue to make our best efforts to ensure that we remain pioneers." Ramirez said. 
Sands China and Las Vegas Sands, its parent company, believe in the development of their Team Members in the hospitality industry and are committed to offering training and other opportunities to advance in the workplace. Through this program and other initiatives, Sands China continues to contribute to non-gaming diversification in Macao and the city's development into a world center of tourism and leisure. Sands China has delivered more than 6.5 million paid training hours since 2004 to its Team Members.