Rhode Island's MLK Center Delivers on an 'Audacious' Goal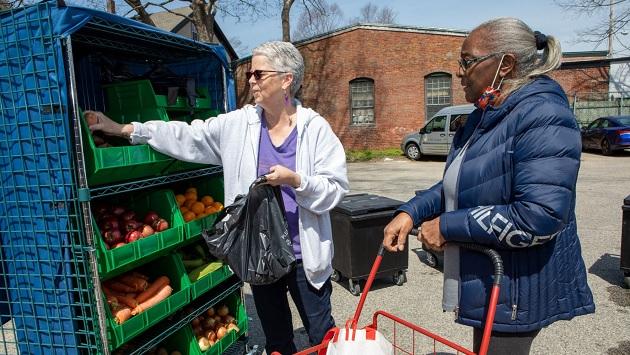 Non-profit delivers life-changing programs—nutrition, education, kinship, wellness—to those in need
A house fire last year sent a Newport, RI, family spiralling. The household situation was already complex. The matriarch, a grandmother, is raising her three grandchildren, one with cystic fibrosis and another with Down's syndrome.
The family sought relief at the Dr. Martin Luther King, Jr. Community Center, a not-for-profit that has helped people in need in the Newport community since 1922. The 101-year-old center came to the family's aid, putting food on the table and providing Christmas gifts for the kids.
Unexpected hardships often bring new clients to the MLK Center, says executive director Heather Hole Strout. "We try to wrap our arms around individuals and families who need support," she adds.
In 2022, the MLK Center helped nearly 6,000 people through its three main programs: hunger prevention and nutrition, early childhood education, and community support and wellness. More than 60% of the clients served were BIPOC (Black, Indigenous or People of Color).
The center has seen an annual increase in clients of 20 to 25% over the past several years. Hole Strout attributes the rise in numbers to ongoing effects from the Covid-19 pandemic, the economic downturn, and climbing housing, food and fuel costs.
"We live in a place that is known for the rich and famous," she explains. "But what many people don't realize is 40% of the children in Newport live in poverty."
To meet the community need, the MLK Center has expanded its hunger relief services. They offer a daily hot breakfast with grab-and-go lunch option, plus sit-down lunches and dinners a few times a week. A grocery delivery program brings healthy food to homebound seniors.
The center also operates the country's largest food pantry, complemented by a mobile version which visits neighborhoods across the community. People can visit the pantries to do their grocery shopping, all free of charge, and select from meat, eggs, milk, fresh produce, non-perishables, household and personal care items, and even pet food. A dietician is available to help with decision-making, too.
In 2022, the MLK Center distributed 85,000 pounds of produce and provided 657,240 meals. Every morsel was funded by grants from foundations and donations from individuals and corporations, including Enbridge. We recently awarded the center a $7,500 Fueling Futures grant to support its work to fight food insecurity, foster community among those in need, and preserve the dignity of families facing challenging times.
Enbridge also donated three children's desks built during an employee professional development activity. The desks were included in the MLK Center's Santa's Workshop, a room filled with brand-new toys, gifts, and gift cards, all donated by the community. Parents of more than 1,000 children in need visited the workshop last Christmas to select presents for the holidays.
Both Santa's Workshop and the pantries operate with a client-choice model, Hole Strout notes, meaning that the client gets to choose the items that work best for their family.
"We believe client choice provides more dignity and respect to the people who need to reach out for help," she explains. "We try to make (receiving help) as dignified as possible."
The MLK Center's namesake, Dr. Martin Luther King, Jr., spoke immortal words in his 1964 acceptance speech of the Nobel Peace Prize: "I have the audacity to believe that peoples everywhere can have three meals a day for their bodies, education and culture of their minds, and dignity, equality, and freedom for their spirits," he said.
His words guide the MLK Center's work every day. The center has an audacious mission to deliver life-changing programs to people in need, programs that make the very things MLK desired a reality for people in Newport: education and kinship, dignity and access to healthy food every day.
Whether it be families facing unexpected hardships, seniors feeling the effects of the economic downturn, or immigrants to the region seeking a hospitable community, the MLK Center will persevere to make Newport County the kind of place where everyone can thrive.